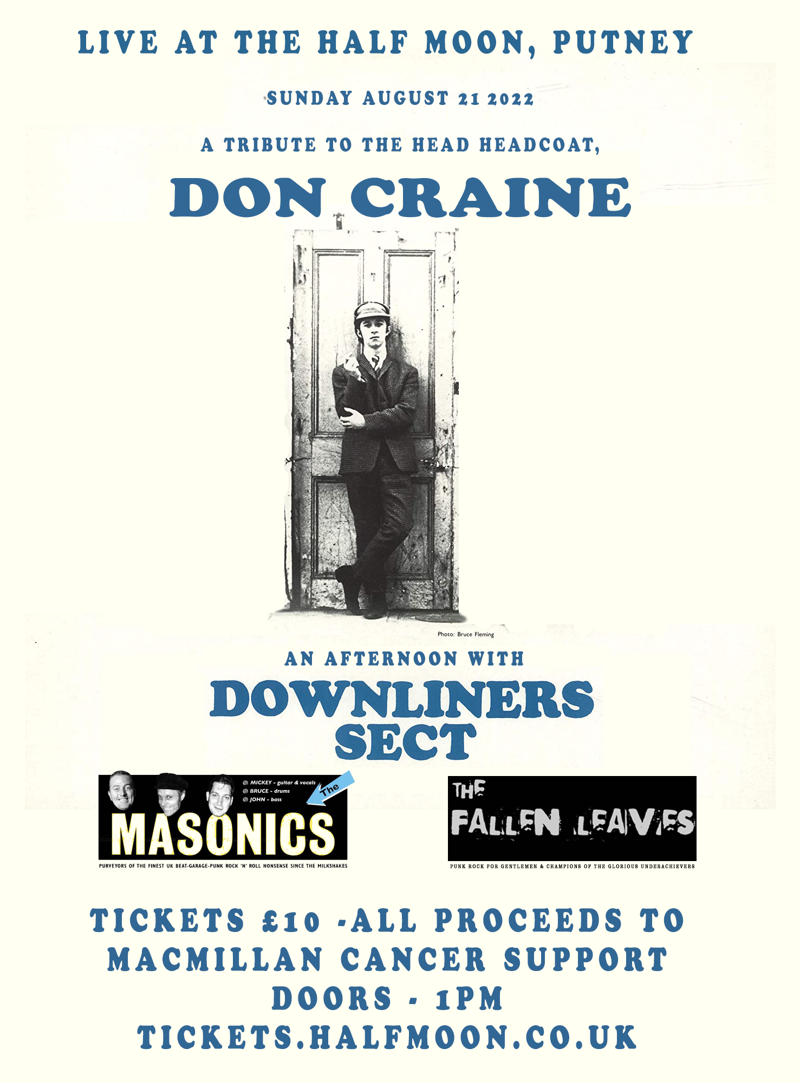 Half Moon presents:
An Afternoon with Downliners Sect
Downliners Sect + The Masonics + The Fallen Leaves
£10 advance
Entry Requirements: 18+ after 7pm
Contemporaries of the Rolling Stones, Pretty Things and The Yardbirds, Downliners Sect came into being in Spring 1963 when deerstalker-hatted rhythm guitarist Don Craine of the Downliners found Keith Grant and the Sect was born. They played their own brash and exciting brand of R&B and still do.
Don and Keith played together for 60 years. They agreed that, whatever happened to either of them, the group would carry on. With the loss of Don, in February, Keith, as promised, carries the name Downliners Sect on. This concert is a tribute to the Deerstalker wearing Head man himself, Don Craine. All proceeds to Macmillan Cancer Support.
Line Up
Critic Richie Unterberger wrote: "The Sect didn't as much interpret the sound of Chess Records as attack it, with a finesse that made the Pretty Things seem positively suave in comparison."
Their first single on EMI 'Baby What's Wrong' entered the charts and their second 'Little Egypt' made them stars in Sweden.
We were quite influenced by the Downliners Sect' – David Bowie
Downliners Sect were IT' – Van Morrison
Both Steve Marriott, and Rod Stewart, auditioned for a place in the band but were turned down because they both wanted to be frontmen, while Don Craine and Keith Grant did not wish to relinquish that role.
They remained true to their beliefs and never 'sold out'.
They recorded Lou Reed's 'Why Don't You Smile Now' before he went on to form The Velvet Underground.
Embraced by Punks in the mid-1970s who recognised their uncompromising spirit.
In the 90s Don and Keith teamed up with Billy Childish and Bruce Brand to form Thee Headcoat Sect Touring extensively and recording two acclaimed LPs.
The Masonics and Fallen Leaves as long-term fans are honoured to play this tribute as guests of The Sect.
Inspired and influenced by Downliners Sect both groups recognise the Sect as pioneers, they just follow.
The Masonics, featuring Bruce Brand of Thee Headcoat Sect, Mickey Hampshire, John Gibbs and Miss Ludella Black are influenced by Chuck Berry, Link Wray, The Sonics, Bo Diddley, Johnny Moped and The Beatles.
The Fallen Leaves, formed from members of Subway Sect and The Chords, are Champions of the Glorious Underachievers . Believing a good idea played badly supersedes a bad idea played well, they play simple songs for complex people. They are Punk Rock For Gentlemen.
"This valve amp, treble-to-the-max rave-up would have had the mid-'60s Who or Pretty Things bricking it backstage at the Embassy Club" Mark Paytress (Mojo)