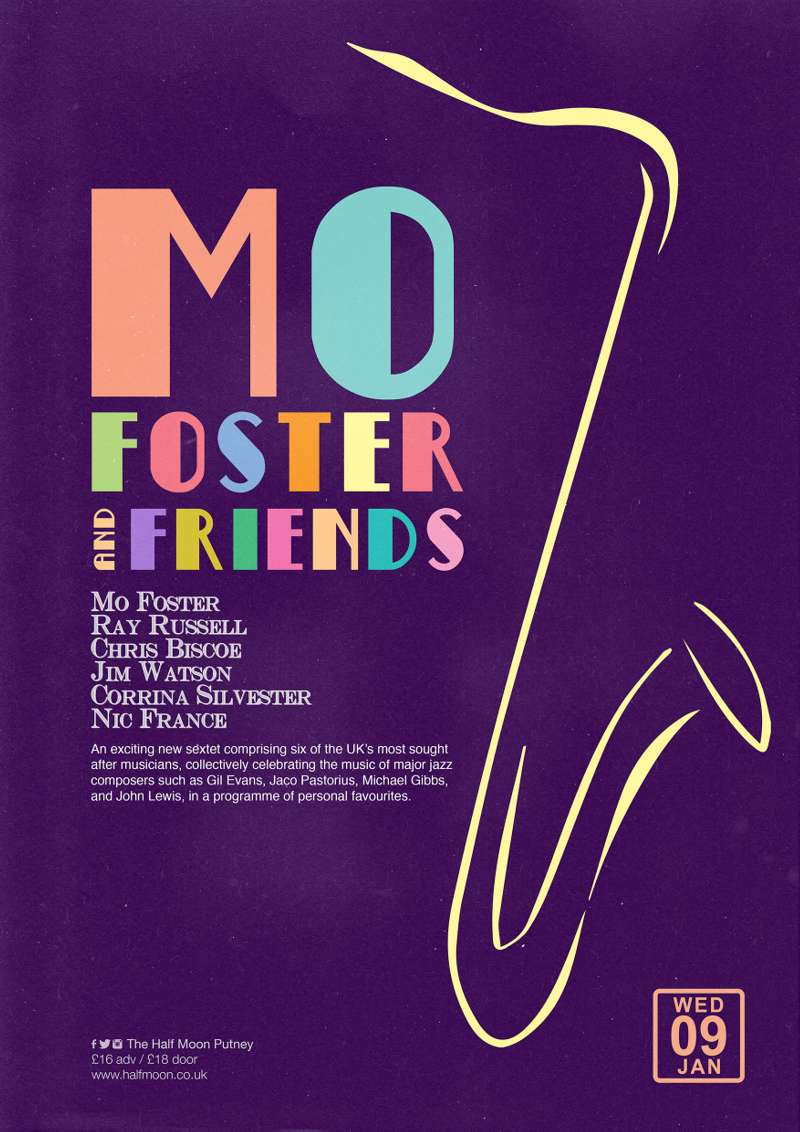 Half Moon presents:
Mo Foster & Friends
Mo Foster & Friends
£16 Adv / £18 Door
Entry Requirements: 18+ after 7pm
'Gil Evans in Miniature' - Project
An exciting new sextet comprising six of the UK's most sought after musicians, collectively celebrating the music of major jazz composers such as Gil Evans, Jaco Pastorius, Michael Gibbs, and John Lewis, in a programme of personal favourites.
"When I toured with Gil Evans and his British Orchestra in 1983 his sound world left such a lasting impression that when I put together this new band in 2016 the sound I was aiming for was Gil Evans in Miniature: structured, with beautiful harmonies and melodies, and with room for great solos. I chose the players simply because they were the best, and amongst the finest jazz soloists in the country" (Mo Foster)
Line Up
Mo Foster: bass guitar and band leader.
After forming 70's progressive jazz/rock group Affinity with Linda Hoyle (managed by the late Ronnie Scott) his career blossomed into one of the most prestigious of any contemporary bass-guitar player, working with Jeff Beck, Gil Evans, Phil Collins, Gerry Rafferty, Frida (of ABBA), Ringo Starr, Brian May, and the London Symphony Orchestra, and establishing himself as a much sought after and highly respected session musician, record producer, composer, solo artist, and author.
• "This session legend, and one-time Jeff Beck cohort, has thumbed his golden address book to assemble a sextet of undoubted virtuosity." Andy Rawll (Record Collector)
• "This is whatever the opposite of 'unwatchable' is. So much going on there between these wonderful musicians." Ken Appleby (Pindrop Events)
• "Excellent show - Superb sound throughout. It was a masterclass." David Stark (Songlink)
• "Such great music - a natural high - so many great influences coming out" Mark Garfield (Music Publisher)
• "A rare night of great music - lovely vibe, immaculate sound - the music connects very directly" Malcolm Edmonstone (Guildhall)