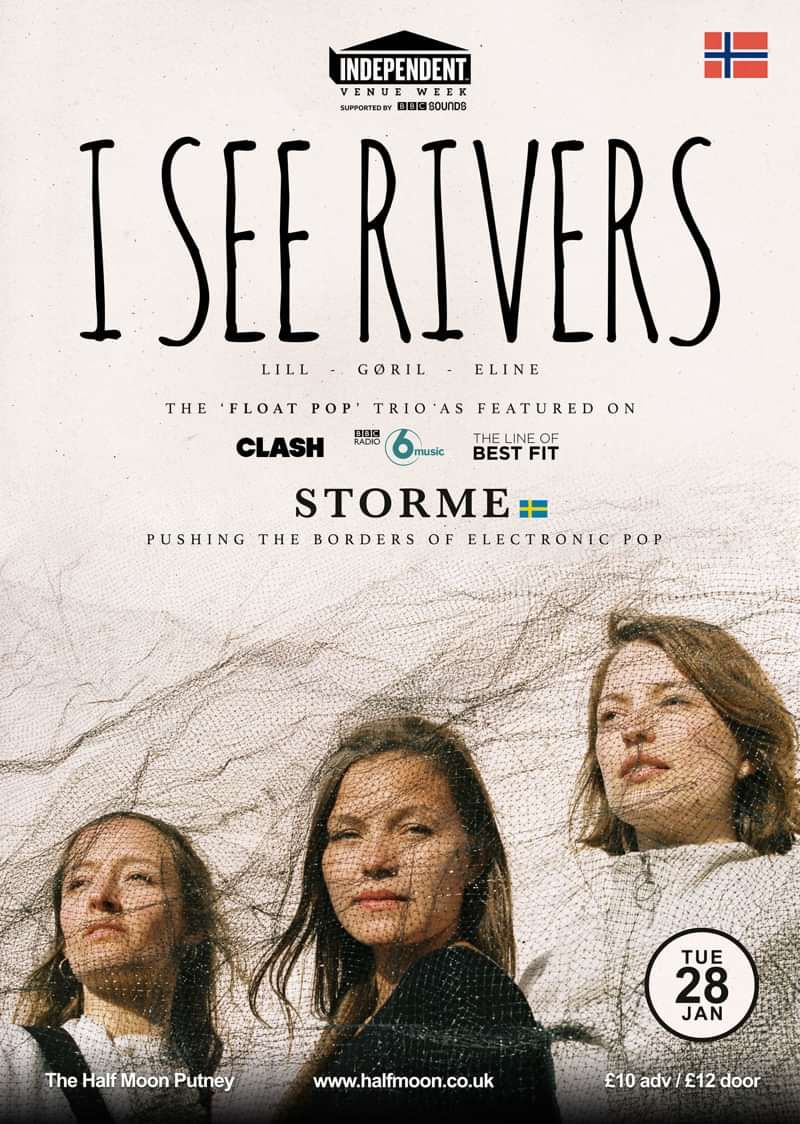 Half Moon presents:
I SEE RIVERS
I SEE RIVERS + STORME
£10 adv / £12 door
Entry Requirements: 18+ after 7pm
I SEE RIVERS encapsulate audiences with their distinctive sound and renowned harmonies.
With two EPs behind them, the band are in the process of making their highly anticipated debut album due for an independent release in 2020 with the support of PRS Momentum Fund, PRS Women Make Music, BBC Launchpad and their dedicated fans through Kickstarter.
The multi-instrumentalist Scandi 'float-pop' trio are renowned for encapsulating audiences with their interweaving harmonies and distinctive Nordic sound which over time has evolved with heavier production and indie-electronic influences.
Eline (Keys, vocals, percussion), Gøril (guitar, vocals, drum pad) and Lill (drums, vocals) have toured extensively, selling out shows with highly acclaimed performances alongside the likes of Cosmo Sheldrake, Newton Faulkner, showcases with Communion and captivating audiences at festivals such as The Great Escape, Bergenfest and Green Man. Their synchronised, blended vocal arrangements and flawless instrumentation has them renowned as a must-see live act.
---
Amanda Liedberg and Gabriele Mazza (STORME) are a Swedish fronted duo. Now based in London they met at BIMM and make immersive electro pop – with a nod to the likes of Robyn, Kate Bush, Bjork and Sia. Championed by The Line of Best Fit, Atwood Magazine, EQ, BBC Introducing and many other key tastemakers, they're definitely one to watch in 2019.
Line Up
Norwegian 'float pop' trio I SEE RIVERS are known for their memorable melodies and untraditional vocal harmonies. After huge success with their first two EPs and support throughout national radio, TV and two sold out European tours, they are back this Spring with their newest single 'Helios' from their upcoming 2020 album.
Although they are all originally from Norway, the band met in Liverpool whilst studying and have recently moved to Pembrokeshire in Wales. They fell in love with the Welsh coast line and mountains whilst recording their first EP at 'StudiOwz' with Owain Jenkins. Their musical soundscape has been associated with artists such as Fleet Foxes, Sufjan Stevens and First Aid Kit but their 2020 album has an added new electronic direction.
---
"Folk-indebted harmonies matched to indie songwriting, their easy-on-the-ear charm has an addictive, pastoral quality." – CLASH
---
"Fans of First Aid Kit, The Staves, and Emmy The Great will find familiar aspects to love in the sound of I See Rivers, but also unique elements that make the group's sound entirely their own. Alone, their vocals would be distinctive enough, but their well-oiled harmonies are a different beast altogether" – Line Of Best Fit
---
"This is vocal harmonising at its exquisite best" – Fresh On The Net
---
"I SEE RIVERS are able to blend tender, folksy arrangements with intoxicatedly powerful pop wonder" – The 405
---
"This trio has set the benchmark against which all harmonies will be compared to in the future" – JA JA JA
---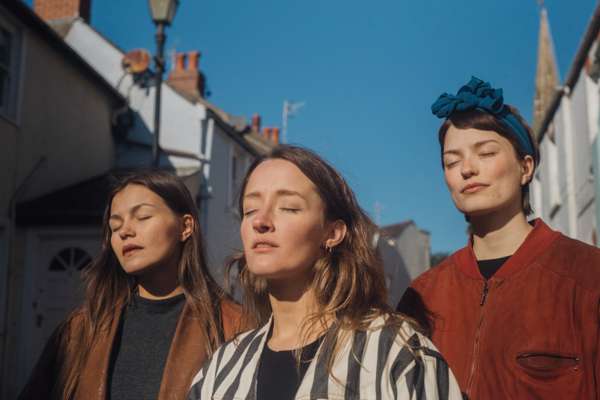 STORME are all about silver linings: the defiant little lockets of light that glimmer in even the blackest clouds. "I always to try to find hope, a reason to just hang on in there," says one half of the fast-rising electronic pop duo, vocalist Amanda Liedberg. On new single 'Volcano', she and producer Gabriele Mazza bottle that feeling into four minutes of huge airy synths, percussive rattles and towering vocal hooks with echoes of Chvrches and Robyn. "It's about someone leaving me. I felt shit. But I kept picturing this volcano as a huge force," Liedberg explains. "It's a song about seeing yourself through." As she puts it on 'Volcano', before the track truly erupts: "strength can grow on the darkest roads."
Championed by The Line Of Best Fit and picked up by Spotify's influential New Music Friday playlist already in their short career, the pair's own road to this point hasn't been dark, but it has been winding. Liedberg grew up in Sweden, spending a lot of time in Tegane, west of Stockholm, in a forest, by a lake. Mazza meanwhile grew up in Italy, in a music-obsessed family similarly surrounded by nature (his home was located in front of a vineyard in the country). It wasn't till they both moved to London to study that their paths crossed, and the duo began to collaborate. "London really inspired the electronic side of our tastes and our sound," says Mazza, whose love for electronic experimenters Four Tet and Jon Hopkins blossomed amid the hustle and bustle of the capital. He began to toy with Ableton Live and vintage 1980s synths found in the west London studio he uses, and before too long was lending ethereal soundscapes and skeletal beats to the emotional piano-and-vocal sketches Liedberg was creating.
"I always start at the piano, with the basics," says Liedberg of her minimalist approach to crafting tracks, influenced by great pop hook writers like Sia, Max Martin and Kate Bush, as well as Bon Iver. "Lots of things are based on my life experience. Always when I write, I feel like it needs to really tell a story that comes from my heart." Next, Mazza – a producer who's "like a scientist and can spend hours tweaking synth sounds to perfection" according to Liedberg – adds what he calls "abstract, ethereal atmospheres," and a STORME song is born. "It's a formula we're always working on," smiles Mazza.
That musical chemistry first caught people's attention last year, with the release of 'Burning Echoes', their first single together. Described as "effervescent" with an "explosive chorus" by The Line Of Best Fit, the track was a slow-burn of M83-inspired bass pulses and ecstatic "heys!" and handclaps that, with its lyrics about faded sunrises, touched on one of their favourite themes and inspiration: the drama, beauty and brutality of the wild. "I feel so lovely and so inspired around nature. It's an ongoing theme, we're always trying to find it. It's a big part of our sound," Liedberg says, who even named the project with nature in mind.
Though their synths may be glacier-sized, STORME are currently growing at a rate that's far from glacier-paced. They're fast honing their live show at gigs across the London scene, plans are in place for more singles beyond the stunning 'Volcano', ideas are growing for EPs and albums, and they're laser-focused on creating a sound all of their own, that pushes the borders of electronic pop and fans will recognise immediately as STORME. "We dream big!" laughs Liedberg. The sky's the limit, so that's where STORME are heading. Where else are they going to find those silver linings?