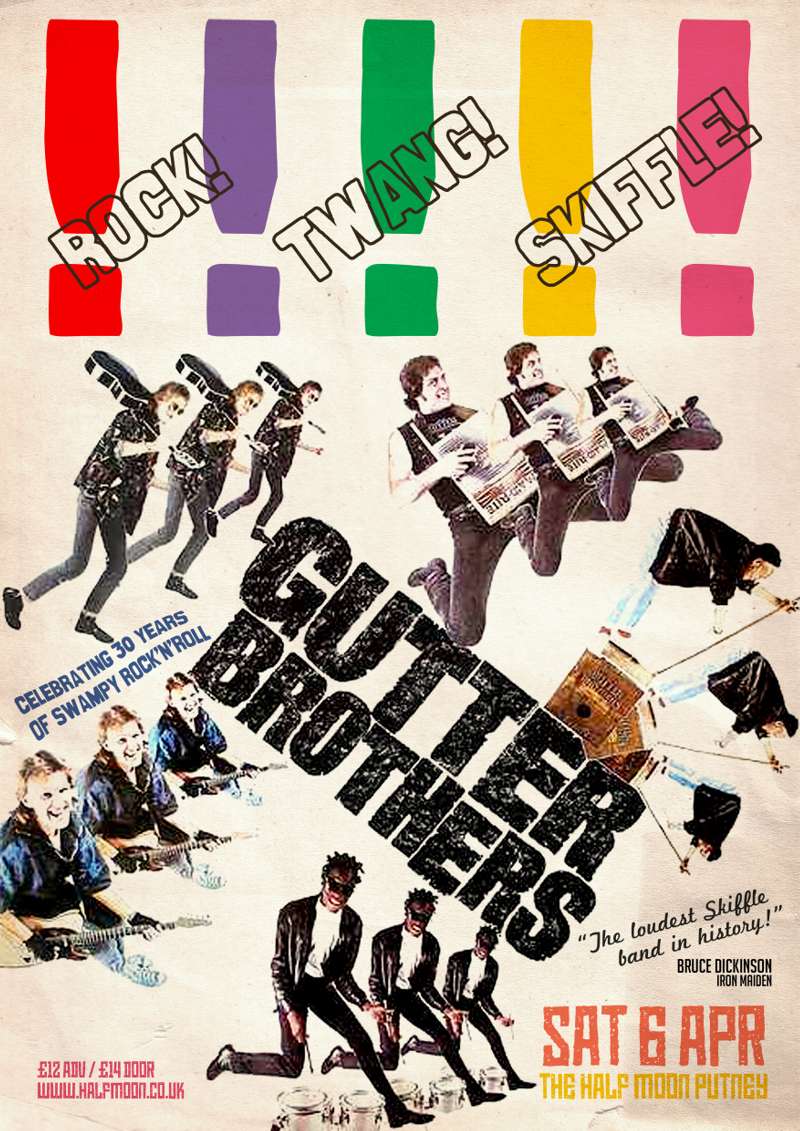 Half Moon presents:
The Gutter Brothers + Hardwicke Circus
Gutter Brothers + Hardwicke Circus
£12 adv / £14 door
Entry Requirements: 18+ after 7pm
The Gutter Brothers erupted in the 1980's as a busking band based in London, regulars on the Covent Garden street scene. They released their first album 'Isometric Boogie' in 1988, going on to release two more albums, and writing the soundtrack music to 'Fools & Horses' Christmas special in 1991. The band toured constantly in the UK, Europe and the US, sharing stages with the likes of Dr Feelgood, Desmond Dekker, Albert Lee, Steve Harley, Debbie Harry, Jools Holland. In 1993 the band split, Tony returning to his native New Orleans.
The same line-up of Tony Green (vocals), Steve Turner (bass), Jeff Walker (drums) and Chris Cawte (guitar) has been together since 1988. The band reunited on an annual basis from 2003 following the death of founding member Dennis Johnson (tea-chest bass and lyrics) and have played a short run of UK gigs most years since as time and travel allow. In 2008 the band released 'El Krusho', an album dedicated to Dennis' memory and containing all new songs composed using remaining lyrics written by him. A new recording of previously unreleased songs 'Mother Primeval' followed in 2014. April 2019 sees the Gutter Brothers return to celebrate more than 30 years of swampy rock 'n' roll history with a country style gumbo of great tunes, rare funk grooves, a slab of ska and a small pinch of metal to taste.
Support is from Rock n Roll outfit Hardwicke Circus
Line Up
Bruce Dickinson of Iron Maiden once described The Gutter Brothers as the loudest skiffle band on earth.
The Gutter Brothers have been developing their unique brand of popular music since they formed as a street band in London in 1985. The next decade took them from the cobbles of Covent Garden to Reading festival and live TV performances on MTV Europe (1st LWT's 1 Exposure, ITV's Night Network, Jools Holland's original live music program "The Happening" as well as their video "Fat Cadillac" being declared a HIT! on Juke Box Jury, hosted by Jools Holland.
Soon after their debut release, "Isometric Boogie", they were asked to produce materials to several TV soundtracks. You can find Gutter Brothers original songs on "Gone to the dogs", "Gone to Seed", "Boon" and their take on Lovin Spoonful's "Summer in the City" is a high point in "Only Fools and Horses" Christmas special "Miami Twice". All the while slaying live audiences by extensive touring all over UK, Europe and the US
The Gutter Brother were on hiatus from '93­'03 at which time they returned with a vengeance to their hybrid sound blending Skiffle, Rock, Blues, Country, Reggae, and all points in between. The time off added extra venom to their performances and they returned to the studio in 2007, releasing "El Krusho" as a memorial to their original tea chest bass player, main lyricist, and beloved partner in crime, Dennis Johnson.
The Gutter Brothers are back at it in 2014 with 2 live shows before they go in the studio where they plan to record material spanning the years that for the most part has only ever been available on bootleg demo and live cassette versions.
The Gutter Brothers will take the stage with the original members that appeared on "Isometric Boogie", over 25 years ago.
Tony Green (Vocals ,Washboard) Jeff Walker (Drums, Percussion) Steve Turner (Bass) Chris Cawte (Guitar) They will be joined by multi­instrumentalist, Tom Cawte.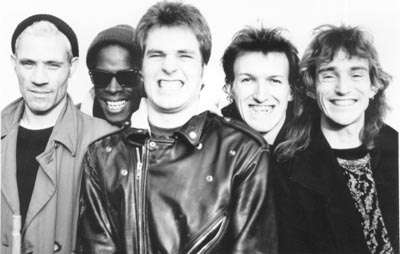 "Google us and you might learn of an attractive roundabout in the great Cumbria border city of Carlisle". However, this is the loudest roundabout you'll ever come across. After taking the turn off the A7 you will probably bump into this 7 piece Rock n' Roll rocking band Hardwicke Circus. Forming roots in the local Bars & Clubs of the town, they come from the loins of train robbers, trained by tai chi masters, cage fighters, hypnotists and pilgrims. All this has provided them with the skillset of spreading the sweet sound of Rhythm and Blues & Social Music throughout the nation.
"This machine kills facists" as the great Woody Guthrie once said of his guitar. And so we intend to keep spreading this message.. Singing about things that are important to us and making sure to dance while we're doing it - and we'll do that till our kingdom comes. So far Our journey has taken us to Glastonbury, the BBC Introducing stages at Reading and Leeds, some raucous nights in London a UK & Ireland tour with Country Acid trailblazers Alabama 3, and now looking forward to support The Boomtown Rats in Belfast and Dublin.
With plenty of music on it's way to the radio stations and personal pleasure devices, We have made it our mission to play up and down the UK and Ireland and contaminate it with an Almighty Groove.
So now we ask you to look at yourself in the mirror. Look real long and hard and ask yourself this question. "Am I missing something?" The answer is a resounding Yes. God Damn Yes you are! You are missing 7 vociferous Northerners with a truck full of instruments run on a tank full of love. You need to get outside. You need to leave the house. You need to make yourself this promise -
That you will come and join our Circus. You don't need another virtual friend. You don't need to be someone's click-bait. We want you to let go of all that hopelessness, shed your skin like glamorous rattlesnakes and come play with us. There's no point in a Circus staying inside your head, get out there!