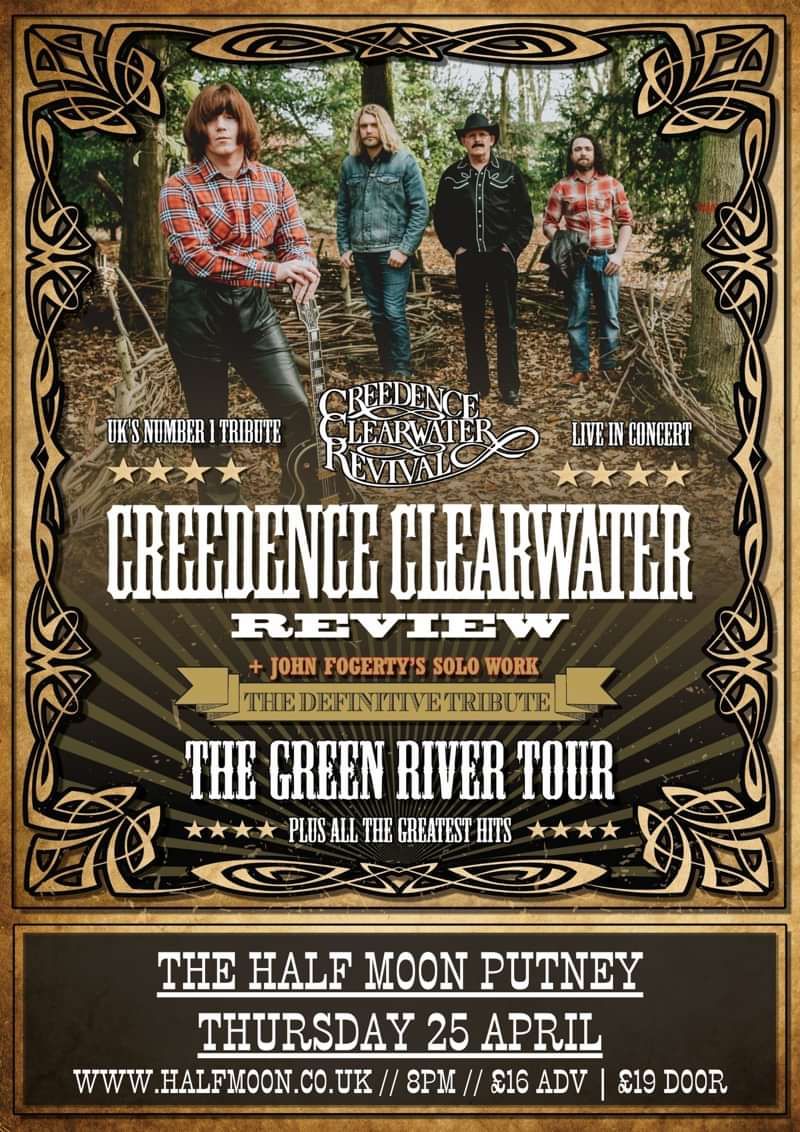 Half Moon presents:
Creedence Clearwater Review
Creedence Clearwater Review
£16 Adv / £19 Door
Entry Requirements: 18+ after 7pm
General Admission (e-ticket)
Creedence Clearwater Review are the UK's premier tribute to Creedence Clearwater Revival, one of America's greatest bands who, despite their relatively short career, left an enduring legacy of classic songs written and sung by lead guitarist, singer and songwriter John Fogerty.
Capturing the feel, sound and atmosphere of the original songs, Creedence Clearwater Review pack all the hits and more into two hours plus of rootsy, swampy, bluesy and sometimes country flavoured rock and roll. Creedence's biggest songs, Proud Mary, Bad Moon Rising, Fortunate Son and Who'll Stop The Rain all get the treatment as well as their covers of classics like I Heard It Through The Grapevine, Midnight Special and Susie Q.
There's audience involvement, singalongs and plenty of rousing choruses to join in on the Review's authentic and power packed tribute the Creedence legacy. There's also a nod to John Fogerty's solo career in the show, with songs like Almost Saturday Night, Hot Rod Heart and of course Rockin' All Over The World.
Line Up
The UK's definitive, finest Creedence Clearwater Revival Tribute Act.
Creedence Clearwater Review are perhaps now the definitive Creedence Clearwater Revival Tribute Band in the UK. This is result of extensive hard work by four talented musicians, dedicated to the music of both Creedence Clearwater Revival and John Fogherty's later solo career material, Performing a range of their material consisting of all of their biggest, classic hits, album tracks and wonderful obscurities.
The Creedence and Fogerty catalogue includes Bad Moon Rising, Up Around The Bend, Proud Mary, Suzie Q, Green River, Born On The Bayou, Have You Ever Seen The Rain, Rockin' All Over The World (later covered by Status Quo), and many, many more. The aim has been to avoid slavishly following album tracks but rather to re-interpret the bands massive back catalogue in a similar manner to John Fogherty's performances with his current band. Dale Taylor takes up the role of John Fogherty on guitar and vocals with the boundless energy of his generation and with the solid experience of the band, providing a fantastic quality yet power packed delivery of the original band's classic songs.