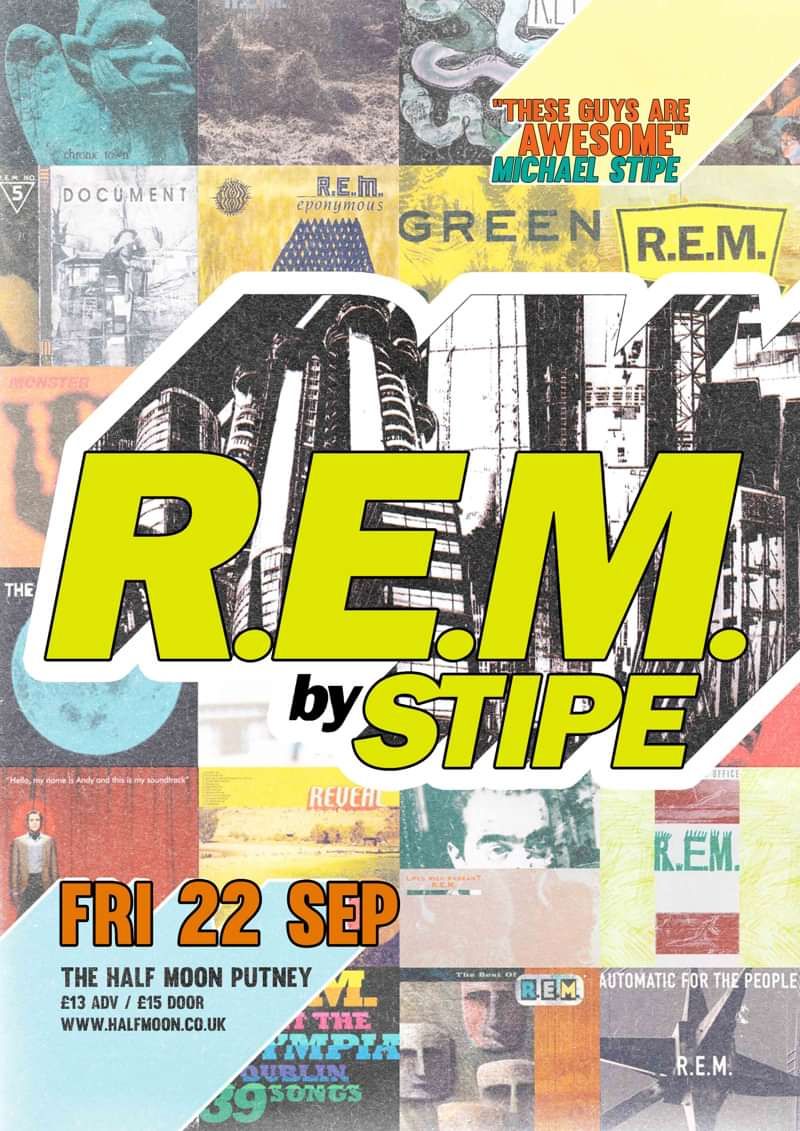 Half Moon presents:
Stipe - the R.E.M. Tribute
£13 Adv / £15 Door
Entry Requirements: 18+ after 7pm
General Admission (e-ticket)
This show is now SOLD OUT. Stipe return on Saturday 9 March. Tickets are available now via the link below. Saturday 9 March Tickets
R.E.M. remain one of the world's most enigmatic stadium rock bands. With a string of peerless albums running through the 80s and 90s; one eye on the underground and one eye on the soaring chorus; it's safe to say we will never see their like again.
Whether it's laying major festivals or appearing on the One Show, performing for Michael Stipe himself, Stipe are the definitive R.E.M. tribute – a complete 6 piece band, and encyclopaedic knowledge of the back catalogue, the boys from Athens' legacy is in good hands.
Line Up
R.E.M. by Stipe – the alt-rock awesomeness of R.E.M. recreated. As regular visitors to the festival scene, leading venues and with gigs into Europe, Stipe have earned the praise of "awesome" from R.E.M.'s own lead singer Michael Stipe.
This is the definitive tribute to one of the biggest sounds in rock and they've performed the songs of R.E.M. to thousands of people worldwide. R.E.M. built a towering back catalogue that reached from the addictive highs of Shiny Happy People down to the reflective darkness of Everybody Hurts, covering all else in between.
An early R.E.M. album loaned to Stipe's lead vocalist, Richard Southern, worked its magic and convinced him to make a first visit to see R.E.M. in concert.
'That was the best live performance. Ever.' says Richard. 'The music of R.E.M. left such an impression on myself that it will always be a part of my life.' Platinum Al had this high praise for the band in January 2015:
"Where this band succeeds is in the accuracy of the sound ... the lead singer looks the part, his voice is a fairly uncanny likeness of Michael Stipe's …the other musicians also create a brilliant rendition of the songs, fully convincing and delivered with confidence." - Platinum Al Stipe do what they do as a team; six musicians who rehearse hard to recreate the R.E.M. sound that music fans deserve. They visit the hits and the gems taking every opportunity to perfect the songs. In performance Stipe make R.E.M.'s charismatic music their own.
R.E.M. was one of the first alternative rock bands. Their signature was a changing and reactive sound, from a guitar driven, unforced and intuitive beginning, through the game changing Losing My Religion and then onwards.
To hear Stipe's sets live is to fall in love with this music, for the first time or all over again. Stipe can be found here:- http://www.remtribute.co.uk and Facebook https://www.facebook.com/stipeband and on Twitter https://twitter.com/StipeREMtribute