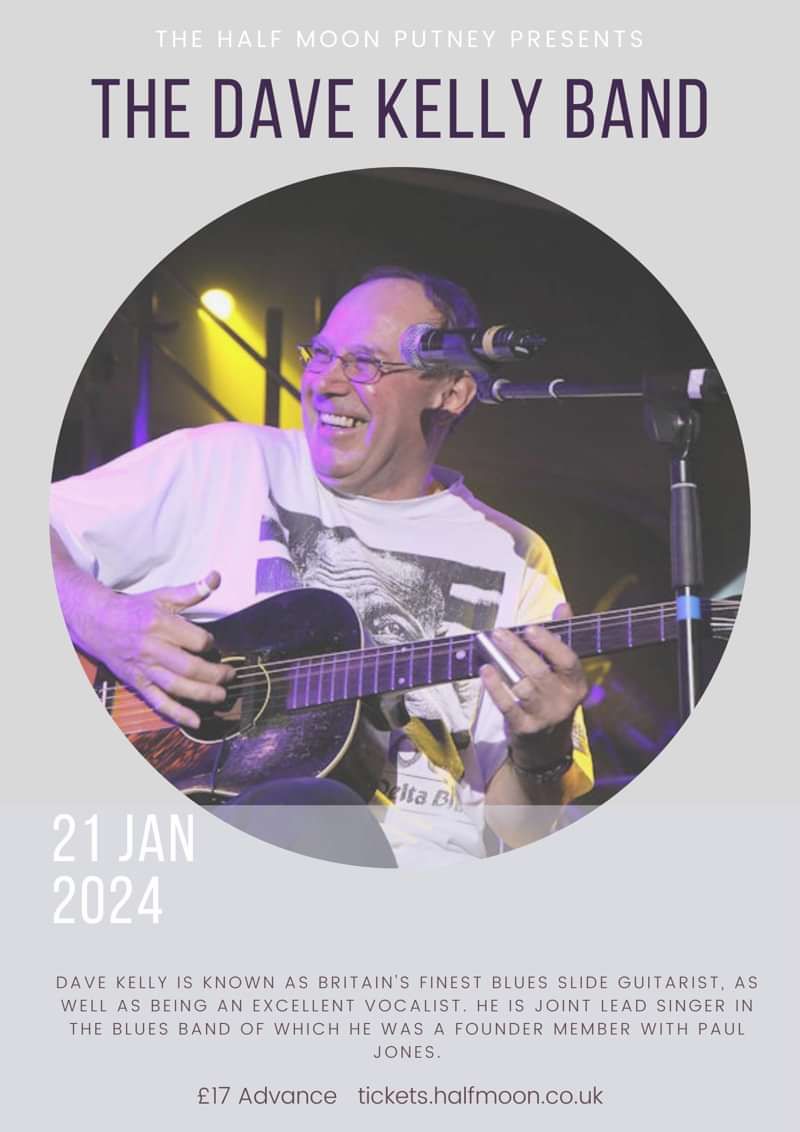 Half Moon presents:
The Dave Kelly Band
The Dave Kelly Band
£17 Adv / £20 Door
Entry Requirements: 18+ after 7pm
General Admission (e-ticket)
Dave Kelly is known as Britain's finest blues slide guitarist, as well as being an excellent vocalist. He is joint lead singer in The Blues Band of which he was a founder member with Paul Jones.
Line Up
The Dave Kelly Band (DKB) was formed in 1982 when The Blues Band had decided to split up for a while. There have been various line-ups over the 39 years, three albums under the DKB name plus Dave's many solo albums which have also featured band members.The DKB has always had an eclectic spread of material outside of the blues and will play a selection of blues and soul favourites plus a number of Dave's own compositions.The musicians are: Dave Kelly: lead vocals,slide, electric & acoustic guitars Lou Stonebridge: keyboards & vocals. Lou was in the very first incarnation of The DKB. He had produced 'The Official Bootleg' and 'Ready' for The Blues Band in 1980 –their first two albums. Originally with Paladin, he later was with McGuinness Flint before concentrating on production. Pete Emery: lead guitar. Pete was originally in the Bristol group 'The Deep'. A band which was regularly plundered for musicians by London 'signed' bands –regularly by The John Dummer Blues Band and The Groundhogs. Pete joined The JDBB in 1970 and then became partner of Dave's sister Jo-Anne Kelly, both musical and life.He has his own very distinctive style and is a unique guitarist. He has played with The Blues Band on several occasions and The Collister/Kelly band Homer Kelly-Tarrant: bass guitar and vocals. Dave's youngest son, Homer has just finished his degree at Brighton Institute of Modern Music (BIMM) where he gained a distinction for his live performance. He had toured twice with Dave & Christine Collister as bass player and backing vocalist. A multi instrumentalist and song writer, he's the second Kelly offspring to enter the music business. Sam Kelly: drums and vocals. Sam, Dave's eldest son started drumming when he was ten, a disciple of Levon Helm. In 1991, when he was 17 he deputised for Rob Townsend with The Blues Band as Rob had injured his wrist, slotting in at very short notice. Sam has played with various bands since then, including Gerry Marsden, Peyote Train, the folk rock outfit Circulus, and Tom Robinson.