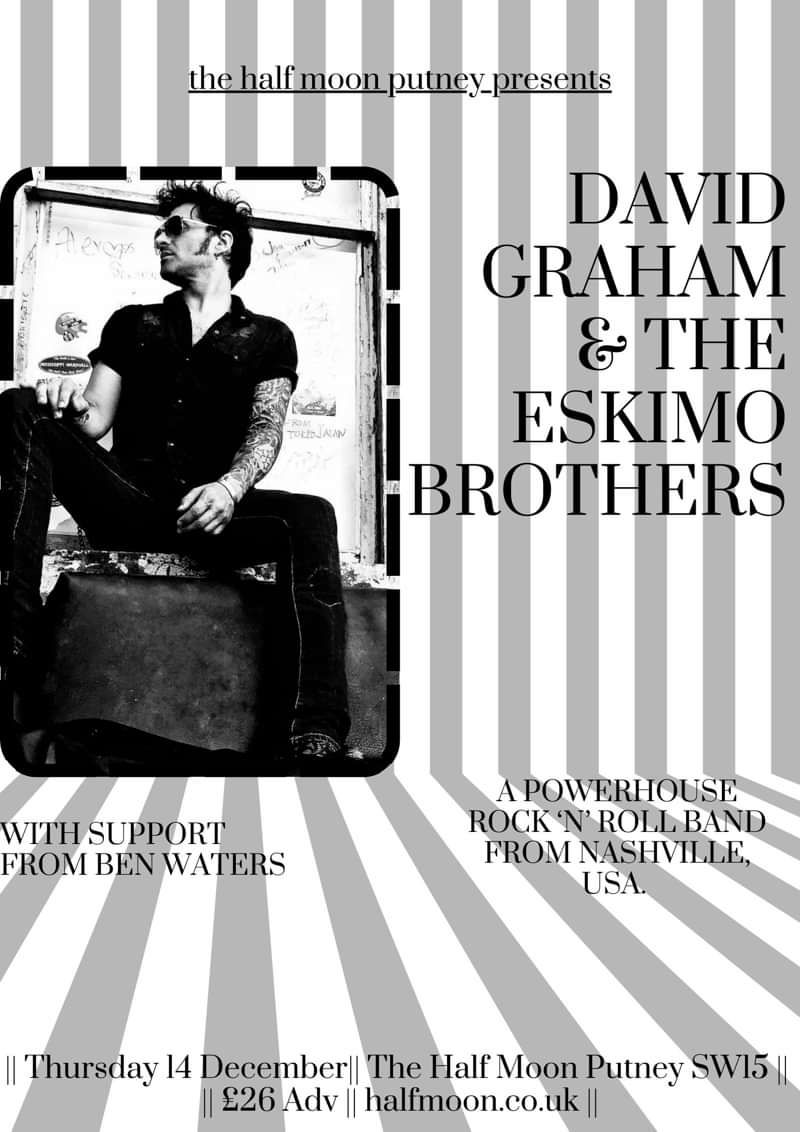 Half Moon presents:
David Graham and The Eskimo Brothers
David Graham & The Eskimo Brothers + Ben Waters
£26 Advance
Entry Requirements: 18+ after 7pm
General Admission (e-ticket)
DIRECT FROM NASHVILLE USA
THE HARDEST-WORKING BAND IN AMERICA
DAVID GRAHAM AND THE ESKIMO BROTHERS WITH SPECIAL GUEST BEN WATERS
This powerhouse of a band has been tearing up Honky Tonks and Bars worldwide for decades, doing 300+ shows a year. They have garnered an enviable reputation as the go-to band in Nashville. With a repertoire of thousands of songs from all of the last century, they are always paying homage to their heroes of Country, Rock, and Blues whilst adding Eskimo power and energy, bringing the past to life with rocket fuel! Charged by the energy of past masters, they have also carved out a niche playing their inimitable originals which have gained critical acclaim worldwide.
Seeing David Graham and The Eskimo brothers isn't just like going to a concert. It's like being swept off your feet by a tsunami of music - David Graham is a tour de force, a brilliant musician, and he also delivers a show Mick Jagger or Bruce Springsteen would be proud of.
Ben Waters met these guys in Memphis - it took ten years before they had enough time to come to the UK. They came, saw, conquered, and sold out every show on their first tour of the UK. Ben and the Eskimo brothers share a musical heritage. Ben known for his fantastic piano work with The Rolling Stones, Jeff Beck, Ronnie Wood, Charlie Watts, and Sir Ray Davies, says, "David Graham and The Eskimo Brothers are the most fun band I have ever played with. They rock the house every time!"
Make sure you experience this band whilst they are in the UK in December 2023
Ben Waters, The uk's number 1 rock n roll pianist who has worked with The Rolling Stones, The Ronnie Wood Band, The Charlie Watts Band, Mick Taylor, Jeff Beck, Rod Stewart, Chuck Berry, will be bringing his band to do the support.
Line Up
Jools Holland, described Ben Waters in The Mail on Sunday as one of his favourite piano players of all time and also asked him to perform at his wedding. Ben also performed at a birthday party for Hugh Laurie and he and his band have played at many prestigious weddings and corporate events all over the world, bringing their own amazing and original version of authentic rock 'n roll to make special days even more special.
Ben and his band have performed for royalty and at Ray Davies's Meltdown Festival at the Royal Festival Hall, followed by tours of Canada, Europe, Scandinavia and the States, where Ben played in the Lincoln Center and on Broadway in New York with the ABC&D of Boogie Woogie. (The A being Axel Zwingenberger; B – Ben Waters; C – Charlie Watts; D - Dave Green). He performed at the Royal Albert Hall on 1st November 2013 alongside Ronnie Wood at the fabulous Blues Fest.
The Band were selected by Ray Davies as one of his favourite bands when he curated the wonderful Meltdown Festival at the Royal Festival Hall 60th Anniversary.
He has had a remarkable apprenticeship, having worked and recorded with many of the legendary greats of the rock 'n roll world – The Rolling Stones. Chuck Berry; Jerry Lee Lewis; Shakin' Stevens; Jools Holland; Ray Davies; and many others. Ben and his son Tom played again last summer on Broadway in New York at the legendary Les Paul's Iridium Club and have just returned from a phenomenally successful tour of Singapore, Australia and New Zealand.
Ben recorded his album "Boogie 4 Stu" at Jools Hollands studio (which Jools donated freely) – it is a commemorative album in honour of the late Ian Stewart, family friend and founder of The Rolling Stones, all of whom, along with Jools and P-J Harvey are featured in the CD. It has topped blues and rock 'n roll charts world wide with proceeds from sales and Ben's advance going to the British Heart Foundation in Stu's memory. The CD cover painting of Ian Stewart was created by Sir Peter Blake who has donated a further £10,000 from print sales to the BHF in memory of Stu.
The Ben Waters Band play amazing rock 'n roll, blues and boogie numbers from this and other albums, along with ground breaking original numbers which are attracting world wide interest. The nucleus of the band is a six piece consisting of Ben on piano and vocals; chart topping drummer vocalist Ady Milward; bass player, vocalist, lyricist and also chart topping Richard Hymas; and amazing sax players Adam Davey and Ben's 17 year old son, Tom, who has been amazing audiences all over the world and steals the show every time. Tom's saxophone was given to him by Tim Ries of the Rolling Stones at the Hyde Park concert in July 2013 and he has just had a sax lesson from Blue Lou Marini (Blues Brothers) in New York). He is now studying at the Purcell School for Young Musicians and attends the young Jazz Course at London's Royal Academy of Music. The band can swell yet again with some of the best musicians in the UK and Ben has taken bands of 12 or more to venues in the UK and abroad.
Truly international, Ben and/or his band have performed all over the UK, Europe and Scandinavia, Barbados, Hong Kong, Australia (where Ben will be playing at Sydney Opera House on 7th February 2018) , New Zealand, The States and Canada. They occasionally arrange for friends from their extensive mailing list to join them - recent trips have included going to Memphis, New Orleans, Las Vegas, Barcelona, Canada, German Christmas Markets, Austria and the wonderful Isles of Scilly. There are many more planned at terrific locations throughout the world.