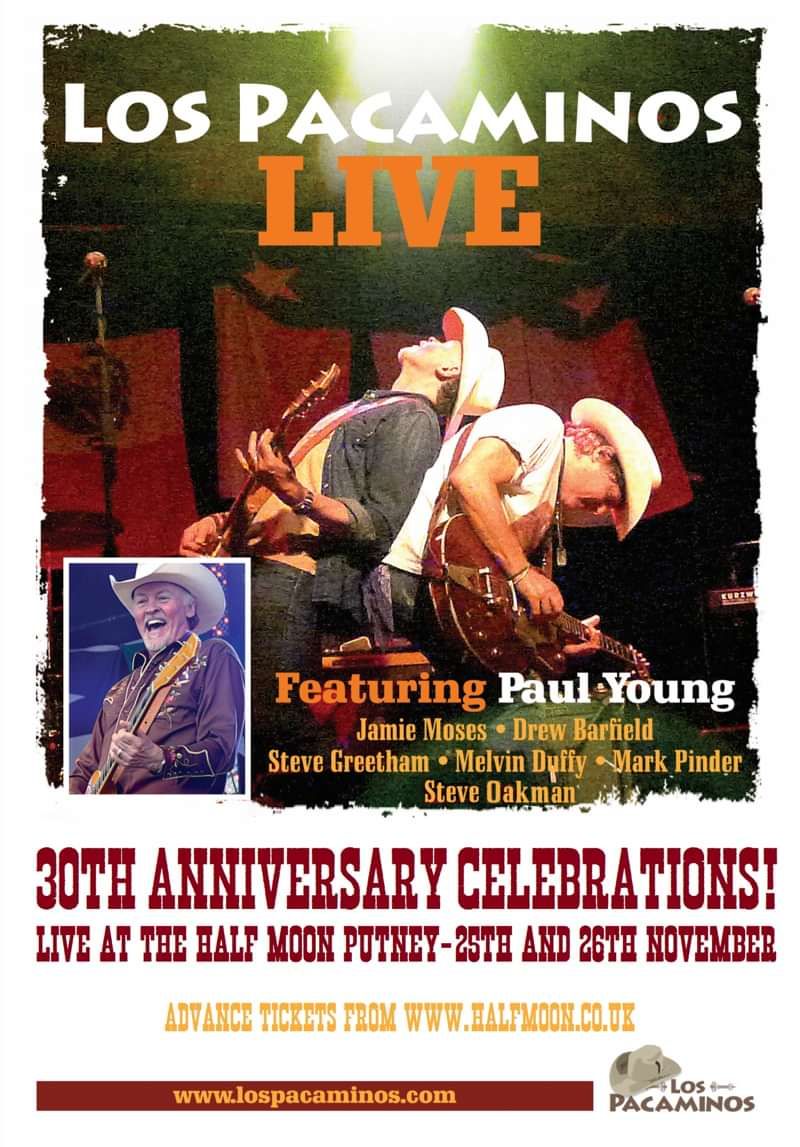 Half Moon presents:
Paul Young's Los Pacaminos
Paul Young's Los Pacaminos
£20 Advance
Entry Requirements: 18+ after 7pm
General Admission (e-ticket)
Paul Young's Los Pacaminos return to the Half Moon for their annual two night Tex-Mex residency!
On a bleak November day in London in 1993, Paul was pondering how to break the album/ promotion/ tour routine that to be honest, was becoming a little predictable after 10 years of being a solo performer. And anyways, he missed the camaraderie of just being a band member.... So he called around some of his friends and members of his previous line-ups through the years to find out who would be interested in forming a loose, relaxed Tex-Mex group for some impromptu gigs.
Paul is not the only luminary in the band, however. Some of the best musicians in the business have teamed up to present the incendiary mix of Tex-Mex classics, Spanish songs and original material that make up the music of Los Pacaminos.
Put those blues to one side for the evening, forget the working week and join in the party atmosphere generated by Paul and the guys as they sing and play the music so deep in their hearts. Come and have a beer and tequila and kick up your heels!
Line Up
… have been playing together for 25 years, starting in the early 90s, and not meant to be anything other than fun. Fortunately, it was so much fun that no one wanted it to stop! Originally formed as a Tex-Mex band, they have now evolved a sound that's all their own, taking in the influences of Ry Cooder, Flaco Jimenez, Roy Orbison, The Texas Tornados, Calexico, Ennio Morricone, Texas blues, a little bit of Country, Cajun, Conjunto and a hefty slice of Americana.
The songwriting is strong and, blessed with more than a few good vocalists in the band, the variety of material can be shaped to fit each singer. The original band members are Paul Young (of solo career notoriety), Jamie Moses (Pretenders, Brian May & Queen, Tom Jones and a host of others), Drew Barfield (The Keys, The Big Heat, JB All Stars), Steve "Woody" Oakman (Vanity Fare, Chris Farlowe, Gary US Bonds etc.), Melvin Duffy (Jimmy Nail, Deanna Carter, Robbie Williams, The Waterboys, First Aid Kit), Steve Greetham (Paul Young, Julia Fordham) and Mark Pinder (Vampire Bats, Paul Young, Alison Moyet).