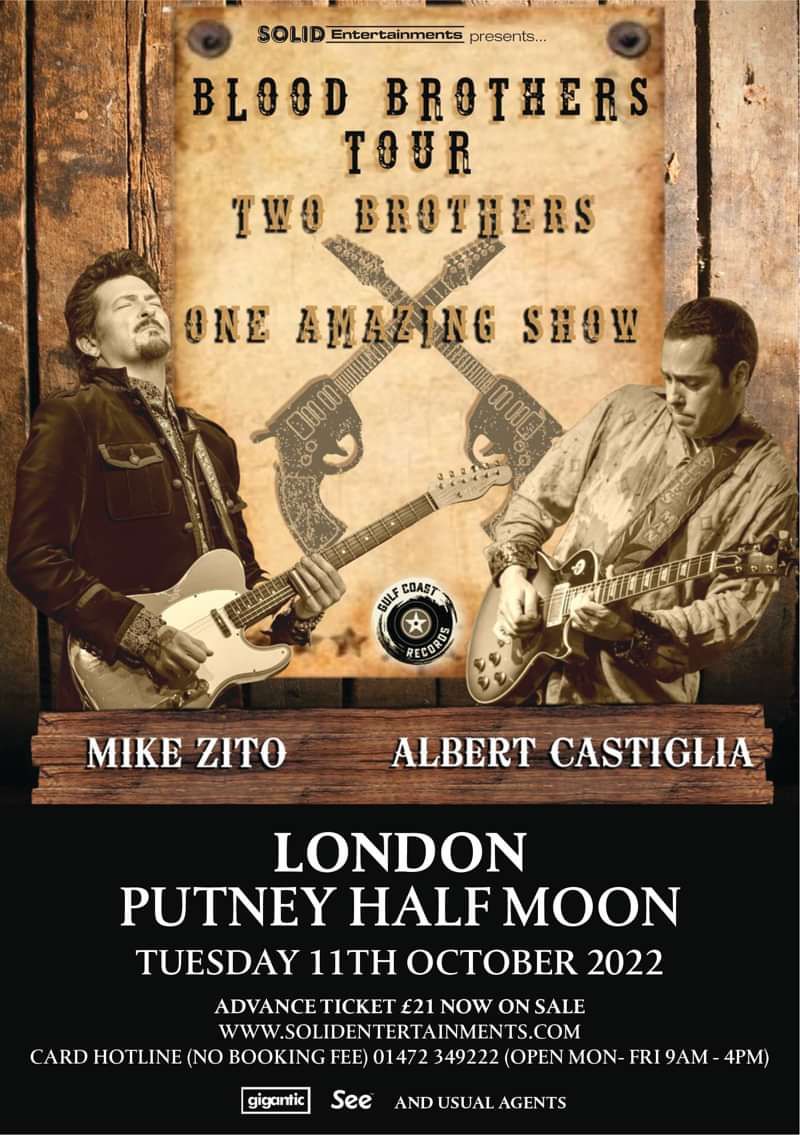 Half Moon presents:
MIKE ZITO & ALBERT CASTIGLIA - BLOOD BROTHERS
Mike Zito + Albert Castiglia
£21 Adv / £25 Door
Entry Requirements: 18+ after 7pm
General Admission (e-ticket)
Line Up
Mike Zito, winner of the 2021 Blues Music Awards 'Best Blues Rock Album' and Best Blues Rock Artist' is one of the most lauded performers in the contemporary blues arena today and rightfully so, but for him, the thing that counts the most is maintaining his honesty, authenticity and integrity. Those are the qualities that have steered Zito's career since the beginning and continue to define every effort he's offered since.
"I have nothing to hide; it seems my honesty is what people relate to most," he once told Vintage Guitar magazine. "Anders (Osborne) told me early on, 'If you don't believe what you're singing, you'll never be a good singer.' I try not to write fluff; I try to make every word count."
Naturally, patience and perseverance have been Zito's stock and trade since the beginning. He began playing guitar at the age of five, and by the time he reached his late teens, he was already a fixture on the local St. Louis music scene. He initially released his music independently and then signed with Eclecto Groove Records in 2008. "Pearl River," the title track of his 2009 album for the label, won Song of the Year at the Blues Music Awards and marked his first collaboration with Cyril Neville, with whom he'd later work in the Royal Southern Brotherhood. A steady succession of critically acclaimed albums followed, culminating in 2011's Greyhound, which was nominated for Best Rock Blues Album at that year's Blue Music Awards ceremony in Memphis. Two years later, he signed with Ruf Records and released Gone to Texas, the story of how he gained his sobriety, offered an emotional homage to the state that left an indelible imprint on his entire life. It also marked the debut of his band, The Wheel.
From 2010 to 2014, Zito also played an integral role in the super group of sorts, Royal Southern Brotherhood. The group released two albums and a DVD, Songs from the Road - Live in Germany, winner of the year's Blues Music Award for Best DVD. He also made his mark behind the boards by producing albums for Samantha Fish, Albert Castiglia, Ally Venable, Jeremiah Johnson, Jimmy Carpenter, and many others.
Meanwhile, the accolades kept coming. His album, Make Blues Not War, debuted on the Billboard Blues Album Chart at number one and garnered him recognition as the 2018 Rock Blues Artist of the Year at the Blues Music Awards. First Class Life followed suit, also entering the charts at number one. Alternate Root magazine insisted that "The First Class Life that Mike Zito titles his upcoming album can be heard in the sweet sound of Blue Soul rising like heat waves from his guitar and his vocal." American Blues Scene said, "Mike Zito's return to the blues is, in a word, triumphant!" No Depression declared, "Once again, Zito has delivered the goods, a first class package with no postage due."
Mike Zito's last CD, Quarantine Blues, was recorded during the heart of the coronavirus pandemic and served as a healing love letter to his fans around the world that heralded better days ahead if we'd all just stick together. His album prior to that was a tribute to fellow St. Louis native and rock 'n' roll legend, Chuck Berry, and featured an array of guest guitarists ranging from Joe Bonamassa, Walter Trout and Eric Gales, to Robben Ford, Luther Dickinson and Sonny Landreth, as well as Berry's own grandson. In June 2021, Mike Zito was awarded two Blues Music Awards at The Blues Foundation's 42nd Blues Music Awards in Memphis, TN. Zito won BMAs in the categories of Blues Rock Artist as well as Blues Rock Album of the Year for Mike Zito and Friends – Rock 'n' Roll: A Tribute to Chuck Berry
Mike Zito will release his new album, Resurrection, on July 16th via Gulf Coast Records and Hillside Global. Producing the new disc is the celebrated Grammy-winner David Z, best known for his long-standing work with Prince, and who has contributed to albums by Etta James, Billy Idol, BoDeans, Buddy Guy and John Mayall, among many others.
"I have songs in me and musical ideas all of the time," volunteers Mike Zito about the new album's genesis. "I write what I can, when I can and try to save it all for posterity. Some of the songs are just songs and they don't always have meaning for me, and some of them become very personal. For me to sing songs and feel them with real emotion, they need to be somewhat personal. Even songs I did not write, I need to feel they explain a part of my thinking or how I am feeling about love, sex, life, death, the world…. Resurrection is an album of feelings, emotions, and is very personal. The title track is how I once almost lost my love, but it came back stronger than ever. I have had this song in me for years, but it only makes sense now to share it with the world. After the year we have had on planet Earth, I believe we all need a rebirth. This rebirth has given me an opportunity to be who I want to be musically and artistically."
Joining Zito (vocals, guitar) on his new musical journey are many musicians who've played with him for the last several years, including: Matthew Johnson – drums; Doug Byrkit - bass guitar; Lewis Stephens – piano, organ; Zach Zito - acoustic guitar; and Lisa Andersen - backing vocals; Eric Demmer – saxophone; and Fernando Castillo – trumpet.
Mike Zito Social Media Links
Website: https://www.mikezito.com/

Facebook: https://www.facebook.com/mikezitomusic/
Instagram: https://www.instagram.com/zitorox/
Twitter: https://twitter.com/zitorox
Miami-raised Albert Castiglia served an apprenticeship while backing legendary blues musician Junior Wells. He later went on to work with singer Sandra Hall. Never content to allow himself to be confined to any particular category, he embarked on a solo career that's yielded many critically-acclaimed albums and consist kudos for his exceptional instrumental prowess, his searing vocals, and live performances that have dazzled audiences from coast to coast. It's little wonder that Miami's New Times lauded him as South Florida's "Best Blues Guitarist" or that USA Today was inspired to remark "It's a revelation to discover the thrilling retro-electric blues from this astonishing young guitarist." M Music & Musicians once noted, "His back-to-basics approach follows in the footsteps of those who fostered the blues in the Mississippi Delta and the smoky late-night haunts of Chicago." After the highly successful and critically acclaimed release of Masterpiece on Gulf Coast Records, Castiglia was nominated for two Blues Music Awards in the categories of Blues Rock Album of the Year and Blues Rock Artist of the Year and won Blues Rock Album of the Year..