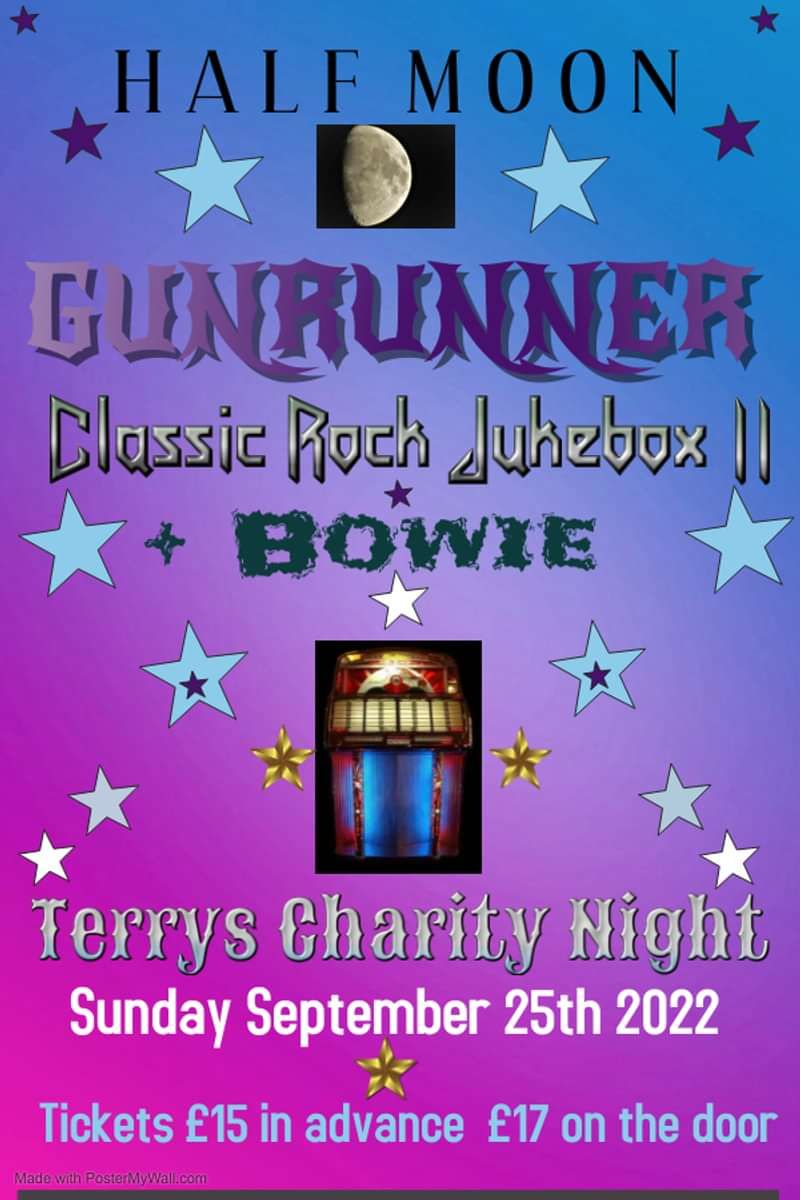 Half Moon presents:
Gunrunner: Classic Rock Jukebox Charity Night
Gunrunner
£15 Adv / £17 Door
Entry Requirements: 18+ after 7pm
General Admission (e-ticket)
An Essex based six-piece classic rock band, who have been on the scene for the best part of twenty years now and have played major festival dates in the UK and across Europe.
You can expect a brilliant live rock show that will feature all the great names from the 60's, 70s, 80s, and 90's, including The Who, Led Zeppelin, Deep Purple, Toto, The Beatles, ZZ Top, Queen, Judas Priest, The Doors, David Bowie, AC/DC, Free, The Rolling Stones, Bon Jovi, Journey, Whitesnake, Van Halen and many, many more in an enthralling two and a half hour spectacular that will bring back great memories of the Classic Rock heyday.
Line Up
Essex Classic Rock band Gunrunner are in their 20th year and are still giving audiences what they want; classic rock covers at their very best and covering all genres and eras. This 6 piece band know the ropes and deliver an unforgettable show over two and a half hours so dont miss this night of outstanding rock music that will take you back to the legendary days of the 60's, 70's and 80's featuring the true giants of Rock music.
"Gunrunners Classic Rock show was just superb. If you want a night of top quality covers for the golden era of rock, then look no further then these boys.." Bobby J. Hertford
" What a really great band. So authentic sounding and a rock set list to die for! " Helen, Cambridge