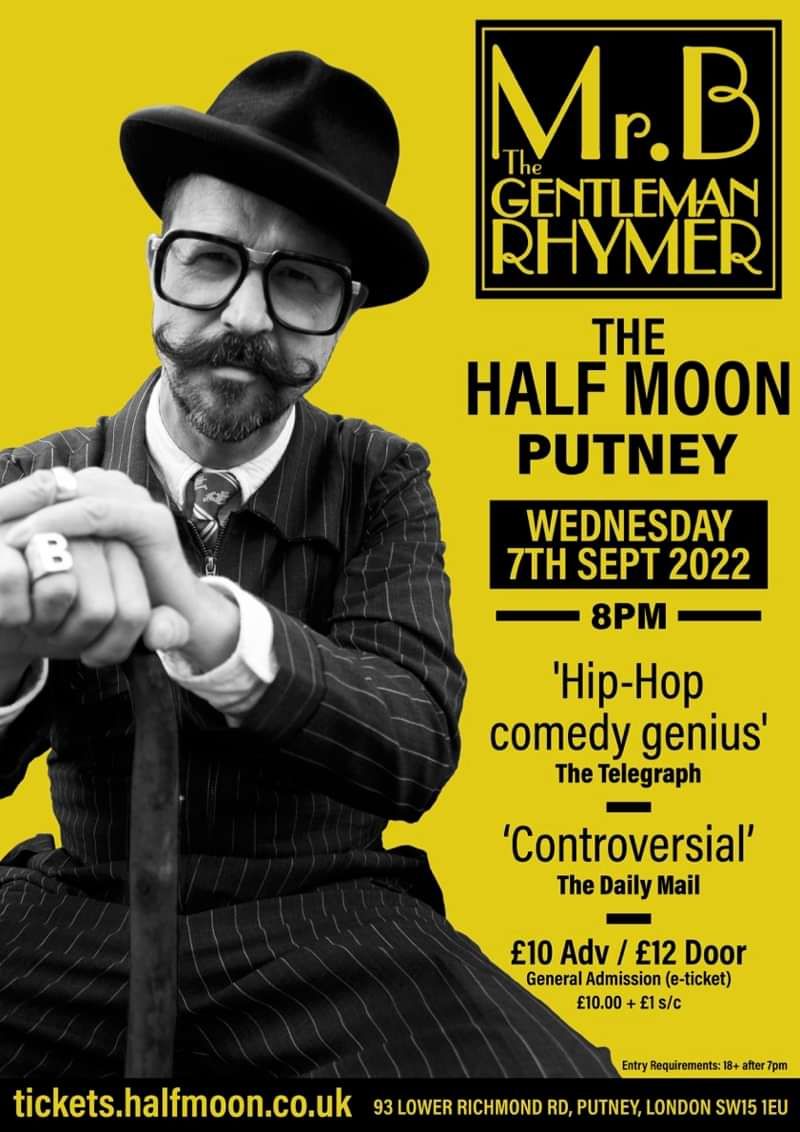 Half Moon presents:
Mr B The Gentleman Rhymer
Mr B The Gentleman Rhymer
£10 Adv / £12 Door
Entry Requirements: 18+ after 7pm
General Admission (e-ticket)
Back by huge demand, Mr.B returns to his spiritual home in South West London on 7th April to share a jar or two of our finest ales and play some spiffing tunes.
From deepest darkest Surrey, and with a decade of gentlemanly catterwalling under his belt, Mr.B brings you Chap-Hop, re-acquainting Hip-Hop with the Queen's English from whence it came. His legendary live recitals have earned him plaudits, largely from top shelf gentlemen's quarterlies.
Line Up
Mr.B began his Chap-Hop career in the summer of 2007 when he decided to bring elements of his previous incarnations (UK rapper, jump-up breaks producer, banjolele maverick and dandy) together and create a genre. Since then he has toured the world from Surrey to Osaka, Banstead to Berlin, Middlesborough to Minneapolis, Norway to New York and the Edinburgh Fringe to Glastonbury bringing his beats, rhymes and manners. He was twice in the Guardian's top ten list of must sees at Glastonbury. His videos have garnered millions of views on YouTube and hIs 7th studio album THERE'S A RUNMPUS GOING ON was released in November 2016.
www.gentlemanrhymer.com facebook.com/gentlemanrhymer @gentlemanrhymer on instagram and twitter