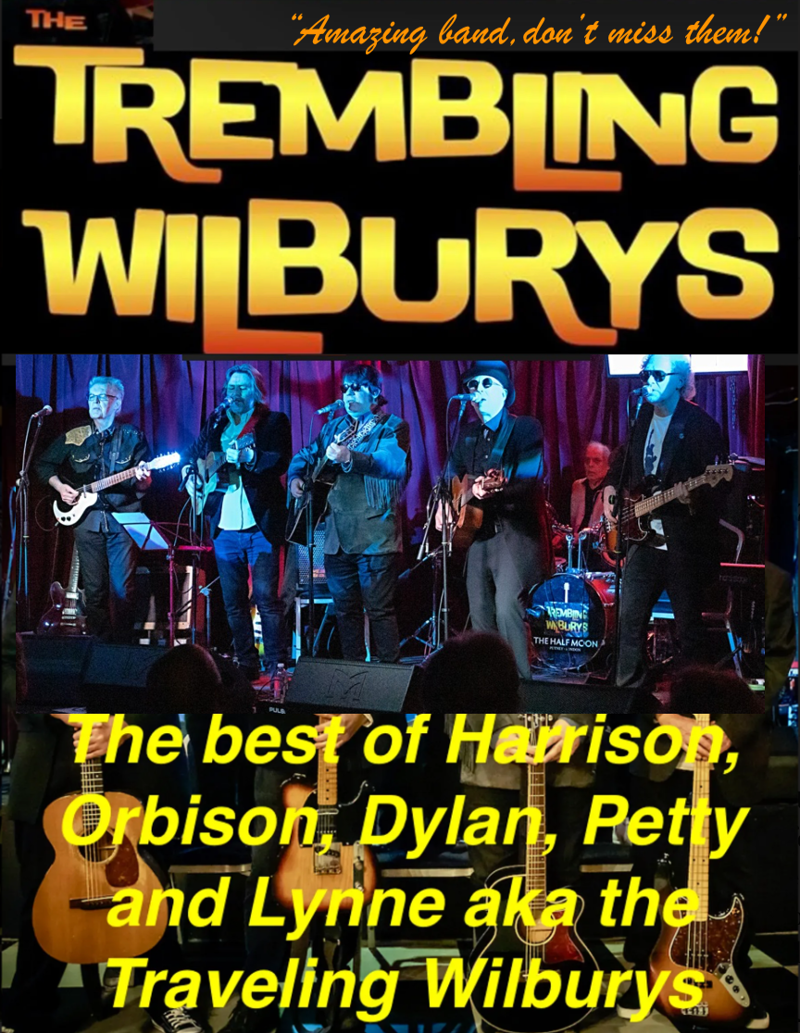 Half Moon presents:
The Trembling Wilburys
The Trembling Wilburys
£15 Adv / £18 Door
Entry Requirements: 18+ after 7pm
General Admission (e-ticket)
The Trembling Wilburys is the UK's finest tribute to rock super-group the Traveling Wilburys, featuring a line-up of top musicians and vocalists who perfectly recreate the unique sounds & style of the amazing band created in 1988 by George Harrison, Roy Orbison, Bob Dylan, Tom Petty and Jeff Lynne.
Band members include John Brosnan as George Harrison (John played George in the highly successful 'Let It Be' stage show); while Dave Collison perfectly captures Roy Orbison's incredible vocal range and look. Other members include Andy McNish as Bob Dylan and Tom Petty; Marko Laver as Jeff Lynne; lead guitarist Dzal Martin (Terry Reid/Equals/Box of Frogs); keyboard player Steve Salvari (Central Line/Chaka Khan/Robert Palmer); and drummer Dave Stark.
Their superb show features a great mix of Traveling Wilburys' classics such as 'End of The Line', 'Handle With Care' and 'She's My Baby', as well as solo hits by all five original Wilburys plus Beatles and ELO classics, including 'Here Comes the Sun', 'Taxman', 'Hold On Tight' and 'Roll Over Beethoven'. An incredible band who deliver a high-octane show of the highest standard, don't miss them!
Line Up
Band members include Glen Knowler as George Harrison, easily the closest look & sound-alike to the late Beatle in the world, while Dave Collison perfectly captures Roy Orbison's incredible vocal range and look.
Lead guitarist Dzal Martin is one of London's most respected players, who also plays with such names as Terry Reid, The Equals & No Dice; while drummer and founder Dave Stark has played with the long-running Dave Stark Five and the John Lennon Experience, as well as recently guesting with The Quarrymen (Lennon's original skiffle band), along with bassist Marko Laver.
Completing the line-up are Andy McNish (rhythm guitar) and Howard Robin (keyboards) who along with Dzal and Marko have played with the Dave Stark Five.