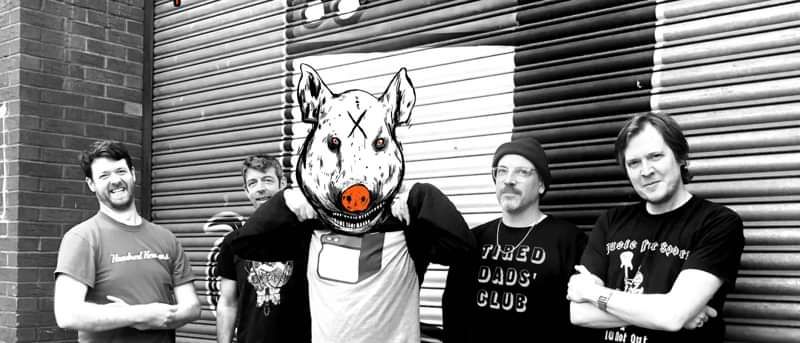 Half Moon presents:
The Fades
The Fades + Les 'Fruitbat' Carter (Abdoujaparov/Carter USM) + Stephen Evens Band - featuring special guest members + Liam Young (Devil's Dinner Party) DJ set
£10 adv / £12 door
Entry Requirements: 18+ after 7pm
Post-Punk indie rockers *The Fades *are back with a brand new album written and recorded over the last year. This is going to be the launch party for 'Night Terrors'.
The Fades are London based brothers Dave (vox, guitar) and James Lightfoot (bass), lifetime school friend Jonny Barnard (guitar) and Alastair "Flash" Thorpe (drums).
With a true punk DIY aesthetic, the band recorded their debut single in a flat above a chip shop on the Staines Rd. It was picked up by national radio in the UK and quickly generated a buzz around the band.
Following some explosive gigs in London and a tour of the UK with Art Brut, the Fades garnered a reputation for blistering live shows and mayhem, including a penchant for multi-band clothes swapping on stage. This coincided with a couple more successful singles and a mini album, which were all regularly playlisted on radio and featured in TV shows and publications across the world.
After eventful tours around the UK, Ireland, Italy and a big festival in Tbilisi; US indie label Cranky Girl Records discovered the band and The Fades went out to New York and the East Coast to tour, release some records in the USA and hone their already renowned live set with a whirlwind of gigs, parties and scintillating scotoma.
"It's like someone fired a surf-punk into the sun at warp speed while a heavenly choir rejoices in the shredding with their beatific 'aaaaahs'." Fresh on the Net
"It is arguably the most entertaining guitar album since Mclusky Do Dallas and, in this writer's opinion, it is only rivalled by Future Of The Left's new effort for the accolade of album of the decade… so far." Louder Than War*
Support from:
Les 'Fruitbat' Carter (Abdoujaparov/Carter USM) solo set
Stephen Evens Band - with very special guest members
Liam Young (Devil's Dinner Party) DJ set
Set Times:
Les - 7.45pm Steven Evens - 8.30pm The Fades - 9.15pm DJ - 10.15pm onwards
Line Up
Les 'Fruitbat' Carter (Abdoujaparov/Carter USM)
Stephen Evens Band - featuring special guest members
Liam Young (Devil's Dinner Party) DJ set