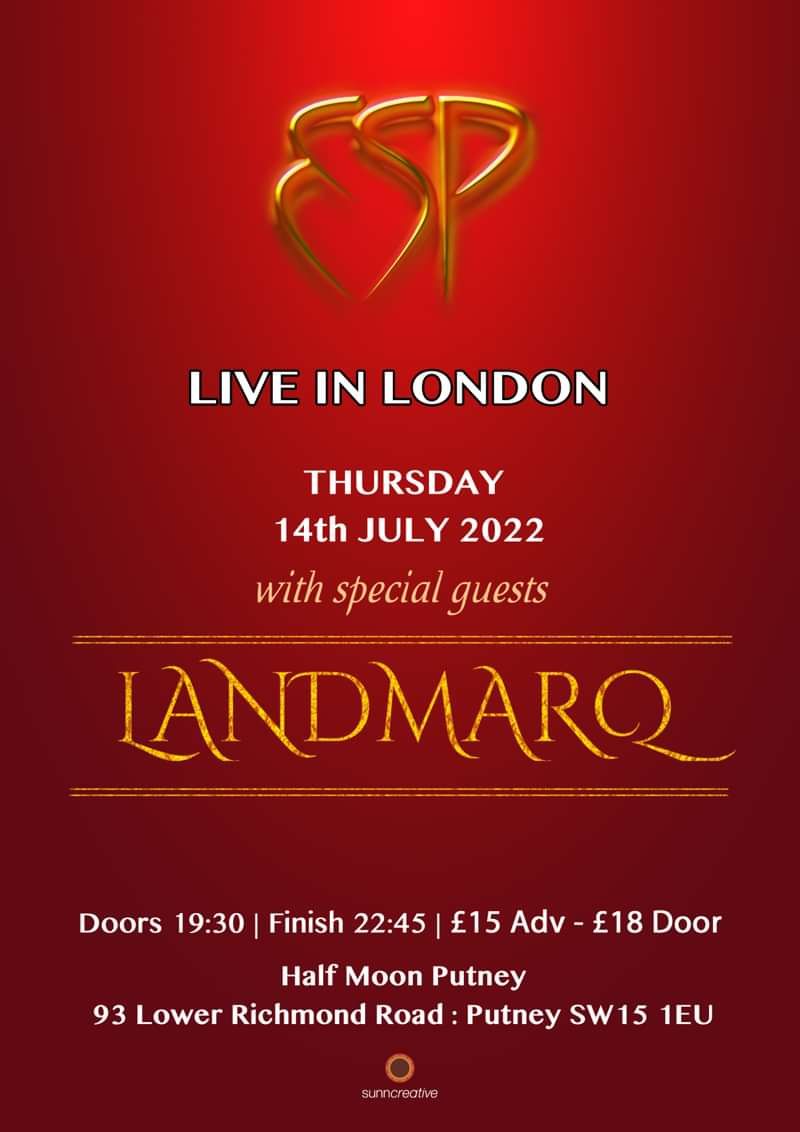 Half Moon presents:
A Prog Double-Header : ESP & LANDMARQ
ESP + LANDMARQ
£15 Adv / £18 Door
Entry Requirements: 18+ after 7pm
General Admission (e-ticket)
A Prog Double-Header : A night of great prog music and outstanding musicianship from two of the UK's finest progressive rock bands, ESP and Landmarq.
ESP - "Ground-breaking Prog Rock at its finest" - "Stunning" (Prog Rock Files) - "Evocative and Ambitious" (PROG Magazine)
The ESP Project release their sixth studio album, anarchic curves in Spring 2022 on the Sunn Creative label. Featuring the compositions of Tony Lowe, the poetic lyrics, and vocals of Peter Coyle - this album is a mesmerising addition to a highly reviewed body of work. The full ESP Project band play the new album plus tracks from previous releases. Tony and Peter take us yet again into a conceptual and imaginative world full of beauty and passion with songs that move from melodic and symphonic to intense rock, creating an unforgettable offering to the ESP Project catalogue. Since 2016, the five ESP Project albums have garnered a combination of over 50 4-4.5/5-star reviews from the Music Press. The live show features Tony Lowe on guitar, Peter Coyle on vocals, Pete Clark on bass, Cheryl Stringall on keyboards and Dave Etheridge on drums. More at esp-project.com.
LANDMARQ - "What has set Landmarq's seal has been an ability to appeal to the diehard Progressive audience who demand musical gymnastics, and also to a more mainstream crowd who want accessibility..." - 'Classic Rock Presents Prog' magazine, UK
Formed in 1990 and celebrating their 30th anniversary in 2020, Landmarq are a UK-based 'neo-progressive' rock band. The band have an extensive catalogue having so far released a total of ten albums, four of which were recorded live at various concerts in the UK and elsewhere in Europe, plus two official concert DVDs filmed in Poland (2006) and The Netherlands (2015). The band are continuing to write and record material for their next album and are looking forward to more live shows in 2022 and beyond. See the band's website (landmarq.net) for an extended biography, full discography, music and more, including details of forthcoming live dates.