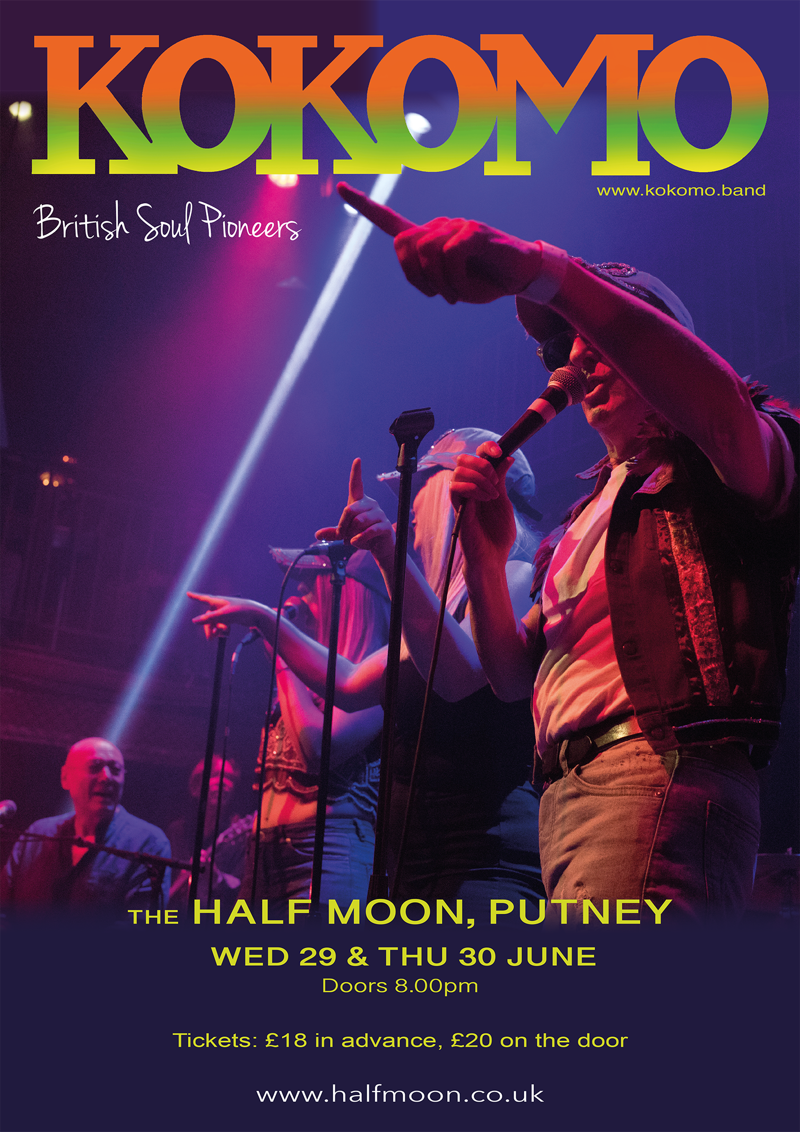 Half Moon presents:
Kokomo
Kokomo
£18 Adv / £20 Door
Entry Requirements: 18+ after 7pm
British soul pioneers, Kokomo, built their reputation and loyal following with awesome live shows. Their 1975 debut album is considered a classic among collectors, whilst the band's reputation as one of the finest 'groove' units ever to come out of this country remains largely intact. A series of packed reunion gigs since 2014, now featuring 6 original members and some highly talented new young blood, has proved that the band is grooving as well as ever.
"Kokomo were on fire down at the Jazz Cafe for a rip-roaringly funky midweek gig. They got right down into the groove as only they can do – and some! In true Kokomo style the soul-funk barometer was reading very high, with flexible personnel always rooted in the core of original members who, if anything, have grown in stature since their early days." Geoff Winston, London Jazz News
Line Up
The Line up
Kokomo's enduring pedigree is evidenced by how many of the original members have gone on to enjoy considerable success in their subsequent careers. Jim Mullen is now a much feted award-winning jazz guitarist, Neil Hubbard's discography is impressive to say the least – recording and touring with the likes of Joe Cocker's Grease Band, Roxy Music, Robert Palmer, BB King, Buddy Guy, Bryan Ferry … Jody Linscott continues to work with everyone from McCartney to Will Young, Mel Collins' sax work has graced albums and gigs by Dire Straits, Eric Clapton, and the Rolling Stones, to name but a few, and recently found himself back touring with King Crimson; Tony O'Malley has forged a successful solo career here and in Europe, Frank Collins toured and recorded with Terence Trent D'Arby and he, along with Dyan Birch (RIP) and Paddie McHugh (now retired) were in great demand as session vocalists and toured with Bryan Ferry amongst others.
The full line up today:
Frank Collins, Helena May Harrison, Charlotte Churchman - vocals Tony O'Malley - piano and vocals Neil Hubbard - guitar Jim Mullen - guitar Jennifer Maidman - bass Mel Collins - sax Andy Treacey - drums Jody Linscott - percussion
Link to website: