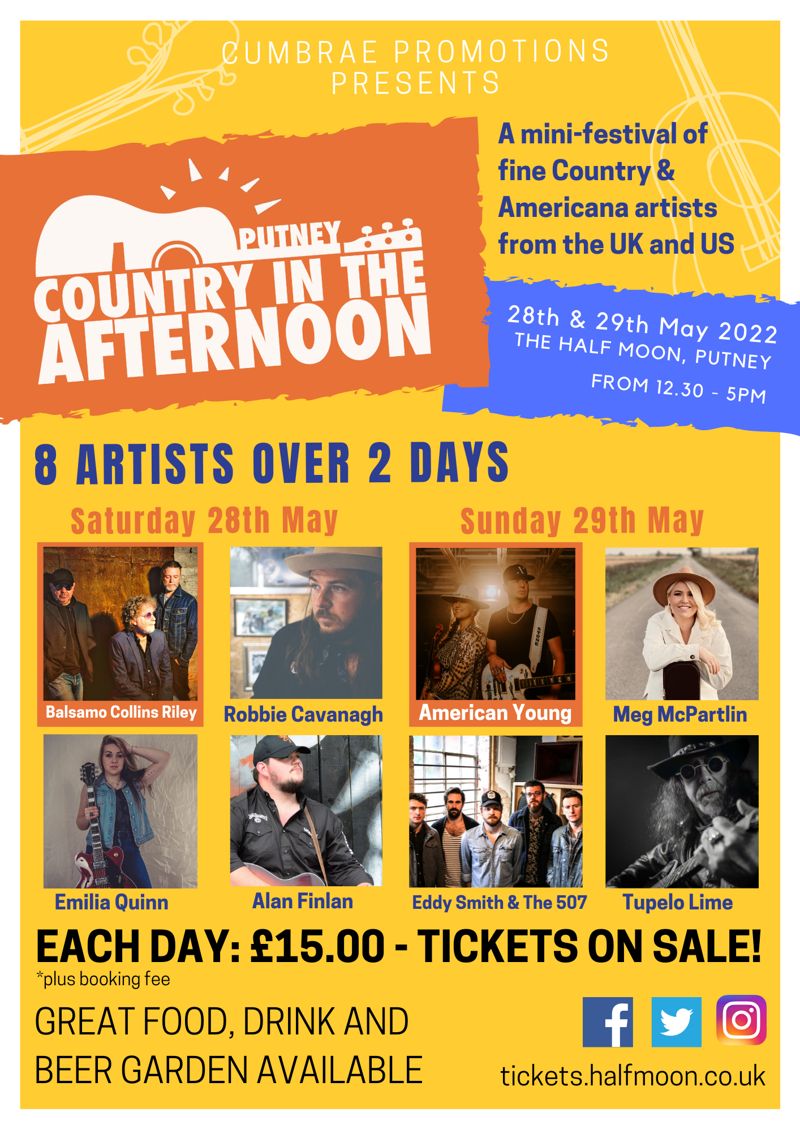 Half Moon presents:
Country In The Afternoon Festival
American Young + Meg McPartlin + Eddy Smith & The 507 + Tupelo Lime
£15 Advance
Entry Requirements: 18+ after 7pm
General Admission (e-ticket)
Country In The Afternoon, the mini-festival of country and americana, returns on Saturday 28th and Sunday 29th May to The Half Moon.
Saturday will be headlined by the newly formed super trio, Balsamo Collins Riley, featuring former members of The Storys and the Edwin McCain Band, whose first two singles "Keep This Love Alive" and "Turn This Thing Around" are attracting a lot of praise. Robbie Cavanagh, Emilia Quinn and Alan Finlan will also bring their own particular styles and talent to the afternoon.
American Young return to London for the first time in three years to headline the Sunday session. Kristy Osmunson and Jon Stone have just released their second album, AY II, which has gained them a lot of attention in the US. Also appearing will be Meg McPartlin, Eddy Smith & The 507 and Tupelo Lime.
Line Up
"The finest meshes of Soulful Blues and melodic Pop you will hear this year" - The Blues Mag
Since being named "Best Unsigned Band" at the Best of British: Critic's Choice Awards back in 2015, Eddy Smith & The 507 have been focusing their efforts on finding their sound, and honing their crafts as songwriters, musicians and performers. ​ Now, after 2 years of writing and gigging all over the UK, namely at their popular London residency, The Troubadour, which, in recent years has seen performances from Amos Lee, Adele and Laura Marling among others, The 507 are excited to announce the completion of their debut album, working alongside award-winning Producer, Stacy Parrish. ​ "The Soul in Eddy's voice is where I want Music to be at." - Huey Morgan, Fun Loving Criminals, BBC 6 Music.
A Soulful blend of Blues, Rock and Pop, the debut album consists of 10 original songs, all produced by Stacy Parrish at his recording studio in Sweden. Stacy has worked with some of the biggest names in music, including Robert Plant, Alison Krauss, Randy Newman, and has a Grammy certificate for his work on the Krauss / Plant Collaboration album, Raising Sand. ​ https://www.eddysmithmusic.com/ https://www.facebook.com/eddysmithmusic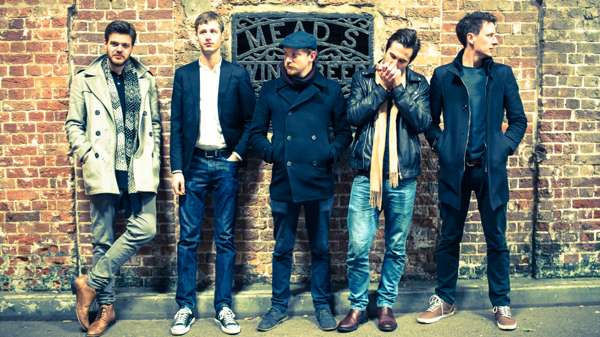 "Warped by the Rain, Driven by the Snow"..... the songwriters ode to rural America. From Appalachia to Texas, Vermont to California, Tupelo Lime celebrate country music. Great country music. Real country music .Waylon Jennings, Willie Nelson, Kris Kristofferson, Johnny Cash, Merle Haggard, Guy Clark, Jerry Jeff Walker, Jessi Colter, Tompall Glaser, David Allan Coe, Sammi Smith, and Tanya Tucker Hank Williams Jr., Charlie Daniels, B.W. Stevenson, the Eli Radish Band, Leon Russell, Townes Van Zandt, Michael Martin Murphey, Billy Joe Shaver, Steve Earle, Joe Ely,Johnny Paycheck, Ed Bruce, Gary Stewart. These are our influences. Throw in some Stephen Stills, a dash of Greg and Duane Allman. Stories of love, tales of hardship, celebrations of joy and the harsh sadness of hard lives,this is outlaw country music. This is the music we love. Tupelo Lime play country music.