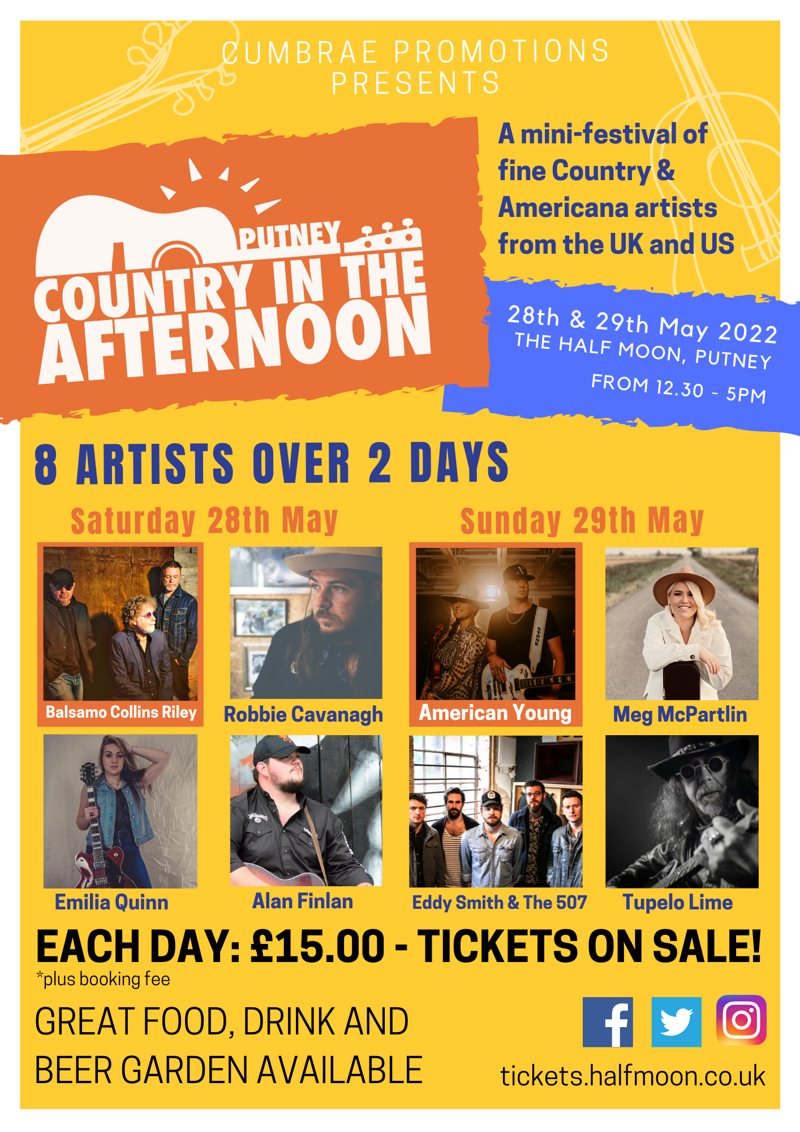 Half Moon presents:
Country In The Afternoon Festival
Balsamo Collins Riley + Robbie Cavanagh + Emilia Quinn + Alan Finlan
£15 Advance
Entry Requirements: 18+ after 7pm
General Admission (e-ticket)
Country In The Afternoon, the mini-festival of country and americana, returns on Saturday 28th and Sunday 29th May to The Half Moon.
Saturday will be headlined by the newly formed super trio, Balsamo Collins Riley, featuring former members of The Storys and the Edwin McCain Band, whose first two singles "Keep This Love Alive" and "Turn This Thing Around" are attracting a lot of praise. Robbie Cavanagh, Emilia Quinn and Alan Finlan will also bring their own particular styles and talent to the afternoon.
American Young return to London for the first time in three years to headline the Sunday session. Kristy Osmunson and Jon Stone have just released their second album, AY II, which has gained them a lot of attention in the US. Also appearing will be Meg McPartlin, Eddy Smith & The 507 and Tupelo Lime."
Line Up
Creating mesmerising, lyrically enchanting Americana, Emilia pours her heart and soul into her craft.
Having grown up with a wide variety of music genres, she takes inspiration from anywhere and everywhere. She kicked her performance career off as a Singer-Songwriter at age 11 and swiftly joined a Rock band. After returning briefly to her Singer-Songwriter career she formed a Blues Rock band and found her feet in Roots music. This led her to Americana, where she found a comfortable space and placed her unique twist on the ever shifting genre.