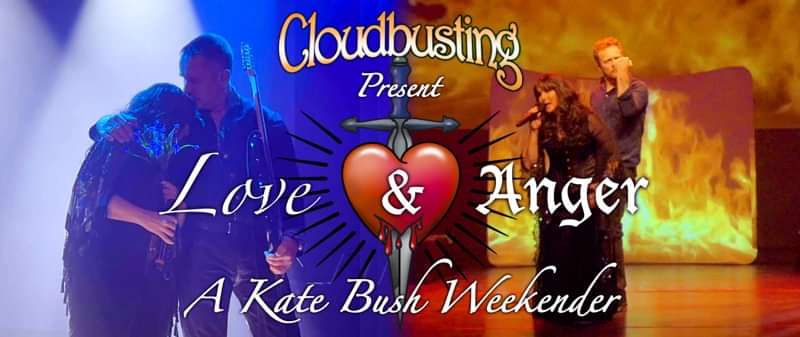 Half Moon presents:
Cloudbusting - Love & Anger Weekend
Cloudbusting - The Music Of Kate Bush
£17 Advance / £30 Weekend
Entry Requirements: 18+ after 7pm
General Admission (e-ticket)
Weekend Admission (Sat & Sun) (e-ticket)
Cloudbusting Presents
The Kate Bush
'Love & Anger' Weekend
CLOUDBUSTING, the longest running and most universally applauded tribute to the music of Kate Bush return to the Half Moon on 12th & 13th February to celebrate Valentine's weekend with not one, but two shows! The LOVE & ANGER WEEKEND features the delights of Kate's classic hits on both nights but each passionate performance is centred on songs to reflect the theme of that show.
Sun 13th - LOVE!
With a show so close to Valentine's day it seems only fitting to embrace Kate's work in dealing with matters of the heart. Cloudbusting will create a SENSUAL WORLD focusing on the most romantic aspects of THIS WOMAN'S WORK - although the course of true love never did run smooth in Kate's lyric book. OH TO BE IN LOVE and never get out again!
If L'AMOUR LOOKS SOMETHING LIKE YOU then join us for a night of ALL THE LOVE.
Love & Anger - pick the show that appeals to you the most, or take advantage of the weekend ticket deal of TWO NIGHTS FOR £30+bf and come to both! What would we do without you?!
Line Up
Running Up That Hill, Wuthering Heights, Hounds of Love, Babooshka, This Woman's Work, Wow… the band can't wait to whip up a storm of love for Kate's music once again, featuring all the hits you'd expect as well as many songs you wouldn't! A Cloudbusting concert is an event no Kate Bush fan will want to miss and this unique and intimate performance, the band's very first socially distanced one will still ensure that you exchange the experience.
In the words of Kate herself, 'We're Cloudbusting, daddy!'
'Utterly, surreally brilliant' - Mick Wall, Classic Rock Magazine