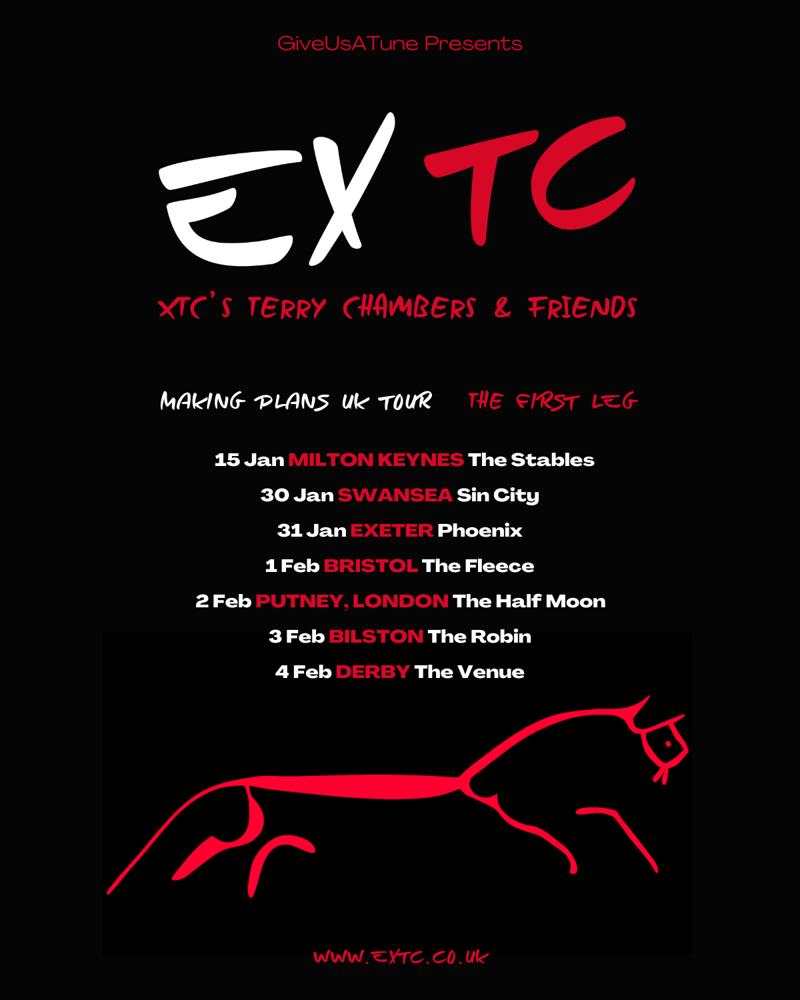 Half Moon presents:
EXTC - XTCs Terry Chambers & Friends
EXTC
£20 advance
Entry Requirements: 18+ after 7pm
General Admission (e-ticket)
Making Plans for Nigel... Senses Working Overtime... Sgt. Rock... Generals and Majors... XTC is one of the UK's most revered and influential bands. While XTC are no more, their legacy has passed to EXTC - the band of legendary XTC drummer, Terry Chambers.
For the ultimate stamp of approval, EXTC comes with the support of XTC leader, Andy Partridge. Hot on the heels of a storming headline appearance at the Isle of Wight Festival, EXTC will perform a full set of XTC classics. And you can expect the band to deliver the same fire seen in XTC's gigging heyday, which included worldwide tours with The Police and Talking Heads.
The all-guitar line-up recalls XTC in its heyday. Songs that never sat together before suddenly seem part of a unified body of work. It's all part of the one rich and imaginative canon; like dipping into a selection box of chocolates, except without the ones in purple wrappers you always avoid." Mark Fisher, Limelight
A packed, enthusiastic crowd of super fans with two marvellously played sets of their favourite songs was a magic combination. We sang along 'til hoarse and cheered them to the rafters!" George Glen, Music Producer
A crisp, strong live band, backed by a tight, confident drummer who oozes feel for the songs and drives them along in a way that simply must be experienced. The gig filled me with joy. Once again, EXTC nailed it." Phil Lively, The Progressive Aspect
Terry Chambers is the world's best drummer." John Leckie, Music Producer
Line Up
EXTC - MAKING PLANS FOR BLIGHTY - UK TOUR 2022
It's been a long time coming - 40 years in fact - but Terry Chambers, the drummer for XTC, is back on the road with his twenty-first century incarnation of the band: EXTC.
With hits including Making Plans for Nigel, Senses Working Overtime, and Sgt. Rock (Is Going to Help Me), XTC was one of the UK's most exciting and influential bands. But as the band's success snowballed and tours grew (including globe-trotting spells with The Police and Talking Heads), XTC main man, Andy Partridge, pulled the plug on touring, making XTC a studio-based entity.
That was never going to work for Terry. 'For me, being in a band is all about playing live,' he begins. 'When we came off the road, I thought, how are we going to promote ourselves?' Rehearsals for XTC's new album failed to soothe Terry's concerns, so he upped sticks and emigrated to Australia, where he remained with his family for the next three decades.
Fast forward to 2016 when Terry visited the UK for a family wedding and reconnected with old XTC bandmate, Colin Moulding. XTC had folded so Terry and Colin decided to collaborate on a new musical venture called TC&I. 'We played six sold-out shows at Swindon's Art Centre,' said Terry. 'It was a fantastic experience.'
Sadly, it was also short-lived. Satisfied with performing many of his XTC songs live for the first time, Colin Moulding laid TC&I to rest just before Christmas 2018, leaving Terry with no outlet for his rekindled passion.
A lifeline came in the form of Steve Tilling, TC&I's guitarist and now EXTC frontman. 'Steve and I became good friends over the course of TC&I. We both felt we should salvage something from the situation. We decided to form a band that honoured XTC's legacy while introducing new material of our own. That's when EXTC was born.' For the ultimate stamp of approval, the band has the full blessing and support of XTC leader, Andy Partridge.
And so it came to pass that Terry and EXTC will bring a full set of classic XTC songs to audiences worldwide. Having stormed through prestigious shows including headline appearances at the Isle of Wight Festival and London's legendary 100 Club, EXTC are now hitting the road with tours of the UK and North America.