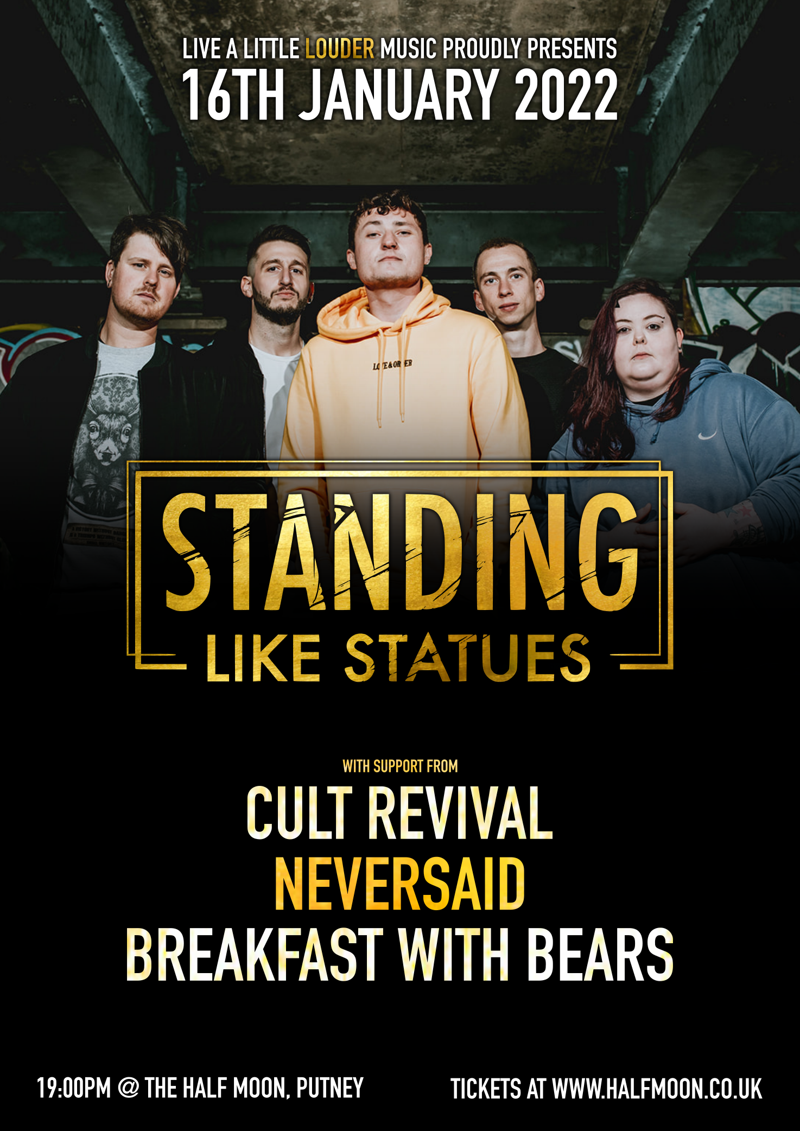 Half Moon presents:
Live A Little Louder Music Presents - Standing Like Statues / Cult Revival / Neversaid / Breakfast With Bears
Standing Like Statues + Cult Revival + Neversaid + Breakfast With Bears
£8 Adv / Door
Entry Requirements: 18+ after 7pm
Standing Like Statues are joined by Cult Revival and Neversaid at Putney's iconic Half Moon on 16th January 2022 for a great night packed full of pop punk and alt rock vibes. More TBA
Line Up
Its 2021 and STANDING LIKE STATUES continue to deliver on their unwillingness to compromise, with unbridled authenticity and honesty, so that together we can rise above mediocrity. It's time to question the lies and to tell the undeniable truth, to trust in yourself, have faith in your own actions and to be an agent for positive change. THIS IS YOUR CALL FOR SURVIVAL.
STANDING LIKE STATUES are about to release TWO new tracks following the success of 2020's EP, Reality Checkpoint. This EP explored a difficult time dealing with some of the personal issues experienced individually and together expressed by the raw EMOtion of the songs. Those expressions have now matured into something greater and something more than just us…. THIS IS SURVIVAL.
These next chapter of songs have to tell the complete truth and inspire dialogue between people, to get the conversation moving, to shake the fear of rejection. It's ok to have original thinking and it is definitely ok to express it. Through these new songs we are using our voice to silence the ridicules of the past, this isn't just about the music, it's a STATEMENT OF TRUTH.
The road is calling us, the energy is about to be unleashed. We want nothing more than to reconnect with our audience, face to face, hand in hand and get back to the music that gives us our purpose and sense of community. THIS IS OUR CALL FOR SURVIVAL.
Cambridge alt-rockers Standing Like Statues' sophomore EP, Reality Checkpoint, has seen support from Spotify's 'New Punk Tracks' and 'The Scene' playlists, from Kerrang! Radio's Alex Baker and Johnny Doom and BBC Music Introducing in Cambridgeshire.
Ultimately, STANDING LIKE STATUES are five different personalities who have all learned to laugh in the face of adversity and who aren't afraid to fight for positive change in the world.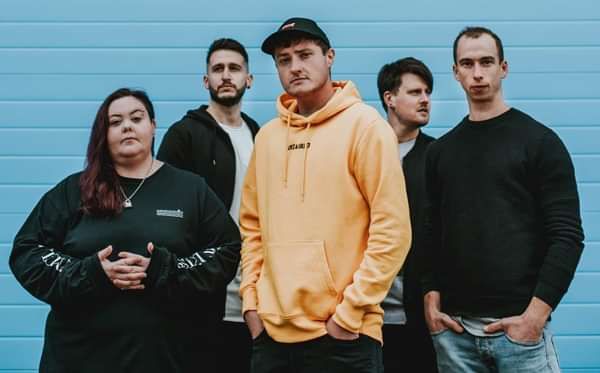 BRAND NEW BAND FOR 2021 'CULT REVIVAL' HAILING FROM KENT (SOUTH EAST, ENGLAND) FORMED DURING A WORLDWIDE PANDEMIC, HUNGRY FOR SOMETHING FRESH AND EXCITING THE BAND WASTED NO TIME IN WRITING AND THEN HITTING THE STUDIO WITH GRAMMY NOMINATED PRODUCER ROMESH DODANGODA (BRING ME THE HORIZON, FUNERAL FOR A FRIEND, HOLDING ABSENCE) TO LAY DOWN THEIR FIRST MATERIAL. DEBUT SINGLES 'ME' & 'YOU' OUT NOW!!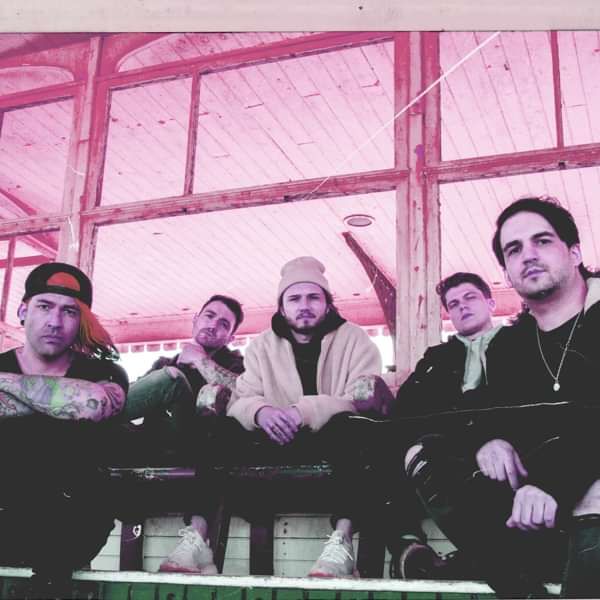 Formed during the depths of 2020 lockdown in South East London, Neversaid effortlessly combine post-hardcore with anthemic Pop Punk. With influences such as Trash Boat, Real Friends, and As It Is, Neversaid's music is full of heartfelt lyrics, discussing anger and depression whilst pushing a positive and uplifting message. Having already performed to large audiences in London, and with 'Braindead' hitting 1K streams in its first week of release, Neversaid are a band to watch as they establish their position within the scene.