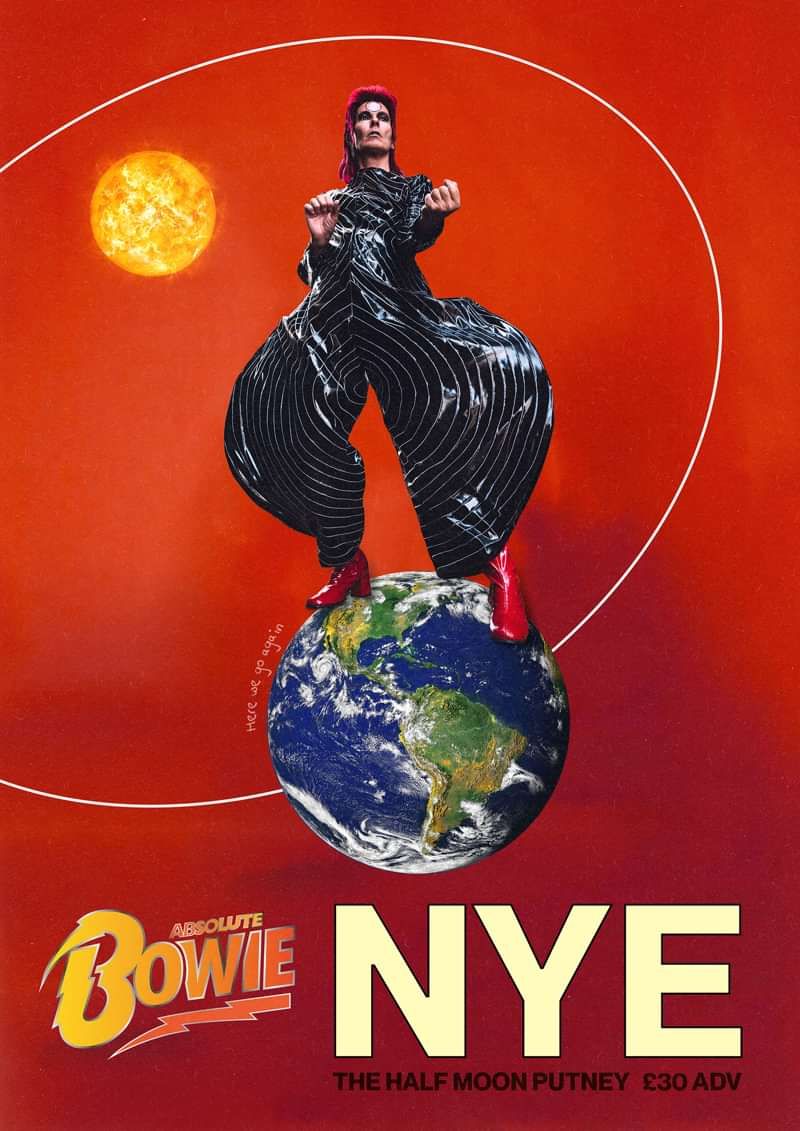 Half Moon presents:
New Year's Eve Party with Absolute Bowie
Absolute Bowie + DJ Crawdaddy
£30 advance
Entry Requirements: 18+ after 7pm
Welcome to our HUGE New Year's Eve Party with Absolute Bowie to play out 2021 and DJ Crawdaddy on the decks til 1am!!
Now in their 14th year of touring, Absolute Bowie, the UKs 'Best Tribute Band' and 'Best Bowie' act, would like to come and meet you and they might just blow your mind...
With an electrifying performance from our main Starman, and theatrical mid-set costume ch-ch-ch-anges, Absolute Bowie will take you on a musical journey through the greatest hits of David Bowie with their huge stage show.
"A lovingly crafted Bowie show" says NME, and "an unmissable tribute act" hails the Mail on Sunday, the band will leave you wanting more from the most genuine David Bowie tribute out there. Is it any wonder when you are too cool to fool.
DJ Crawdaddy is one of London's most respected retro party DJ's. Combining a passion for golden era rock'n'roll, rockabilly, swing, jump'n' jive, Atlantic and Motown, funky soul, ska and reggae, 60's pop and psychedelia, classic rock, cult film sound-tracks and crazy mashups including his own insane remixes, DJ Crawdaddy can be seen tearing off the roof of his club appearances, festivals, parties and his popular show on Wandsworth Radio.
FULL CAPACITY SHOWS ARE BACK - PLEASE READ THIS!
The safety of our staff, artists, crew and the people visiting us as customers is of utmost importance. The changes made to how we operate will only be successful if we have help from the live music community and the people that come to events here. Please read the below...
We will NOT be operating a certification or passport model to enter our shows. Please however do NOT attend if you are showing any Covid Symptoms or if you believe you have been in close contact with someone who has Covid. If you are suffering from symptoms or fear you may be an infection risk please contact us for a refund.
Again, we are not checking for vaccines or negative tests but we believe our customers will do the right thing for everyone's safety, and we ask you to be extra aware of those around you.
Best wishes,
The Half Moon Music Team
Line Up
Winners of the 'Best Bowie Tribute' and 'Best Tribute Band in the UK' at the Agents Association of Great Britain Awards July 2018.
There will only ever be one David Bowie, he was unique in every way and an inspiration to millions. Absolute Bowie, Europe's Finest David Bowie Tribute continue to celebrate the life and music of the Starman with a spectacular show uniting Bowie fans across the UK.
The five piece has toured all over Europe for the last 10 years, faithfully performing the music of David Bowie with uncanny accuracy. The audience are taken on a journey experiencing the different personas of Bowie, from Ziggy Stardust and Aladdin Sane through to The Thin White Duke and even Blackstar.
"A lovingly crafted Bowie show" NME
Absolute Bowie has been voted one of the best tribute bands in the UK with their energetic (and theatrical!) stage show. Prepare to be taken from A to Z (Absolute Beginners to Ziggy!) with Stations to Station in between.