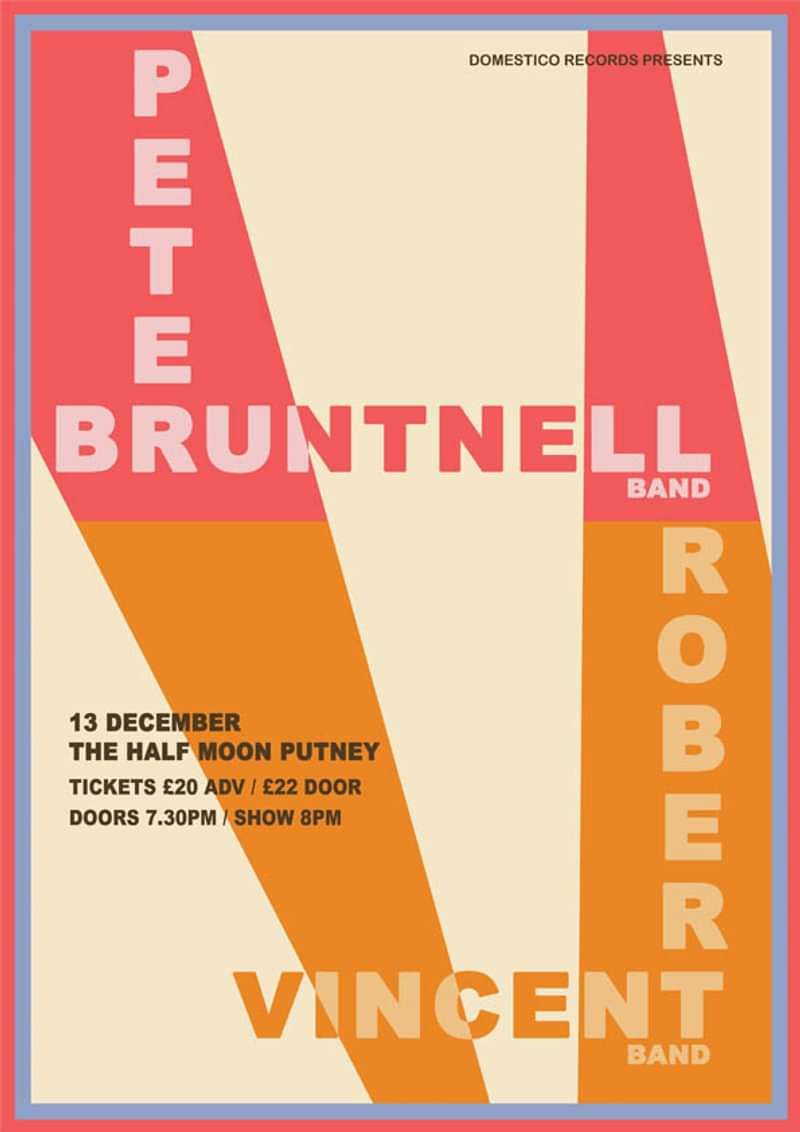 Half Moon presents:
Peter Bruntnell Band / Robert Vincent Band
Peter Bruntnell Band + Robert Vincent band
£20 advance / £22 door
Entry Requirements: 18+ after 7pm
Join us for a very special double headline show with Peter Bruntnell and Robert Vincent, both playing with full bands.
NME claimed that "Peter Bruntnell's records should be taught in schools" and if you ask the likes of Rumer, Peter Buck, Scott McCaughey, Willy Vlautin, Jay Farrar, John Murry or Kathleen Edwards they'll all agree that Peter Bruntnell is a writer with rare and mysterious qualities. It's interesting that American musicians are so seduced by such a uniquely British artist, and Peter has toured extensively with Son Volt, Kathleen Edwards and Richmond Fontaine. * "If we lived in a just world, Peter Bruntnell would by now be in the middle of his third or fourth global arena tour, his biggest worry working out how to courier his latest armful of Grammy awards back to the UK so his butler could have them installed in the west wing of mansion by the time he got home," The Guardian*
Peter will release his 12th album, Journey To The Sun, through Domestico Records on 11th June 2021.
On Robert Vincent's latest offering 'In This Town You're Owned', he returns with his most relevant album to date, produced by Brit Award winning Ethan Johns – who has won acclaim for his production work with, amongst others, Paul McCartney, Ray LaMontagne, Laura Marling, Kings of Leon, The Boxer Rebellion, The Staves, Gilbert O'Sullivan and Tom Jones. What a great result for Robert and Ethan Johns scooping Album of the Year. Overall fantastic achievements for Robert. What an unbelievable climb it's been after so many years of writing and recording.
Robert has performed extensively across the UK, Europe and the USA alongside such classic artists as Elvis Costello, Robert Plant, James Blunt, Mary Chapin Carpenter, Beth Neilson Chapman and Paul Carrack.
Line Up
This would not be a Peter Bruntnell press release without a second paragraph containing a reminder that Rolling Stone once declared Pete to be, "one of England's best kept musical secrets". England has successfully managed to keep Peter Bruntnell a secret for all this time, even from itself. "Maybe this will be the album to finally give him the worldwide superstar recognition he deserves!", enthused every other Peter Bruntnell album review from the last 20+ years, with an admirably unwavering optimism. "If we lived in a just world, Peter Bruntnell would by now be in the middle of his third or fourth global arena tour, his biggest worry working out how to courier his latest armful of Grammy awards back to the UK so his butler could have them installed in the west wing of mansion by the time he got home," said a feature in The Guardian in 2016, intent on letting the cat out of the bag, but failing miserably. Needless to say, we don't live in a just world and Peter Bruntnell is still having to get by without a butler. Although perhaps the curriculum is to blame for this failure to ignite mass awareness, with not one teacher in the past two decades known to have heeded the call from NME to teach Peter's songs in schools.
Peter's new album, Journey To The Sun, will do little to dispel this fantasy of world domination, but it remains unlikely to become in any way a reality. He will remain the secret singer-songwriter, lauded by the likes of Kathleen Edwards, The Delines, Rumer, various members of R.E.M., Son Volt and whatever the collective noun is for several large real ale festivals full of mainly manly middle-aged music geeks.
But don't let that put you off.
Journey To The Sun has more than a whiff of death, longing, leaving & regret - all the cheer you'd expect from a record written and recorded amidst lockdown - with the lack of live shows taking its toll on Pete, it brought about the purchase of a new synthesiser, subsequently followed by a bouzouki. This has resulted in an album with more synth than your average Americana fan would knowingly expose themselves to. And what the fuck is a bouzouki? Signs suggest that Pete may well need to gain new fans in order to replace those who fail to stay afloat in this sea of synths. Eno influences are evident but, but alas, Throbbing Gristle it is not. It is still unmistakably Pete. Just with more synthesiser.
Half of the lyrics to the new songs are credited as having been co-written between Pete and his mysterious - possibly imaginary - long time collaborator, Bill Ritchie. The album was recorded and self-produced at Pete's home in Devon. "Self-produced" and "recorded at home" being the ultimate buzz words in this quest for a hit record. It features Pete playing the majority of the instruments, aided only by mastering engineer Peter Linnane adding various vintage keyboards along with Iain Sloan, who was invited to add pedal steel to Dharma Liar.
Chances are you're either going to listen to the record or you're not. But Peter's getting on a bit now. Better stowaway on this covert bandwagon before it's too late.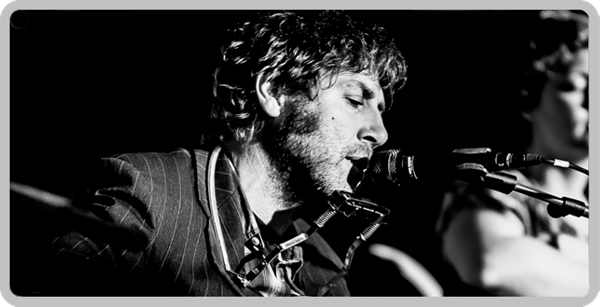 Robert Vincent is an award winning singer songwriter from Liverpool.
His sound has been described as ;
"Compelling and introspective LoFi Alt Country meets Folk" (fatea)
"If you're seeking out a contemporary influence think Jason Isbell" (3 chords and the truth) "What Oasis might sound like recast as brooding Americana Blues" (folk radio uk) "Vincent slides easily between singer songwriter mode to full band profile"( Rocking Magpie)
The title track from his debut album "Life in Easy Steps" was play listed on radio 2 and was well received by the reviewers back in 2013 and since then he has been on the road playing a mixture of solo and band shows, supporting Paul Carrack on 3 UK tours and also a run of shows with Squeeze. This has helped Vincent again a loyal fan base across the UK.
A turning point for Vincent's career came when playing at a songwriters event in Liverpool . On the panel was "Whispering" Bob Harris who was impressed with what he heard
" I am so impressed with Roberts music. Strong songs laced with blues and country he is the real deal" Following their meeting Robert was invited to record a live session for Radio 2 and Bob Harris chose him as his "emerging artist" at the inaugural UK Americana awards 2016.
Following on from this Robert was signed to Brighton based label At The Helm Records and was invited by the executive director of the Americana Music Association Jed Hilly to play at the Americana Awards showcases festival in Nashville Tennessee. Here he continued to make an impression and was named by Rolling Stone Magazine as one of the top 20 acts they saw at the festival under the heading "Best Brit".
The trip also saw him signed to Last Chance Records for a US release of his new album "Ill Make the Most of my Sins".
"Ebullient Evocative and Entertaining" is how the latest record as been described by Fatea Magazine..
This second album was recorded in Liverpool with members of his band and mixed over in Nashville with Grammy winning producer Ray Kennedy (Steve Earle)
So far the reviews have been great . An article in The Guardian sites him as one of the UK artists flying the flag for Americana in the UK, Country music magazine gave it 5 out of 5 stars Specialist radio shows such a Bob Harris Country, Ralph McLean on BBC radio Ulster said of Vincent "A sublime songwriter I think he is an incredible talent" as well as lots of online radio plays and press in the music blogs
"Robert Vincent is a gifted songwriter making music that will resonate well with the cultured ear"(3 chords and the truth"
"Robert Vincent writes songs you would associate with master craftsmen singer songwriters from the Americas not a young man from Liverpool at the start of his career" Fatea.
Early Feburary has seen Robert and full band supporting Turnpike Troubadours from Oklahoma on their first UK tour which has been sold out . There are plans for a summer of festivals and a full band headline tour both here and stateside to coincide with a US release later in the year.