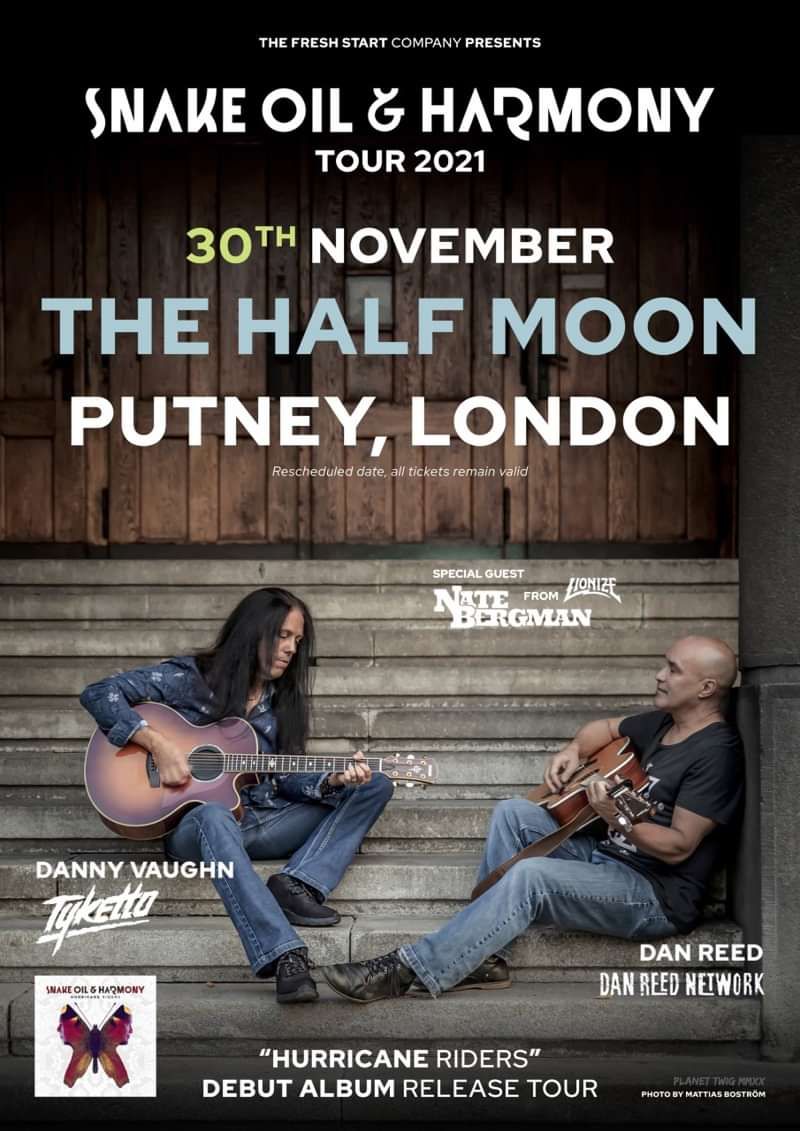 Half Moon presents:
Snake Oil & Harmony
Snake Oil & Harmony + Dan Reed + Danny Vaughn + Nate Bergman
£18.50 / £21.00
Entry Requirements: 18+ after 7pm
General Admission (e-ticket)
Snake Oil and Harmony formed in 2015 when Danny Vaughn and Dan Reed, lead vocalists and main songwriters for 'Tyketto' and 'Dan Reed Network', respectively, joined forces to create a live acoustic touring act sharing their songs and the stories behind the music with audiences throughout Europe.
Together they present a unique and exciting chemistry, and a night filled with infectious melodies and thought-provoking lyrics that you don't want to miss!
Danny Vaughn and Dan Reed's 'Snake Oil & Harmony' are happy to announce that Nate Bergman, lead vocalist and songwriter for the Maryland based hard rockers 'Lionize', will be joining them on their European Album Release Tour and they look forward to seeing you there!
This show is rescheduled from 2020.
Line Up
Renowned UK rock journalist 'Dave Ling' from Classic Rock commented that a 'Snake Oil and Harmony' live show is like "going to rock and roll church", and with such favourable reviews from the audiences and the press alike it has given inspiration to take things beyond the live stage and in to the studio.
After doing two extensive live tours together and making critically acclaimed appearances at as sorted festivals and the 'Monsters of Rock Cruise' in America, Danny and Dan decided to try their hand at writing new songs together over the last year. This has yielded an exciting new 'Snake Oil and Harmony' chapter and a full length album recorded at the legendary 'Faust Studios' in Prague.
The new album featuring Sweden's top musicians 'Robert Ikiz' on drums and 'Bengt Jonasson' on Bass, with Vaughn and Reed handling guitars and vocals, was written and recorded in the spirit of some of their American musical influences such as Bruce Springsteen, Tom Petty, and John Cougar Mellencamp, while embracing a sound all their own.
The album will be released in March of 2020 to coincide with Live Dates in the UK, Sweden, Germany, Spain, Austria and other territories throughout March and early April! This tour will bring their first appearances in cities like Stockholm and Goteborg, Sweden, and they are thrilled to be taking the brand new 'Snake Oil and Harmony' album they have created together out on the road next year, while sharing the creative process that got them to this point. Of course you can also expect classic Dan Reed Network and Tyketto songs in the mix.
Dan Reed and Nate met in Portland, Oregon this winter whilst Dan was working on the new 'Dan Reed Network' record. Dan went on to say- "After meeting Nate and hearing his music I felt him opening our shows on the 'Snake Oil and Harmony Tour' would be a really great beginning to an evening of story telling, strong melodies and a some groovy rhythms! Nate is the real deal!"
Nate has fronted Lionize for over 15 years and has been fortunate to travel the world many times over with the likes of Clutch, CKY, Steel Pulse and amongst a variety of others. Determined to keep himself engaged creatively and musically Nate used some downtime from Lionize to keep pushing himself as a songwriter and is now looking forward to performing these new songs in a live setting.
Nate added- 'It's an absolute honour to open these shows for Dan and Danny and I'm determined to add to that special vibe I know the Snakeoil shows create. After 16 years of performing live with one of the baddest, loudest bands on the planet, I am so stoked to have the chance to strip it all back. For the first time ever I'll be taking the stage with just an acoustic guitar and playing a solo acoustic set of loved Lionize songs and some brand new things I've been working on. I can't wait to see everyone out there!'
You can check out Nate's info here: http://www.natebergmansings.com
Here's a link to 'Heavy On My Mind' a single from the latest Lionize release 'Panic Attack!'
https://m.youtube.com/watch?v=YRKq2PsGric
The debut Snake Oil & Harmony record 'Hurricane Riders' will be released Feb 28th 2020, via Zero One Entertainment to coincide with these live shows.
Snake Oil & Harmony March 2020 Tour Dates below... for all Ticket Links please visit - danreed.com