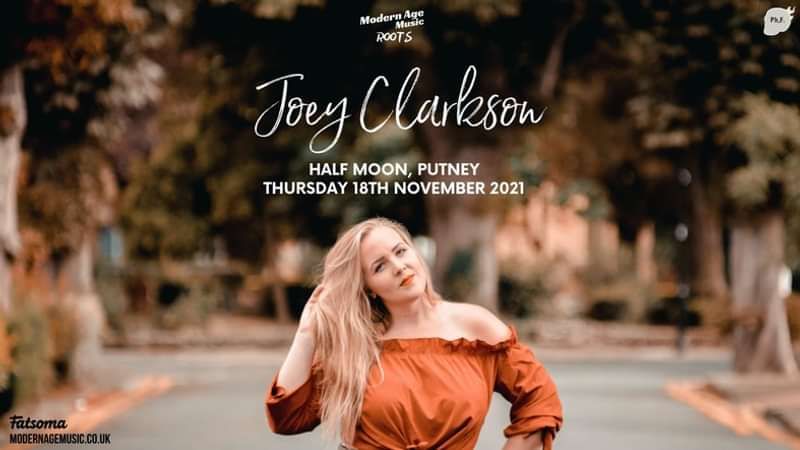 Half Moon presents:
Joey Clarkson
Joey Clarkson
£12
Entry Requirements: 18+ after 7pm
General Admission (e-ticket)
Joey Clarkson is an independent Canadian singer/songwriter from Vancouver Island, now residing in London, UK with her husband and two pomskies. Since her debut self-titled album was released in 2010: Joey has played stages across Europe, The UK and Canada while continuing to write, record and release singles (and 2 full length albums!) that have been featured on the likes of BBC, CBC and London Live TV.
Her recent album 'The Year That Never Happened' (November, 2019) was well received for the short amount of time the world had to receive it; with the majority of the tour plans for the collection of music postponed/cancelled due to the actual year that never happened (2020). It received a 4 star review in Maverick Country Music Magazine, but as most listeners like to point out: was probably released 5 months too early.
Rather than sitting still throughout the pandemic, Joey and her Husband Peter wrote, recorded and released 5 songs remotely. These singles were a way of coping, maintaining momentum, and bringing hope and light to their listeners. In addition to music, Joey is an active member of the Youtube community; creating how-to videos on navigating the music industry as an independent artist, and providing a stage for songwriters to reach new audiences on her weekly live show #MyFirstSongMonday. She is greatly looking forward to her first full band gig on this side of the pandemic with Modern Age Music this November.
Line Up
Singer songwriter Joey Clarkson crossed the ocean to follow her heart and make her dreams come true. The Canadian songstress found love and a new place for her music to flourish across the pond, relocating to London, UK. Having released 3 full length albums, 7 singles and playing hundreds of shows across North America, Europe and the UK over the past 15 years; Joey has a wealth of experience both on, and off stage, when it comes to the music business. Her latest album "The Year That Never Happened" (November 22, 2019) received a 4 star review from Maverick Magazine, and was featured on London Live T.V. Although she loves a good festival stage, her favourite type of performance are house concerts because of the unique and very personal experiences they create; so, while she will miss many aspects of the "normal" gig life as we learn to navigate life after covid, she is quite looking forward to the smaller, more intimate shows that 2021 is sure to bring. Joey is enjoying her time in the UK and is looking forward to 2021 when she will be releasing a handful of singles, a new EP and will officially become a citizen of The United Kingdom