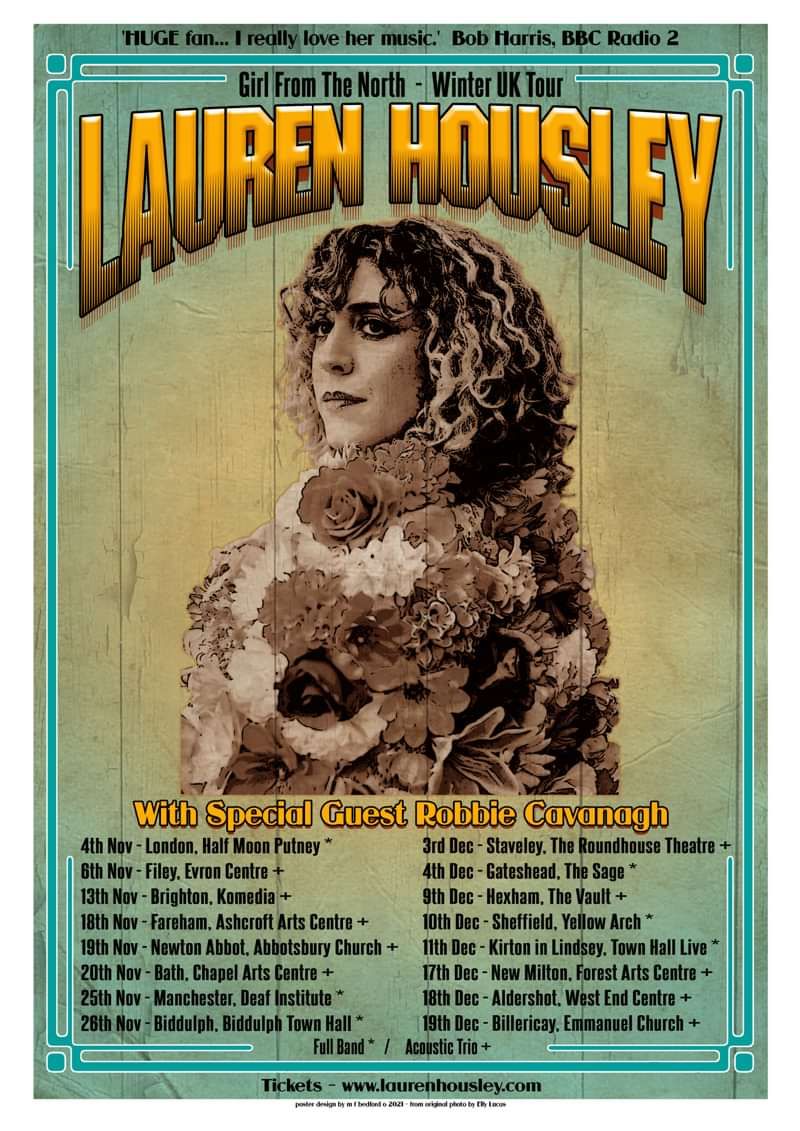 Half Moon presents:
Lauren Housley - album launch
Robbie Cavanagh + Lauren Housley
£15 advance
Entry Requirements: 18+ after 7pm
General Admission (e-ticket)
'Girl From The North' London album launch
Quietly and without any fanfare, Lauren Housley has created her own niche as one of the UK's finest singer-songwriters. Working closely with Tom Dibb, her husband and long-term creative partner, she has crafted this superbly written and arranged set of songs, which ought to reverberate with just about every listener.
She blends catchy hooks with her unmistakably soulful, and uplifting voice, creating music that boasts elegantly crafted, deeply melodic, intelligent song writing, resounding with echoes of the pop and soul classics of the 1960s, Carole King, Carly Simon, Alanis Morissette, Eva Cassidy and Regina Spektor: her music is infectious, emotional and powerful.
Lauren Housley is adept in her use of atmospherics and instrumentation; however, it's her sustained and sophisticated pop sensibility that distinguishes her from other artists who work in similar genres and subgenres. Richly resilient, it's a tour de force of sorts, a well-woven melodic tapestry that goes into her soul, and maybe yours as well.
With Special Guest support Robbie Cavanagh.
Line Up
A woman walks into a bar and asks: "Do you want some live music?" In no time, the place is ringing to the vibrant and original sound of one of the most notable new voices in Britain.
The artist in question is English chanteuse Lauren Housley, who's been tirelessly honing her stage and song craft, playing regular gigs for her ever-expanding fan base as well as some of those impromptu ones, and winning widespread acclaim for all of them. Supporters include BBC Radio 2's Chris Evans, Bob Harris and Terry Wogan, Prudential BluesFest and Live Nation.
All of that groundwork by the native of Rotherham in South Yorkshire, now based in Manchester, has culminated in 'Sweet Surrender,' the excellent debut album she has unveiled this year. Housley's songs, all written with longtime creative partner Thomas Dibb, evoke the same ambience as some of her forerunners among strong, empowered female artists, such as Janis Joplin, Eva Cassidy and Lauryn Hill.
To name just two examples, the slow-burning intensity of the ballad 'Show Me What Love Is' turns heads every time she sings it. Meanwhile, the upcoming single 'Ghost Town Blues' moves stylishly among its soul influences from Massive Attack to Motown. And they're just a taste.
"I think I've always had an ability to connect with certain emotions," says Lauren of her emotive style. "I've been writing songs since I was about 13, but back then, I probably didn't know that I was. It was just a form of expression at the time."
Around a packed datebook of gig engagements, such is her popularity, Housley made 'Sweet Surrender' in three different locations, with some of the best up-and-coming young musicians Britain has to offer. Sessions included time in Ireland at the studio owned by Dave Keary, guitarist with Van Morrison, and featured his son Alan playing bass.
Further recording took place in Wallasey, on Merseyside, with multi-instrumentalist and producer Steve Parry, whose extensive credits include being musical arranger on 'The Voice.' Producer Mark Lewis then recorded some tracks and ultimately oversaw the whole set. "He's ended up developing the whole album," says Lauren, "which is really nice, because it's given it an all-round feel."
Housley grew up in a household where her parents were "massive music fans," and although there's no professional lineage, her dad loves to sing and does a great Elvis. In her pre-teens, Lauren was a British aerobics champion, travelling the country and practising every day. Then came her formative songwriting, and when her mum came home with an Eva Cassidy album, a creative light really went on.
"That really touched me," she remembers. "I learned a lot of the songs, and that's when I first started imagining myself being able to do something like that. She could sing anything, it absolutely blew me away. Imagine walking into a small bar and seeing her sing. That's what people were doing. I hope that's fed into the way I perform."
Housley went on to study theatre at university, living in Newcastle for five years (and yes, the hints of a Geordie accent are still discernible). "The whole time, it felt like I should have been singing. I found the path into dance and theatre, but I think I held music on a bit of a pedestal. When I met Tom, he got the confidence out of me to sing, and since then, that's all I've been wanting to do."
Housley and Dibb have already been writing together for eight years. "We've come through a huge amount of approaches and genres," she says. "As anybody does, just developing and honing the craft, if you like. But we play off each other's strengths and weaknesses. There's definitely something to be said for being honest, and we both are. We're aware of each other's feelings, but at the end of the day when we're working, the song comes first. If we don't think something's right, we're not afraid to say so. We make a good songwriting team."
The 'One Step Closer' EP, with its distinct Motown inspirations, showcased a soulfulness which is still very much in evidence on the debut album, alongside her country influences, with pedal steel and dobro instrumentation. Lauren has even formed a country band as a fun side project, the splendidly-named Chorlton Country Club, who recently had one of the sisters from ultra-cool Swedish duo First Aid Kit guesting at a spur-of-the-moment gig.
"Country is what I've been listening to a lot recently, and it's definitely made its way in," she says. "But when I set out to do the album, I just wrote the songs and gave them what they needed. I didn't think about the genres too much." Another current example of her versatility has Lauren as a member of the Kaleidoscope Orchestra, a Manchester dubstep and drum 'n' bass collective.
So, here's to the continuing emergence of an artist with a genuinely infectious passion to perform. "I'm a full-on Gemini," says Lauren. "I've definitely got two sides to myself as a performer. I love singing and writing ballads and really intimate songs, but I've also got a fun side and I like to get down and dirty and belt some tunes out." Whether it's at a show or on 'Sweet Surrender,' make sure you're in the room when she does.