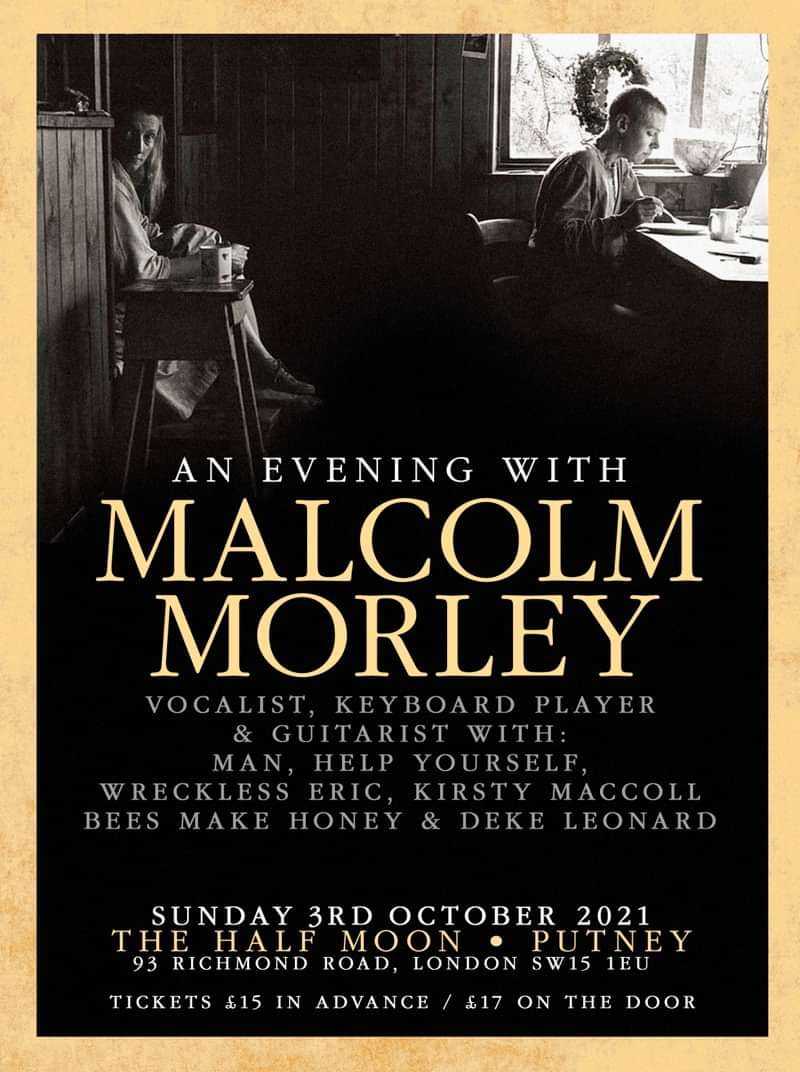 Half Moon presents:
An evening with Malcolm Morley
Malcolm Morley + Josh Ace
£15 adv / £17 door
Entry Requirements: 18+ after 7pm
Malcolm's musical past with legendary 70s bands Help Yourself and Man is well known. In fact he's currently playing keyboards in the latest incarnation of the legendary Welsh band, including a date at The Half Moon. As for Help Yourself, well they're also enjoying something of a resurgence of late and a comprehensive box set of their studio recordings has just been released on Cherry Red.
Among the six CDs is Malcolm's 70s solo album, the aptly titled 'Lost and Found'. Recorded with the help of Brinsley Schwarz's Ian Gomm it is one of the great lost albums of that decade. More recently, in late 2019, Malcolm released a new solo album, 'Infinity Lake', an atmospheric blues-soaked set of songs that tips its hat to Dylan. Covid dealt it a cruel blow when only a single gig in support of the album could be played. That gig was here at The Half Moon, the audience that night giving Malcolm and his band a rapturous standing ovation.
We are honoured that Malcolm has chosen us for his first post-Covid solo performance, a rare initimate chance to hear songs from his career, including 'Infinity Lake'. There will also be stories from his past dalliances with Wreckless Eric, Kirsty MacColl and Deke Leonard's Iceberg, as well of course his days Man and the much-loved Help Yourself.
Support from Josh Ace & James Beck
Line Up
Despite a CV as a songwriter, performer and musical director for acts as diverse as Man, Kirsty MacColl and Wreckless Eric – not forgetting his own band, the legendary Help Yourself – the music of the enigmatic Malcolm Morley is one of the UK's best kept secrets. With his new album, Infinity Lake, all of that is about to change.
Website: www.malcolm-morley.co.uk Facebook: www.facebook.com/MalcolmMorleyHelps Twitter: @bewaretheshadow
Welsh pop meets pseudo Americana. With roots firmly dug in the foothills of North London, Swansea born songwriter Josh Ace tells tales of derailed dreams, dissolute companions and life in the times of social media and virtual collective consciousness. Apocalyptic overtones with a sense of humorous cynicism, sugar coated in power pop harmonies leave you feeling not all is lost. Angular guitar hooks hark back to post-punk new wave with a hint of psychedelia thrown in the mix for good measure!
''Some kind of beautiful passion at work, really ace stuff!" - Adam Walton, BBC Radio Wales
''This is a band well worth listening out for in the future'' - Alternative Tracks