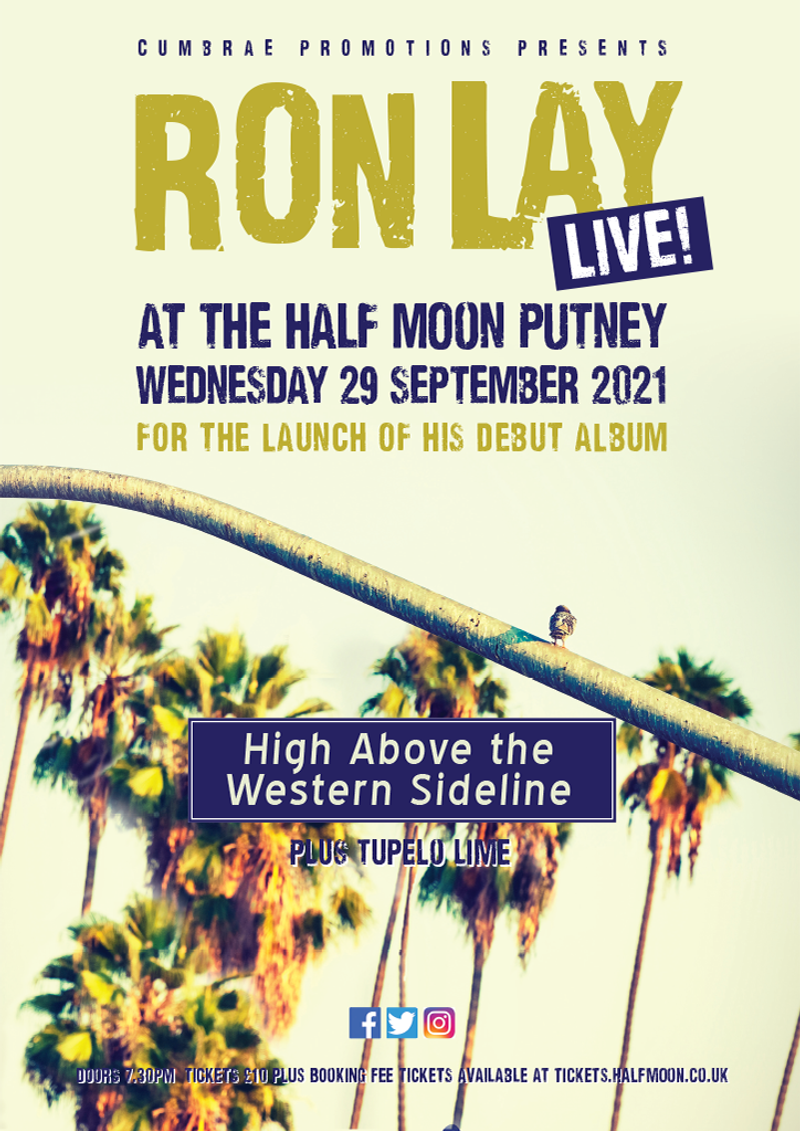 Half Moon presents:
Ron Lay - album launch
Ron Lay + Tupelo Lime
£10 Advance
Entry Requirements: 18+ after 7pm
Looking out on the Thames during the early days of the pandemic, Ron Lay decided it was an ideal time to both clear the decks and look to the future. So, he focused his lockdown energy on producing an album of his own songs that reflect the influences of his native Los Angeles, his adopted hometowns of London and New York, and his musical influences over the years, such as Tom Petty, Ian Hunter, Alex Harvey and David Bowie. The result — High Above the Western Sideline — is an album of searing rock 'n' roll, featuring lyrics and music that demonstrate that the lessons of the years have not been lost on Ron, and features an outstanding group of musicians.
His choice of a venue for the debut live performance of the album at The Half Moon in Putney sees him return to a familiar stage. Every attendee at the gig will receive a copy of Ron's album as part of the ticket package.
Line Up
"Warped by the Rain, Driven by the Snow"..... the songwriters ode to rural America. From Appalachia to Texas, Vermont to California, Tupelo Lime celebrate country music. Great country music. Real country music .Waylon Jennings, Willie Nelson, Kris Kristofferson, Johnny Cash, Merle Haggard, Guy Clark, Jerry Jeff Walker, Jessi Colter, Tompall Glaser, David Allan Coe, Sammi Smith, and Tanya Tucker Hank Williams Jr., Charlie Daniels, B.W. Stevenson, the Eli Radish Band, Leon Russell, Townes Van Zandt, Michael Martin Murphey, Billy Joe Shaver, Steve Earle, Joe Ely,Johnny Paycheck, Ed Bruce, Gary Stewart. These are our influences. Throw in some Stephen Stills, a dash of Greg and Duane Allman. Stories of love, tales of hardship, celebrations of joy and the harsh sadness of hard lives,this is outlaw country music. This is the music we love. Tupelo Lime play country music.