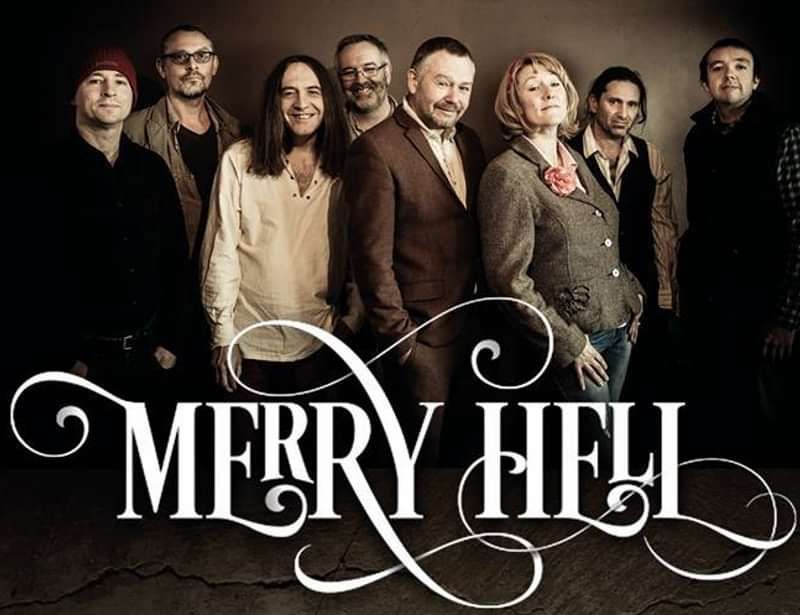 Half Moon presents:
Merry Hell - Acoustic Matinee
Merry Hell
£12 adv / £14 door
Entry Requirements: 18+ after 7pm
General Admission - Sunday matinee only (e-ticket)
Merry Hell play their hugely popular acoustic Sunday afternoon matinee, for that soothing hangover cure!
Merry Hell is a band founded on the ever evolving Folk tradition – music made by the people and shared by the people. Though our hearts and souls are tuned to the songs which came before us, we bring you new words and music forged from our own experiences, from the lows and the loves of our lives. Our art is energy and our hope is unity. Our pleasure is to please: let the audience be the acid test and let the music speak for itself...
Line Up
MERRY HELL: BIOGRAPHY As proud purveyors of energized folk-rock and original songs MERRY HELL prepare to release their fourth albumBloodlines on 1st November, here's the story of the band so far… MERRY HELL is an eight-piece folk-rock group with a history, a pedigree and a bright future. Founded in their England in 2010, they have risen to become festival favourites, their albums finding favour with critics, broadcasters and music fans alike. The band was forged in the smouldering embers of 90s folk/punk band, 'The Tansads'. Following an emotional series of reunion concerts in 2010, its members chose to re-take the stage under a new name in order to reflect their new impetus, new songs and new members. While MERRY HELL retains a nucleus of five former 'Tansads' members, brothers John, Bob and Andrew Kettle (guitar, mandolin and vocals respectively), along with keyboard player Lee Goulding and drummer Andy Jones, the addition of vocalist Virginia Kettle (wife of John) helped create a new identity, purpose and spirit in their music. Her prolific, ingenious and insightful song writing has perfectly complemented a group which has taken particular pride in penning original material (Bob, John and Lee have also been consistent contributors of new songs). Bassist Nick Davies has since offered his rock-solid sense of rhythm and perceptive musicianship to the service of the band. The current line-up was completed by fiddle player Neil McCartney, a school friend and teenage bandmate of the Kettle brothers. He returned home to Wigan after a musical career which saw him enjoy hit records and tour the world with 'The Big Geraniums'. His violin virtuosity has added yet more colour and texture to MERRY HELL's rich and emotive sound. The group have continued to develop their reputation as on-stage favourites, enjoying appearances at many prestigious festivals. They have released 5 self-produced videos, including a film celebrating their live energy and the exuberance of their fans. October, 2011 saw the release of their debut album, BLINK.. and you miss it to universally excellent reviews. Their second album, Head Full of Magic, Shoes Full of Rain, was released in May, 2013 to similar critical acclaim, gaining 5 star reviews, album of the year nominations and awards. Increasingly widespread radio airplay, especially on the specialist folk/roots shows, was also gratefully received. March, 2015 saw the release of MERRY HELL's third album, There's A Ghost In Our House and other stories..., to even greater critical enthusiasm both at home and, increasingly, around the world. The completion of the Bloodlines album represents the band's most mature and innovative work to date. Its call for togetherness as the antidote for personal and political division will resonate with existing fans and new listeners alike. THE MEMBERS OF MERRY HELL ARE:
Andrew Kettle: Vocals Virginia Kettle: Vocals John Kettle: Guitar Bob Kettle: Mandolin, Bouzouki Nick Davies: Bass Lee Goulding: Keyboards Neil McCartney: Fiddle Andy Jones: Drums