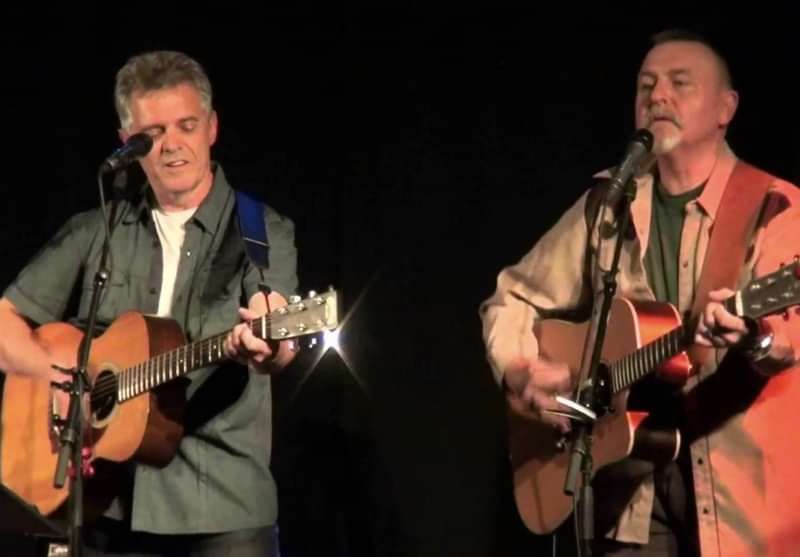 Half Moon presents:
Iain Matthews & Andy Roberts
Iain Matthews & Andy Roberts
£13 Adv / £15 Door
Entry Requirements: 18+ after 7pm
General Admission (e-ticket)
Iain Matthews (Fairport Convention, Matthews Southern Comfort, U.K. #1 hit "Woodstock" U.S. top-twenty hit 'Shake It') and Andy Roberts (The Liverpool Scene, 'Nina & The Dream Tree', GRIMMS, European touring guitar player for Pink Floyd's 'The Wall') are making a short run of UK dates, supporting their new album. Released recently in the UK on Angel Air Records.
They will pay homage to their long careers by playing a collection of songs from both their catalogues, as well as a variety of songs recorded by their band Plainsong, formed initially in 1972. This will be a rare opportunity for fans of folk music.
FULL CAPACITY SHOWS ARE BACK - PLEASE READ THIS!
The safety of our staff, artists, crew and the people visiting us as customers is of utmost importance. The changes made to how we operate will only be successful if we have help from the live music community and the people that come to events here. Please read the below...
We will NOT be operating a certification or passport model to enter our shows. Please however do NOT attend if you are showing any Covid Symptoms or if you believe you have been in close contact with someone who has Covid. If you are suffering from symptoms or fear you may be an infection risk please contact us for a refund.
Please support the return of live music by taking a lateral flow test before attending a gig. 15 minutes of your time supports everyone's safety #TakeaTest
Free tests are available from your local pharmacy or free home delivery here: https://www.gov.uk/order-coronavirus-rapid-lateral-flow-tests
Artists are taking a test to protect you. Staff are taking a test to protect you. Be part of the live music community: #TakeaTest before you attend a show.
Again, we are not checking for vaccines or negative tests but we believe our customers will do the right thing for everyone's safety, and we ask you to be extra aware of those around you.
Best wishes,
The Half Moon Music Team
Line Up
Matthews Southern Comfort was founded in 1970 by current founder member Iain Matthews. In that same year they had a number 1 UK chart single with the Joni Mitchell song " Woodstock".
Never one to stand still for very long Iain moved on during the 1970's with another group, Plainsong. An ensemble that allowed Iain to blossom as a songwriter and acoustic guitarist – supported by his ex-Fairport mates Sandy Denny and Richard Thompson both in the studio and in Richard's case on tour. Between his own solo recording and various Plainsong line-ups Iain released ten albums to critical acclaim including another well known Top Ten US hit with the single 'Shake It'.
During the early 1980's Matthews turned towards the business side of music as a rep for Island Records, but was persuaded by Robert Plant of Led Zeppelin to get back to making music.He returned to the USA for more solo work and Plainsong records. During this period he recorded a wonderful version of Peter Gabriel's 'Mercy Street", contributed to a Phil Ochs's Tribute album and recorded plus toured with Nanci Griffith. Next he released another respected record with the somewhat sarcastic title "Excerpts from Swine Lake".
This spectacular band, represents both the past and the present, as Matthews cleverly reinvents some of the classic MSC songs, to accompany the new originals. If it's that vintage swooping pedal steel sound you're after, this band may not be your cup of tea. But if you're looking for an evening of pure, unadulterated, sonic bliss, Matthews Southern Comfort lives.