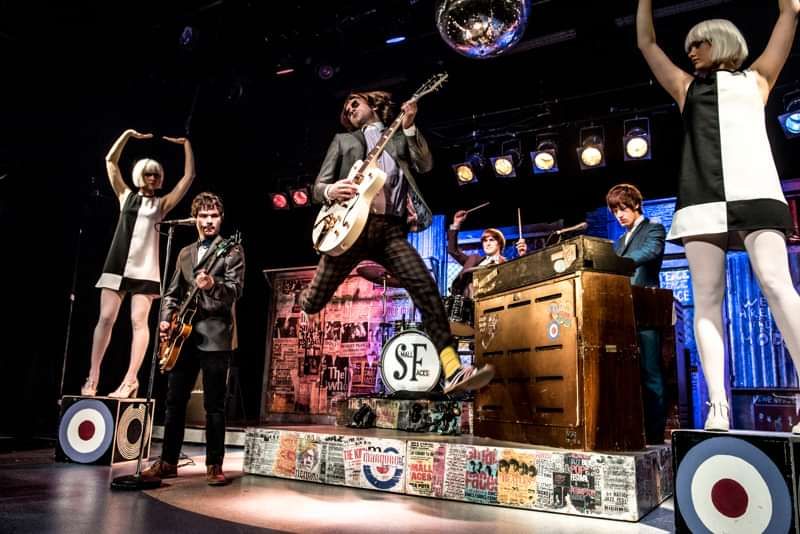 Half Moon presents:
All or Nothing Experience - Evening show
All Or Nothing Experience
£18 adv / £20 door
Entry Requirements: 18+ after 7pm
WE ARE BACK AT THE HALF MOON!
ALL OR NOTHING EXPERIENCE BANK HOLIDAY WEEKEND JULY 24TH -JULY 25TH 2021
After three sell out tours and a successful West End run of All Or Nothing the Mod Musical writer Carol Harrison and the multi- talented cast perform the All Or Nothing Experience Concert Show celebrating the music of the iconic mod band the Small Faces .
The Small Faces were four charismatic young kids from East London, sharp, cool, funny and streetwise, they encapsulated all that was mod . Yet their story, as colourful as their music, is poignant and bittersweet . The All Or Nothing Experience reflects on the band's roller coaster journey through their unique electrifying sound. Including hits ; Whatcha Gonna Do About It , Itchychoo Park , Lazy Sunday, Tin Soldier and All Or Nothing, and much more.
July 24th /25th 2.30pm -*Matinee performance- includes a second set from the All Or Nothing band playing other classic groovy and soulful tunes from the sixties.
July 24th/25th 7.30pm -*Evening show-includes a new second set called, Small Faces and Beyond . The All Or Nothing Experience perform the sensational music created by Steve, Ronnie, Mac and Kenney post Small Faces. Featuring the songs of Humble Pie, the Faces, The Who and Ronnie Lane .
FULL CAPACITY SHOWS ARE BACK - PLEASE READ THIS!
The safety of our staff, artists, crew and the people visiting us as customers is of utmost importance. The changes made to how we operate will only be successful if we have help from the live music community and the people that come to events here. Please read the below...
We will NOT be operating a certification or passport model to enter our shows. Please however do NOT attend if you are showing any Covid Symptoms or if you believe you have been in close contact with someone who has Covid. If you are suffering from symptoms or fear you may be an infection risk please contact us for a refund.
Please support the return of live music by taking a lateral flow test before attending a gig. 15 minutes of your time supports everyone's safety #TakeaTest
Free tests are available from your local pharmacy or free home delivery here: https://www.gov.uk/order-coronavirus-rapid-lateral-flow-tests
Artists are taking a test to protect you. Staff are taking a test to protect you. Be part of the live music community: #TakeaTest before you attend a show.
Again, we are not checking for vaccines or negative tests but we believe our customers will do the right thing for everyone's safety, and we ask you to be extra aware of those around you.
Best wishes,
The Half Moon Music Team
Line Up
***** "Absolutely brilliant show a must see!
***** "Have seen this fantastic show and highly recommend it, a Fab night out"
***** "Great production, we loved it! "
***** " You will all enjoy this show, the music is so good "
***** The Upcoming 'The cast have toured around cities in the UK to full houses and cheering crowds and now they have come to blow the capital's mind. And they certainly did that at yesterday's premiere, showing the audience what passion for music can create.
'The show is so immersive, it's a struggle not to join in'.
'All Or Nothing is the coolest musical on Earth, classy and comedic, and the music a revelation'.
**** The Spy in The Stalls 'So if you are a fan of the sixties, mod culture, the Small Faces or just want to know more about what happened in that decade, this is a show for you. Book your seat and enjoy this powerhouse musical. And as Stanley Unwin would say 'Are you all sitting comftybold two-square on your botty? Then I'll begin'.
**** the reviews hub 'While you may not be a Mod when you enter the theatre, you'll definitely come out as one, singing along to All Or Nothing or Itchycoo Park. We are the Mods!'