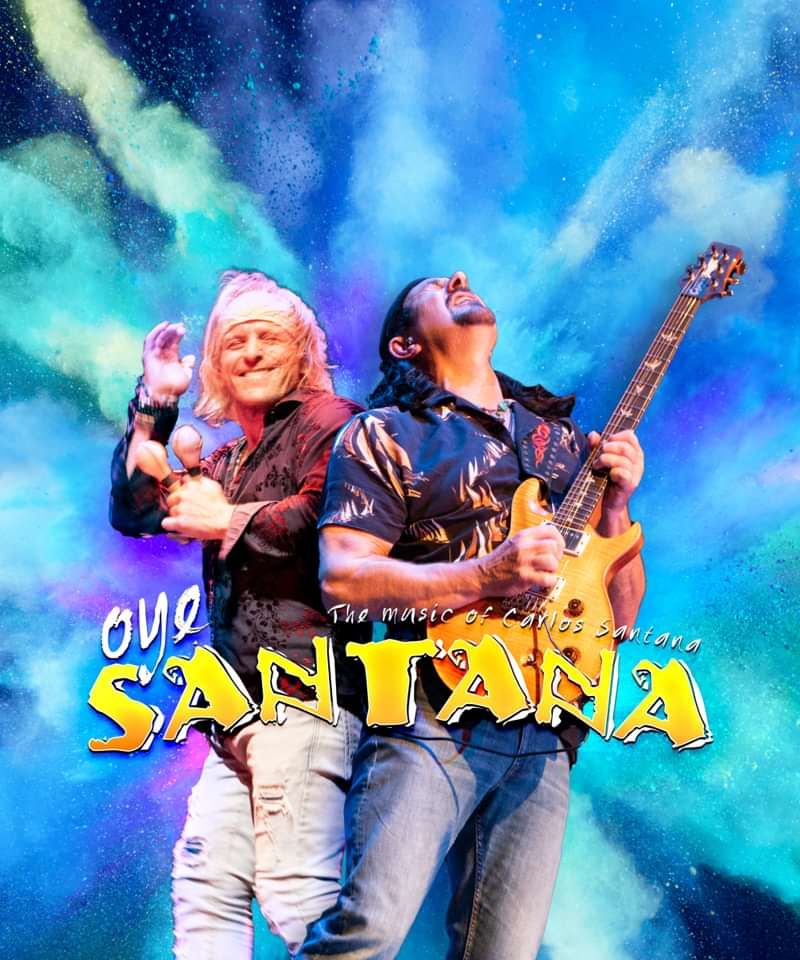 Half Moon presents:
Oye Santana - The Definitive Carlos Santana Tribute
OYE SANTANA
£14 adv / £17 door
Entry Requirements: 18+ after 7pm
Based around the exciting dance rhythms of Santana's Latin music, OYE SANTANA is no ordinary tribute to Carlos Santana's music. More a party than a concert, this is a feast of Latin music, superb musicianship and hit songs, faithfully re-creating the music of Santana. They bring a powerful and melodic drive to Santana's Latin rock style, which they play with power, passion and perfection ensuring a fantastic high energy, engaging and fun event. Oye Santana play all the hits including the Grammy award-winning Smooth plus Maria Maria, She's Not There, Black Magic Woman, Samba Pa Ti, Oye Como Va, Jingo and Corazon Espinado.
The six-piece band line up consists of a superb "Carlos Santana" who looks and sounds identical to the great man himself. Top-notch Spanish and English speaking vocalists compliment them. The music of Carlos Santana is a mixture of Samba, Smooth Latin ballads, Bossa Novas and Latin style rock and Oye Santana's blend of electric and Spanish guitar songs blend perfectly with the authentic percussion section and virtuoso keyboards.
The exuberance of the performance itself is what wins the hearts (and the dancing feet) of audiences from Salsa evenings to sold-out theatres; from intimate parties to thronging festivals; from the UK to events all over Europe.
Above all, it's the audience reaction that tells you that Oye Santana is special. Close your eyes and you can't tell the difference, said one promoter; the best tribute band I've seen said another. But from their very first gig 8 years ago, people have been commenting on the sheer fun Oye Santana bring to every stage they play on.
FULL CAPACITY SHOWS ARE BACK - PLEASE READ THIS!
The safety of our staff, artists, crew and the people visiting us as customers is of utmost importance. The changes made to how we operate will only be successful if we have help from the live music community and the people that come to events here. Please read the below...
We will NOT be operating a certification or passport model to enter our shows. Please however do NOT attend if you are showing any Covid Symptoms or if you believe you have been in close contact with someone who has Covid. If you are suffering from symptoms or fear you may be an infection risk please contact us for a refund.
Please support the return of live music by taking a lateral flow test before attending a gig. 15 minutes of your time supports everyone's safety #TakeaTest
Free tests are available from your local pharmacy or free home delivery here: https://www.gov.uk/order-coronavirus-rapid-lateral-flow-tests
Artists are taking a test to protect you. Staff are taking a test to protect you. Be part of the live music community: #TakeaTest before you attend a show.
Again, we are not checking for vaccines or negative tests but we believe our customers will do the right thing for everyone's safety, and we ask you to be extra aware of those around you.
Best wishes,
The Half Moon Music Team
Line Up
Oye Santana – The Woodstock 50th Anniversary tour from the UK No.1 Winner at the 2018 National Tribute Music Awards.
The seven-piece band is led by Milan Webb, a virtuoso guitarist with a technique and tone to match Santana himself, who not only sounds the part, but looks the part too. Joining him on stage are Hector Gomez (yes, he's Spanish) and Liza Marshall on vocals, and Gez Kahan on keyboards. Adding to the spectacle and generating those infectious latin-rock rhythms are Jon Quirk on bass and Paul Murphy on percussion, while Pete Lockwood is the powerhouse behind the drum kit.
"As ever, we'll be concentrating on hits, played the way everyone knows them from the records," says Milan. "We've never been into long self-indulgent solos – and we don't think our audience are either! Our focus is on entertaining, and we love it when people get up and dance."
What makes award-winning Oye Santana so good? First, the music. There's a treasury of five decades of catalogue to draw on since that electrifying performance at Woodstock catapulted Santana into stardom – and every number in Oye Santana's set is a gem in its own right. Expect to hear Smooth, Black Magic Woman, Samba Pa Ti, Maria Maria, Oye Como Va, Corazón Espinado, She's Not There and many more – played with power, passion and perfection.
Then there's the musicianship. Check out the credentials of Milan 'Carlos' Webb; of Gez Kahan and Hector Gomez; the astonishing breadth of abilities that Paul Murphy, Pete Lockwood and Jon Quirk bring to the on-stage set-up. This really is a feast of musical talent.
Next, the authenticity. They could go off on self-indulgent flights of fancy, but they don't. They painstakingly recreate the original Santana arrangements of the big hits that you know and love to bring you the true Santana sound. But playing the right notes is only a start. There's much more to being the Best Santana Tribute in the World…
There's the passion. Carlos Santana's guitar playing is instantly recognizable not just because of his tone or his trademark licks, but because of the emotion he puts into every note he plays. Oye Santana have that covered. And there's the good-time feel. They've got that covered too. Every track is a fiesta – come and dance, come and party.
And every Oye Santana performance is a show, a visual feast of lights and action that will have you singing along, smiling along and dancing along from the first chink of a tambourine to the explosive finale. You're going to love Oye Santana.
Billed as "The best Santana tribute in the world". Anyone listening wouldn't argue with that. Best tribute band in the World? Quite possibly! - Ken Holland, Teignmouth Post
The best tribute band I've seen ... - Hilary Howard, co-manager, The Railway Venue, Bolton