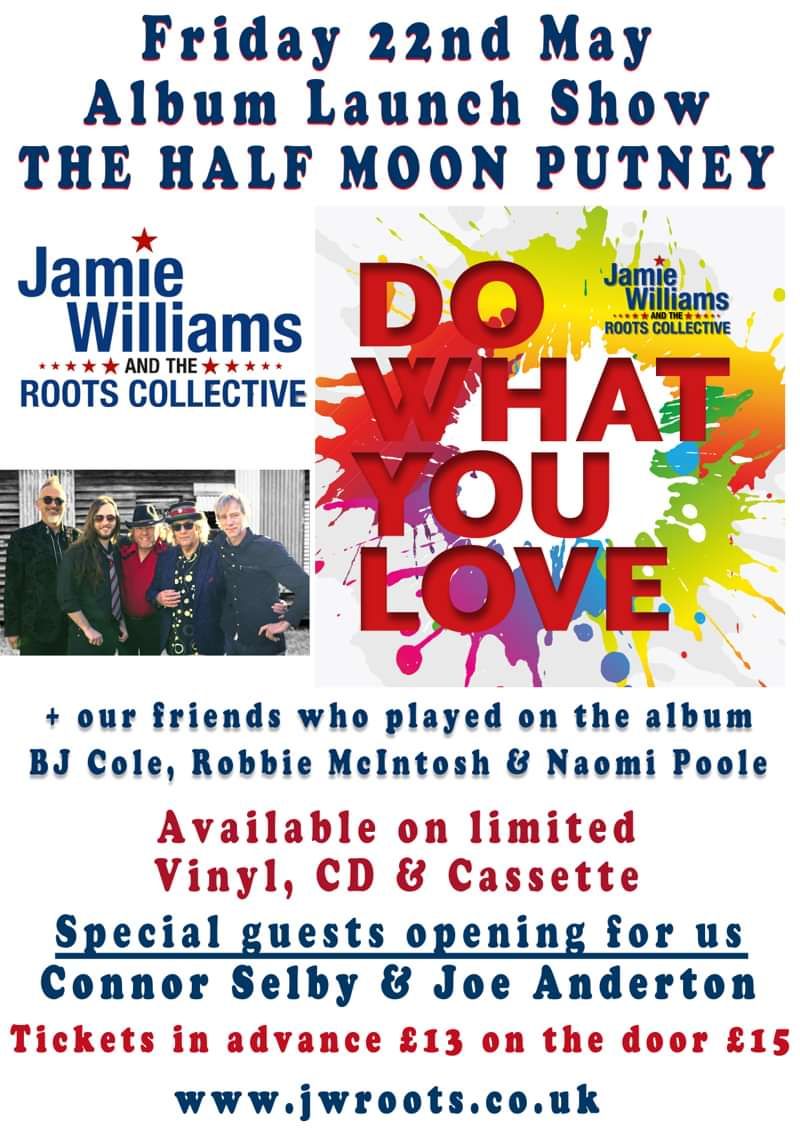 Half Moon presents:
Jamie Williams & The Roots Collective
Jamie Williams & the Roots Collective + B J Cole + Robbie McIntosh + Naomi Poole
£13 Adv / £15 Door
Entry Requirements: 18+ after 7pm
General Admission (e-ticket)
Jamie Williams and the Roots Collective exist on an imaginary tightrope stretching between The Rolling Stones and The Eagles. Guest musicians include BJ Cole, Robbie McIntosh and Naomi Poole.
Settled into the current super-tight lineup after many years and hundreds of shows the band is on fire right now, bringing their own style of Country Blues, Rock & Americana. Playing festivals, theatres, clubs & pubs including a couple of recent rapturous nights at London's legendary 100 Club their ethos is always to have fun and make sure the crowd does too. This is not a band that stands on stage staring at their (red) shoes.
They've shared line-ups with likes of Bellowhead, Wilko Johnson, The Darkness, The Pretty Things, Jefferson Starship, Eric Burdon, Carl Palmer, The Blues Band, Stray, David Knopfler, The Quireboys, Dr Feelgood, Steve Harley & Cockney Rebel, The Yardbirds, Eddi Reeder & the Animals to name but a few.
Special Guest support - fresh from opening for The Who are Connor Selby & Joe Anderton.
Line Up
Recommended for fans of The Travelling Wilburys, Tom Petty & the Heartbreakers, Dr Feelgood, Bob Dylan, Neil Young, Elbow, The Black Crows, Eagles, Rolling Stones ...
Jamie is a prolific writer of accessible songs that people actually love; songs good enough to hold their own in a solo acoustic setting, which really light up when the band get hold of them.
Jamie Williams & the Roots Collective are like the classic touring bands of the 70s: They are almost a travelling circus; a dysfunctional family of a band. They're tight without being boringly slick; leaving just enough rough edges to become one of the most exciting and fun 'originals' live bands on the circuit today. Their ethos is 'it's not just a gig, it's a night out'. This is a band who love to entertain people and to make them smile; to inspire them to dance and sing along. With lots of UK & international airplay, the band is gathering a worldwide following of loyal fans some of whom travel a great distance to see them play.
For more info including LIVE YouTube VIDEOS, Social Media etc go to www.jwroots.co.uk
Just a few of the Quotes
Question: "What do you think of the track I'm A Stone from the forthcoming album, Do What You Love"? Answer: "Great! A good track, plenty of energy and best of all, it sounds like a band having a good time. Jamie's a great singer so that really carries it along. I am really pleased and excited to be playing on this album as well". Robbie McIntosh (guitarist for The Pretenders, Paul McCartney, John Mayer, Talk Talk and many more.)
"You are the first band to put a smile on my face in years and I want to record and play with you, and now I am" BJ Cole (pedal steel player to the stars Inc. Elton John, Sting, Bjork, REM etc)
"What sets Jamie and crew apart from the crowd is the quality of these original songs" R2 Magazine
"The Eggshed Sessions - as good as Southern Rock gets in my opinion… every bit as good as anything that I've heard in the last twenty years" Rocking Magpie
"A gritty sound that makes me think of the sound of The Kinks of the mid-sixties" Blues in the North West
"Hummable, garagey roots rock featuring potent lead excursions and Dylan-esque vocals with a jaunty appeal" Bass & Guitar Magazine
"a mix of bluesy garage rock which wouldn't have sounded out of place on a sixties package tour slotted between The Small Faces and The Who." Louder Than War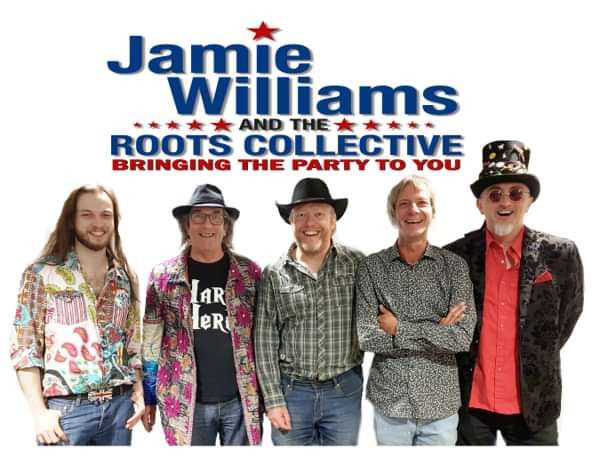 Robbie's been a band member of The Pretenders, Paul McCartney Norah Jones, John Mayer and played session for countless others. One of the most highly prized sidesmen in the business, he is a 'guitarist's guitarist'.
He's also played session or sidesman to playing sideman/session player to Norah Jones, John Mayer, Tears For Fears, Mark Knopfler, Talk Talk to name but a few).
As a solo performer and singer, he has released 3 song based albums: "Turn Up For The Books" "Widescreen" and "Emotional Bends" Also, 3 albums of instrumentals: "Unsung", "Hush Hour" and "Christmas Carols"
ROBBIE MCINTOSH BLUES SLIDE