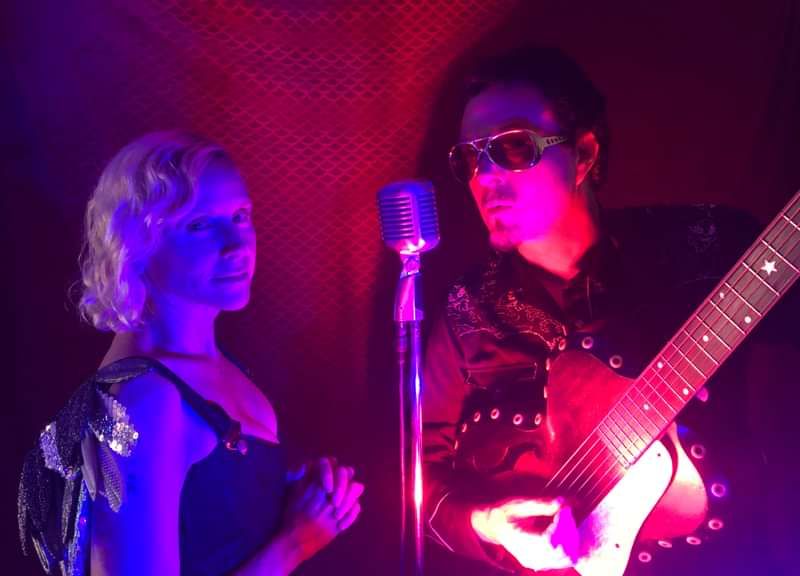 Half Moon presents:
HYMN FOR HER
Hymn For Her
£11 Adv / £14 Door
Entry Requirements: 18+ after 7pm
General Admission (e-ticket)
"Created using broom handle cigar box banjo, dobro, bass drum, hi-hat and harmonica, the music of Lucy & Wayne and The Amairican Stream by US duo Hymn For Her, proves categorically that you don't need a megabuck budget to create some high-end kick-ass boogie. Recorded in the classic sixteen-foot 1961 Bambi Airstream trailer (caravan) that they call home, it's an impossible-to-categorise and unforgettable sonic wall of banjo-thrash-country-rock-acid-blues of the sort that you could imagine Jack White having on his iPod". - UK's R2 (Rock 'n' Reel) magazine
Line Up
Hymn For Her have been busy touring across the country and abroad over the past few years, injecting juiced-up backwoods country blues with a dose of desert rock psychedelia that has been described in such ways as, "Hell's Angels meets the Amish," "Opening up Pandora's box and out jumps two hillbillies with electronics that blow your mind."
Hymn For Her smash through the highway guardrails and land in a carnival on a hot air balloon. Float away with them on their new release, 'Pop-N-Downers,' recorded with Vance Powell. Out Oct 5, 2018.
Returning to the States after a 3 month UK/Euro tour the past two summers playing festivals (including Glastonbury, etc…) and many shows, they immediately hit the road for fall and winter to promote their 4th US release, "Drive Til U Die," recorded partially in their vintage Bambi Airstream and partially in studios with renowned engineers/producers-Vance Powell, Mitch Easter & Jim Diamond.
For their 3rd release, "Hymn For Her Presents . . . Lucy and Wayne's Smokin Flames," the twosome kicked it into high gear. They traveled to Ghetto Recorders/Detroit to work with Jim Diamond. They recorded live and mixed twelve original songs in just one week.
The duo certainly covers a lot of musical territory in Smokin Flames. Their wild-eyed mash-up of country, blues and punk led U.K. music critic Steve Bennett to call H4H's sound "a riotous, rocking roadkill stew," while others have referenced such diverse bands as Captain Beefheart, Primus, X, R.L. Burnside, JS Blues Explosion and the Ramones.
They recorded their 2nd album, "Hymn For Her Presents . . . Lucy and Wayne and the Amairican Stream", in their vintage 1961 Bambi Airstream trailer at locations stretching from Philadelphia to Malibu on a three-month tour.
Their first release, "Year of the Golden Pig" is a bare bones acoustic album recorded in a cabin on a cove on an island off the rocky coast of Maine. It captures the stark barren winter with haunting melodies and yearning lyrics.
Impressively, the two create their "ripsaw sounds" (Los Angeles Times' Randy Lewis) with only a few instruments. Wayne (with the devilish voice), mainly playing the kick-drum, high-hat, acoustic guitar and harp, serves as the group's rhythmic driving force. Lucy (of the fallen-angel voice) delivers a gritty squall on her "Lowebow" — a custom-made cigar-box guitar: "The Riff Monster."
Catch this duo as they burn down the highway and tear up your town like a Wichita twister.Hymn for Her have been busy touring across the country and abroad over the past few years, injecting juiced-up backwoods country blues with a dose of desert rock psychedelia that has been described as "Hell's Angels meets the Amish."