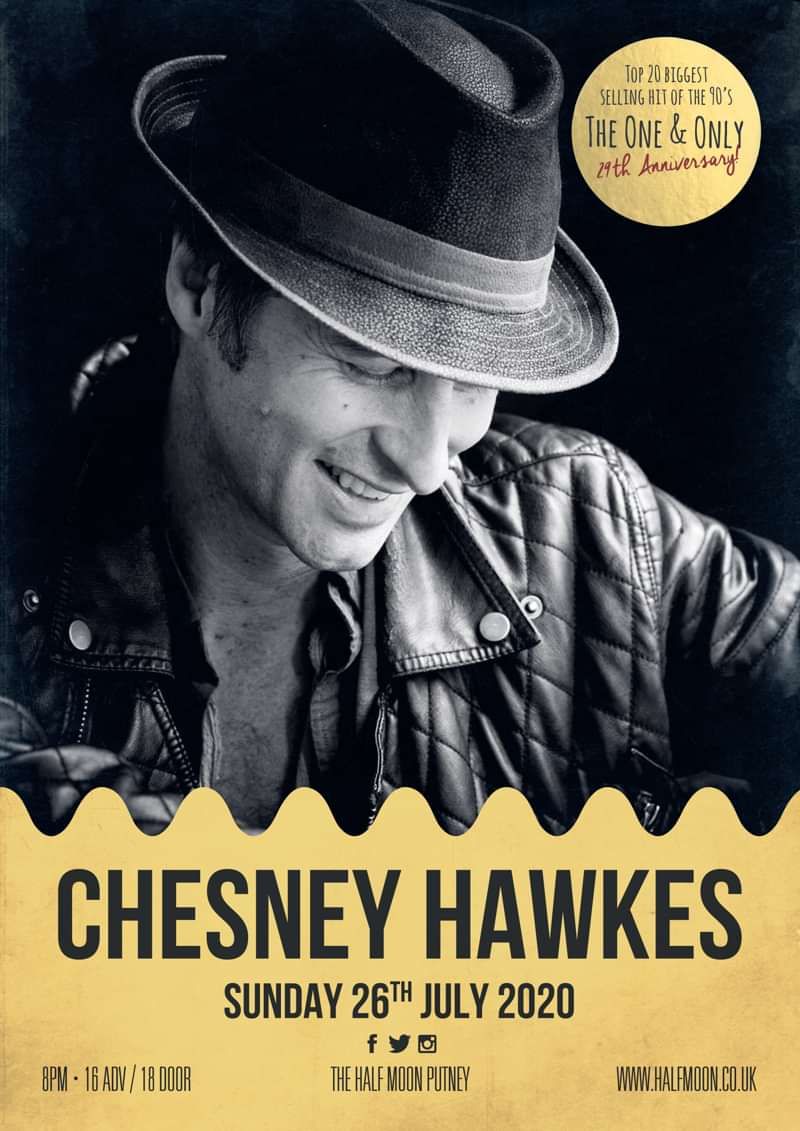 Half Moon presents:
Chesney Hawkes
Chesney Hawkes + NUUXS
£16 adv / £18 door
Entry Requirements: 18+ after 7pm
General Admission (e-ticket)
Chesney's year so far has been mostly spent on the road. TV appearances, Festivals, club gigs and personal appearances, with many more coming in every day. He is currently working on a new album with his long time songwriting partner, Jake Gosling (Ed Sheeran, One Direction).
Chesney is also writing a new musical together with co-writing partner, Charlton Pettus, which they hope to bring to a London stage in the near future.
Support is from NUUXS "Poetic songwriting, expert production and a vocal delivery of rare purity.... For me it's the sound of a gifted artist that's truly coming into her own". Tom Robinson BBCRadio6.
Line Up
TV ACCIDENTS
Chesney's television appearances could form the basis of a slapstick comedy show. Following his appearance on the Channel 4 show The Games, he needed surgery on a hip injury incurred whilst waterski jumping. His 'dancing' skills have been on display on 'Let's Dance for Comic Relief'. Looking pain and humiliation squarely in the eye he signed up for ITV's 'Sing if You Can' where, being asked to sing while on fire, he narrowly escaped being burnt to death. Always looking to push the boundaries, he accepted an invitation to join the cast of ITV's 'Dancing on Ice.' All was going well until breaking his leg and ruling himself out of the show. Chesney's accident prone history was hilariously summed up in John Bishop's feature length film, 'Panto', in which Chesney played the role of a member of the cast forever doing damage to himself. If ever a role was written for him…
THE ALBUMS: ANOTHER FINE MESS & REAL LIFE LOVE
These two albums released in 2007 and 2012 are collections of songs, all co-written by Chesney. Brimming with talented collaborators including long time collaborator Nik Kershaw, Tears for Fears Producer, Charlton Pettus as well as Chesney's talented sister Keely. 'Aeroplane' ran under the closing titles for the feature film 'Panto', staring John Bishop and Sheridan Smith
THE GIGS
Chesney continues to headline at universities, Festivals, clubs and theatres as well as private and corporate gigs throughout Europe and the US. Further appearances at radio promoted open air summer road shows, together with events abroad, have brought the combined 'live' audience to which he has performed to close to 2 million over the last 10 years. In August/September 2014, Chesney joined Ant and Dec for 12 arena dates on their nationwide 'Takeaway' tour.
TV/RADIO
Chesney has combined touring with TV appearances and radio interviews. These have included The Graham Norton Show, Channel 4's Top Ten Teen Idols, A hilarious cameo appearance on Big Brother, judging on Britain's Got More Talent, BBC Breakfast, London Tonight, VH1, Popworld, Lorraine Kelly, Question of Pop, Banzai, Loose Women, The Wright Stuff, Bliss, Weekend with Aled, This Morning, BBC's The Cinema Show and Big Brother's Big Mouth. Radio interviews include Jonathan Ross, Steve Wright, Edith Bowman, Colin Murray, Claudia Winkleman, Paul Ross, Janice Long, Clive Anderson, Alex Zane, Scott Mills, Jamie Theakston, and Dermot O'Leary. Chesney showed his cooking prowess, ending up as a semifinalist in Celebrity Masterchef. He presented two shows for VH1/MTV and has taken part in celebrity editions of The Weakest Link, Antiques Roadshow and Pointless. Chesney also took part in Channel 4's 'The Games' emerging a medal winner. He performed on the Granada/LWT show 'Hit Me Baby One More Time.' He also appeared on a Champion of Champions edition of 'The Games', this time managing to emerge unbroken! Further appearances include the Ant & Dec Show, The One Show, Daybreak, and Bob Mortimer's Christmas production 'All Stars Impressionists show'.
FILM/THEATRE
Chesney's first acting role was as Buddy in the rock 'n roll movie 'Buddy's Song' which featured a cast of young actors destined to make their mark. These included Nick Moran (Lock Stock & 2 Smoking Barrels) and Julia Sawhala, who went on to create the character Saffy in Absolutely Fabulous, as well as Lee Ross, long before he appeared with Catherine Tate and in Eastenders. Heading the cast was rock legend, and The Who lead singer, Roger Daltrey, in the role of Chesney's dad. Chesney's subsequent career has been firmly rooted in music but at Christmas 2007 he joined the cast at the Lowry theatre in Manchester for his first pantomime, playing Dick Whittington. In 2008 Chesney toured the country playing the lead in Bill Kenwright's production 'Can't Smile Without You', the musical based, of course, on the songs of Barry Manilow. Jack and the Beanstalk, his second pantomime, played at the Grimsby Auditorium during Christmas 2009 and at Christmas 2010 he played the lead in Aladdin in Northampton. In September 2011 Chesney played the lead in the Milton/Morrissey production of Joseph and the Amazing Technicolour Dreamcoat. Since then he has stared as Prince Charming in Cinderella at the Harlequin theatre in Redhill and this year (2017) he'll be staring as the prince in Snow White and the Seven Dwarfs at the Pavillion Theatre in Worthing.
SONGS/COMPOSITIONS
Chesney has worked with writers and producers from a broad section of the industry, among them Albert Hammond (To all the Girls I've loved Before), Randy Goodrum (You Needed me) Mark Goldenberg (The Eels), Jesse Valenzuela (The Gin Blossoms), Jake Gosling (Ed Sheeran) and Counting Crows producer Marvin Etzioni. Other collaborators include Howard Jones, the Police's Stuart Copeland, Nik Kershaw, Bijou Phillips and Rob Davis (co-writer of Kylie's Can't Get you out of My Head). He has had material recorded by five international Pop Idol winners. English band 'Hepburn' covered "Next Life", which Chesney co-wrote with Phil Thornally. (Phil co-wrote "Torn" for Natalie Imbruglia). Caprice charted with "Once Around The Sun" and he also collaborated with Tricky on his 'Mission Accomplished' EP. Another of Chesney's songs, "Almost You", was featured in the film "Jawbreaker" starring Rose McGowan and Marilyn Manson and "Missing You Already" was in the film "The Night We Never Met", starring Matthew Broderick. In mid 2007 Chesney co-composed two orchestral pieces commissioned by Lexus Cars for a live presentation. Recorded at AIR Studios by the London Symphony Orchestra, this represents Chesney's first orchestral work. The Duncan Jones movies, 'Moon', 'Source Code', 'Warcraft' & 'Mute' all feature versions of The One and Only and Duncan aims to continue this trend through his future movies!
Three of Chesney's songs were recorded by Chinese megastar Jane Zhang. Jane has 15 No:1s in China to her credit and performing Chesmey's song, 'Celebrate' on the Oprah Winfrey Show with Simon Cowell represented her US TV debut. Chesney also wrote the title track for the film 'All's Faire In Love' which stars Christina Ricci. His song "Seven of Sundays" was recorded by Curt Smith, from Tears for Fears.
BACK TO 1991
Approximately 50,000 singles were released in the UK during the nineties. With five weeks at the top, the twentieth most successful release of that entire decade was 'The One and Only', the lead song from the soundtrack of the film "Buddy's Song" sung by a 19 year old Chesney. The song has gone on to be the subject of numerous compilation albums, TV ads, TV theme music, film soundtracks and, now a student anthem. The song continues to top 'Best pop song of the nineties' polls.
THE FUTURE…?
Chesney's date sheet is steadily filling up for 2018 with TV appearances, Festivals, club gigs and personal appearances already confirmed, with many more coming in every day. He is currently in Los Angeles working on a new album with his long time songwriting partner, Charlton Pettus. The pair are also writing a new musical together with partner, Heidi Hornbacher which they hope to bring to a London stage in 2018/2019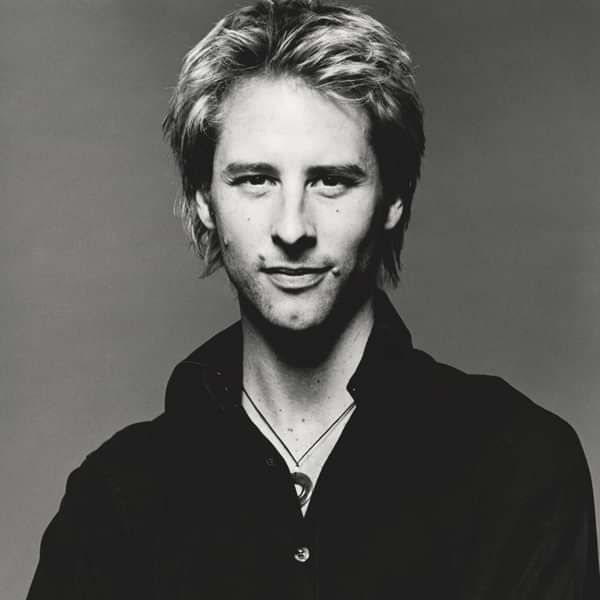 Raised in Hackney, London born to French and Lao parents, NUUXS is a singer/ songwriter who has recently debuted her mixtape "Red Tape". Having early support from Huw Stephens (BBC Radio 1) & now recent support with new single Options from "Red Tape" on BBC Radio 1 DJ Annie Mac, BBC Radio 6 Tom Robinson, BBC Intro South Melita Dennett, BBC Radio London Gary Crowley, Tony Moore Soho Radio, KCRW DJ Jason Kramer in LA.
Previously charting on Amazing Radio Top 40 single "Options". Went viral in the "UK Top 50 Viral Charts" on Spotify with single "No Good For Me" gaining over 600,000 views on YouTube for the official music video. UK Official Charts featured her on New Releases.
NUUXS co-wrote on the recent Major Lazer single "Tied Up" ft. Mr Eazi, Raye & Jake Gosling which is included on the "Major Lazer Essentials" album.
She has performed backing vocals for Shawn Mendes on "Mercy" single from album "Illuminate", The Libertines track "Belly Of The Beast" from album "Anthems For Doomed Youth" and Mario single "Goes Like That" from album "Dancing Shadows".
"NUUXS is destined for great things." - Wonderland.
"A songwriter determined to tread her own path" - Clash.
"NUUXS commands with her desire and longing." - Nylon.