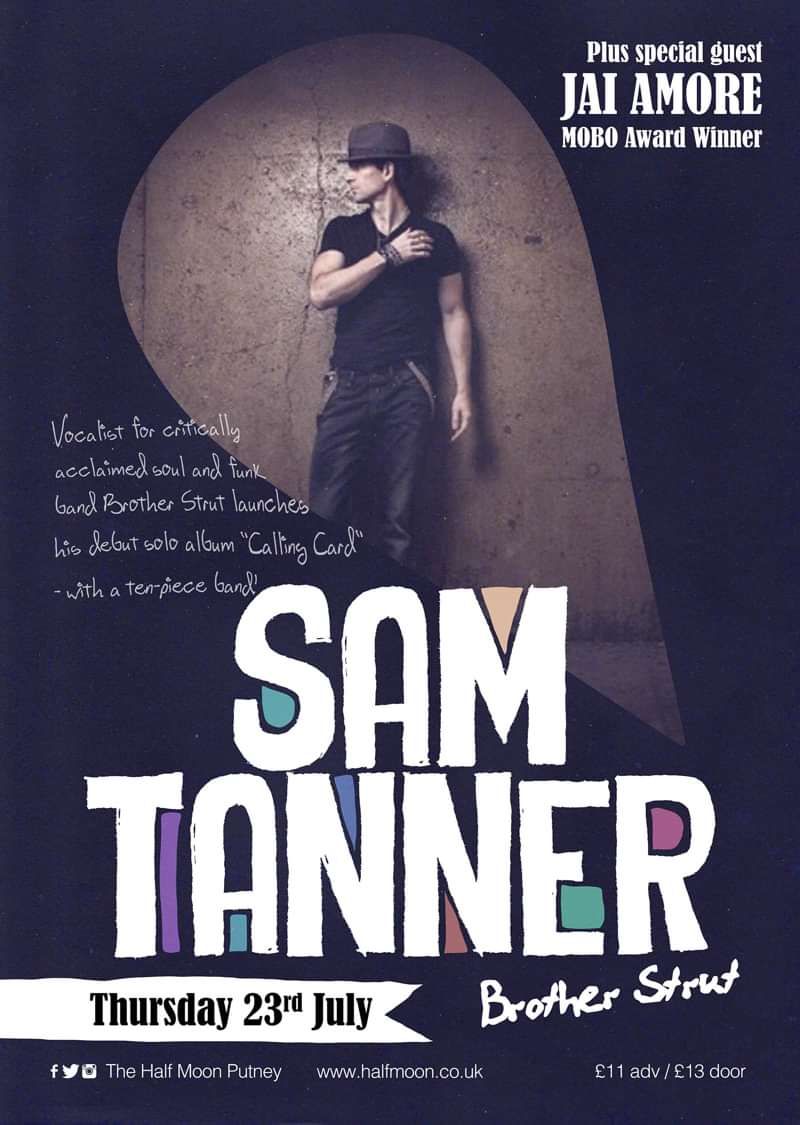 Half Moon presents:
Sam Tanner (Brother Strut)
Sam Tanner + Jai Amore
£11 adv / £13 door
Entry Requirements: 18+ after 7pm
General Admission (e-ticket)
SAM TANNER Vocalist for critically acclaimed soul and funk band Brother Strut, including a fabulous 10-piece band! Sam returns after his debut SOLD OUT show at the Half Moon last year.
Multi-instrumentalist, songwriter & producer, Sam Tanner cut his teeth in bands at the age of 12, and now over twenty years on, has provided accompaniment for some of music's greatest names, including The Faces, Rod Stewart, Ronnie Wood, Pete Townsend & Roger Daltrey (The Who), Jeff Beck, Mike Rutherford (Genesis), Paul Carrack, Mick Hucknall (Simply Red) Paul Young, Duffy, Nadine Coyle (Girls Aloud) and Tulisa.
In the last 3 years Sam has performed on 5 sell-out tours, as lead vocalist with 6-piece funk/soul outfit, Brother Strut, who's members have collectively sold over half a billion albums worldwide – Their debut album 'First Strut Is The Deepest' reached number 2 in the UK iTunes charts, with 10/10 reviews. Sam's first solo EP, Strength In Numbers, was released Feb 2017...
"Simply top-flight. Rich, soulful vocal tones and a fierce piano technique give this guy the edge. I was spellbound by his performance..." - Blues & Soul Magazine.
Jai Amore is our support - also on Backing Vocals for Sam, alongside Mollie Marriott and Izzy Chase.
Line Up
Early on in his career, Jai Amore won the MOBO Award for Best Unsigned Act at the Royal Albert Hall. After this he then went on to win the UKU Award for Best Performer and Best Singer-Songwriter at the Clapham Grand, and the BBC PAF Award. Jai Amore has toured across the UK at some of the countries most notorious venues, like the London Jazz Café, the Olympic Copper Box Arena, Alexandra Palace, Old Trafford, Stamford Bridge, and many more, and opened for the likes of Beyoncé, Jagged Edge, Ginuwine and Montel Jordan.
You can feel the old school RnB inspiration in Jai Amore's music. Boyz II Men style harmonies, Prince-esqu edginess, a James Brown slash Michael Jackson vocal rhythm, and an energy reminiscent of an early Usher, and you've got a Jai Amore sound, with songs written in the voice of a lover in a metropolitan city.
Jai Amore has collaborated with – and continues to work alongside – international acts and home-grown talent alike. You'll find his name mentioned next to Joe Budden, Pyrelli, Chipmunk, as well as producers such as Show N Prove (Stooshie, Rizzle Kicks), and Shae Agha (Jessie J, Ed Sheeran). Meanwhile he continues to lend his penmanship and vocal production skills to fellow musicians such as Misha B, Zalon Thompson, and Jess Glynn, while working on projects with national composers Bless Beats (Wiley, Jess Glynn), and Ayak Thiik (Lil Mix, JLS).
Jai Amore opened 2016 with an exclusive concert at London's Hospital Club in Covent Garden, and continued to tour across Europe and Asia. Now with multiple releases throughout Europe, Asia, and Africa, including collaborations with renowned artists in Italy and Ghana, this London crooner is continuing to bring RnB to the world.