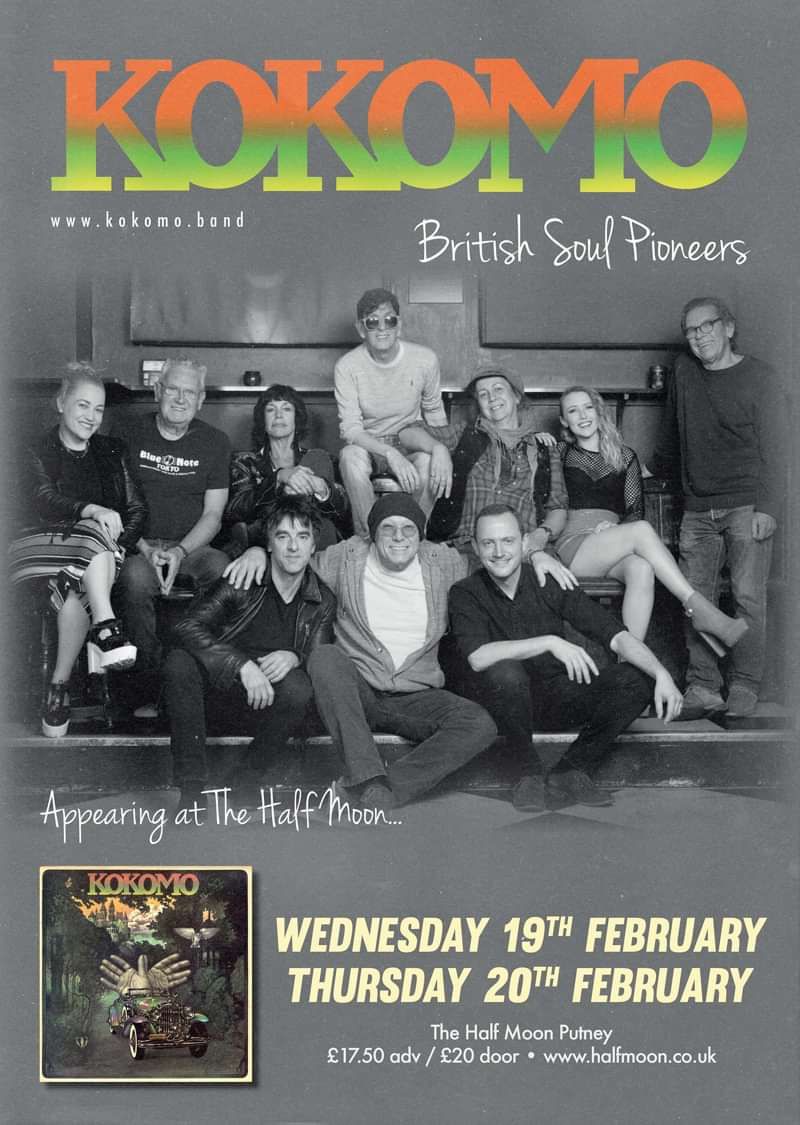 Half Moon presents:
Kokomo
£17.50 Adv / £20 Door
Entry Requirements: 18+ after 7pm
One of the 70's most revered and respected British Soul pioneers - KOKOMO have reunited to perform some special dates - featuring 7 legendary members.
Line Up
Kokomo's 1975 debut album is considered a classic among collectors, whilst the band's reputation as one of the finest 'groove' units ever to come out of this country remains largely intact.
Formed in 1973, Kokomo's original 10-piece and somewhat disparate line-up consisted of four vocalists: Dyan Birch, Frank Collins, Paddie McHugh and Tony O'Malley (also on keyboard) - all from '60s pop sensations 'Arrival'. Alan Spenner (bass) and Neil Hubbard (guitar) were recruited from Joe Cocker's Grease band; Mel Collins (saxophone) from King Crimson, and percussionist Jody Linscott (who went on to tour with The Who, Elton John, Dave Gilmour and more), Terry Stannard (drums) and Jim Mullen (guitar) completed the line up.
Kokomo was never shackled to the traditional soul/R&B club circuit. Rather, the band launched onto the U.K. pub rock scene where their loose-limbed funk workouts were in an absolute class of their own and they took London by storm!
In early 1975, taken on by manager Steve O'Rourke's (also Pink Floyd's manager), Kokomo finally broke out of the pubs and the band joined the seminal 'Naughty Rhythms' tour alongside Dr. Feelgood and Chilli Willie & the Red Hot Peppers. CBS was similarly enamoured, signing Kokomo and issuing the band's self-titled debut album that summer. Bob Dylan, who was signed to the same label, also admired the group — when Kokomo visited New York that July to launch their album in America, Dylan recruited them to the early sessions for his forthcoming 'Desire' album.
Despite seemingly having it all in place – top-rate management and record label on board, successful inroads into the U.S. R&B charts, extensive UK & US tours and a second album 'Rise & Shine', by January 1977 the band's melt down was such that an indefinite hiatus was announced. Line-up changes and the financial difficulties of supporting a 10-piece band forced members of Kokomo to seek work with other artists. Although, after an extended sabbatical, a further studio album was released in 1982, by and large, that was then that, further compounded by the tragic premature death of influential bassist Alan Spenner in August 1991. Kokomo finally split and, with one or two low key re-unions aside, the band - if certainly not the individual players - has been inactive ever since.
Kokomo's enduring pedigree is evidenced by how many of the original members have gone on to enjoy considerable success in their subsequent careers. Jim Mullen is now a much feted award-winning jazz guitarist, Neil Hubbard's discography is impressive to say the least – recording and touring with the likes of Jo Cocker's Grease Band, Roxy Music, Robert Palmer, BB King, Bryan Ferry, Buddy Guy, Dexy's..., Jodie Linscott continues to work with everyone from McCartney to Will Young, Mel Collins' sax work has graced albums and gigs by Dire Straits, Eric Clapton, and the Rolling Stones, to name but a few; Tony O'Malley forged a successful solo career here and in Europe, Frank Collins toured and recorded with Terence Trent D'Arby and he, along with Dyan Birch and Paddie McHugh, were in great demand as session vocalists and toured with Bryan Ferry amongst others