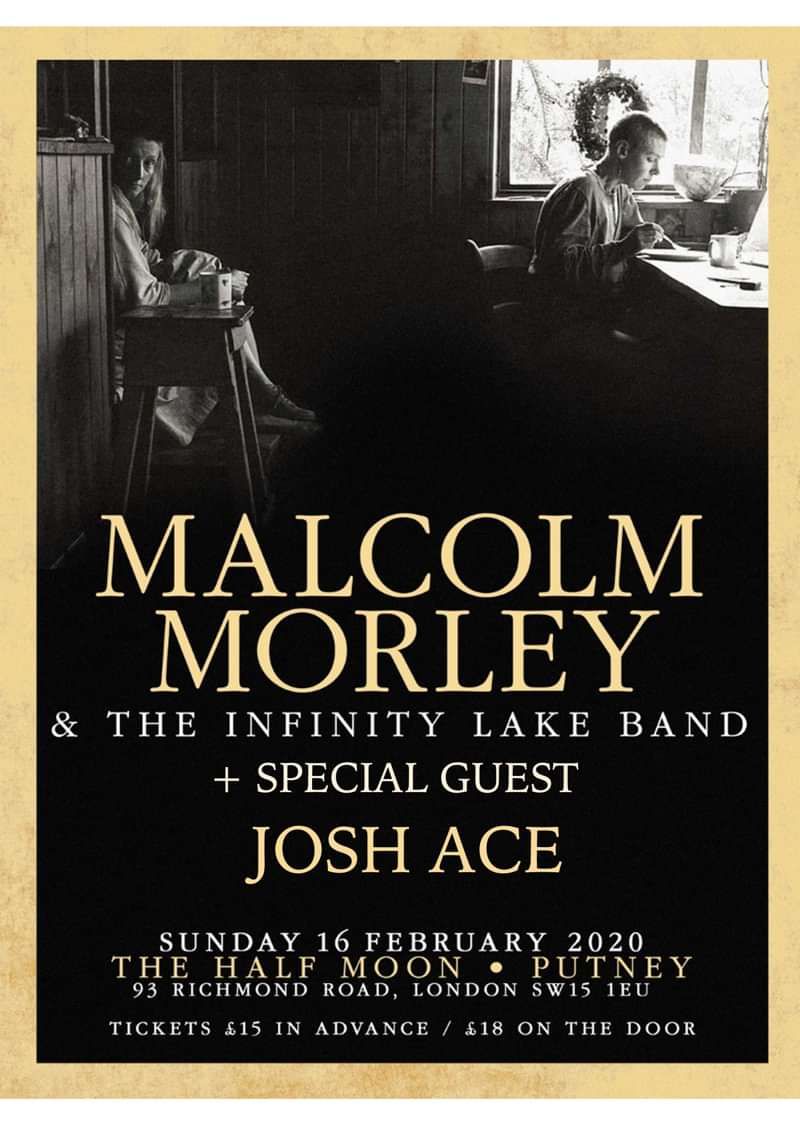 Half Moon presents:
Malcolm Morley & the Infinity Lake Band
Malcolm Morley & the Infinity Lake Band + Josh Ace
£15 Adv / £18 Door
Entry Requirements: 18+ after 7pm
Many will best remember Malcolm Morley from his tenure in Man, a band he toured and recorded with in the mid-1970s. He features on their highly acclaimed 1974 album, the Roy Thomas Baker-produced 'Rhinos, Winos and Lunatics' – considered by many to be their finest work.
But that wasn't Malcolm's recording debut by any means – that came a few years earlier with cult favourites, Help Yourself, a band he steered to four highly acclaimed albums on UA and a live performance at the first ever Glastonbury festival in 1971. With John Peel dubbing Malcolm "a mad mutant about town," his musical talents were soon in demand with everyone from genre-defining pub rockers Bees Make Honey, to Kirsty MacColl, Deke Leonard and Wreckless Eric.
As part of Wreckless Eric's band he was part of the infamous Be Stiff Route '78 tour, which in true Stiff style toured the UK travelling by train! Following another semi-chaotic Stiff adventure in the USA Malcolm went into semi-retirement, restricting his musical activities to just two solo albums in the following decades – the evocative 'Lost & Found' (recorded with the help of Plummet Airlines) and the groundbreaking 'Aliens' - alongside the issue of Help Yourself's legendary lost album '5'.
Much to the delight of his fans, more recent years have seen Malcolm rediscover his mojo, re-joining Man as part of their touring line-up and performing a series of solo gigs in and around his north London home. In 2019 came the news everyone had been waiting for, a new album of exquisite Morley compositions, the achingly beautiful 'Infinity Lake'.
Released at the end of 2019, that album has inspired Malcolm to form The Infinity Lake Band. Their live debut is at the Half Moon on 16 February 2020. It is a date that Malcolm's fans have long anticipated and will look forward to with relish.
Support comes from Josh Ace
Line Up
Despite a CV as a songwriter, performer and musical director for acts as diverse as Man, Kirsty MacColl and Wreckless Eric – not forgetting his own band, the legendary Help Yourself – the music of the enigmatic Malcolm Morley is one of the UK's best kept secrets. With his new album, Infinity Lake, all of that is about to change.
Website: www.malcolm-morley.co.uk Facebook: www.facebook.com/MalcolmMorleyHelps Twitter: @bewaretheshadow
Welsh pop meets pseudo Americana. With roots firmly dug in the foothills of North London, Swansea born songwriter Josh Ace tells tales of derailed dreams, dissolute companions and life in the times of social media and virtual collective consciousness. Apocalyptic overtones with a sense of humorous cynicism, sugar coated in power pop harmonies leave you feeling not all is lost. Angular guitar hooks hark back to post-punk new wave with a hint of psychedelia thrown in the mix for good measure!
''Some kind of beautiful passion at work, really ace stuff!" - Adam Walton, BBC Radio Wales
''This is a band well worth listening out for in the future'' - Alternative Tracks