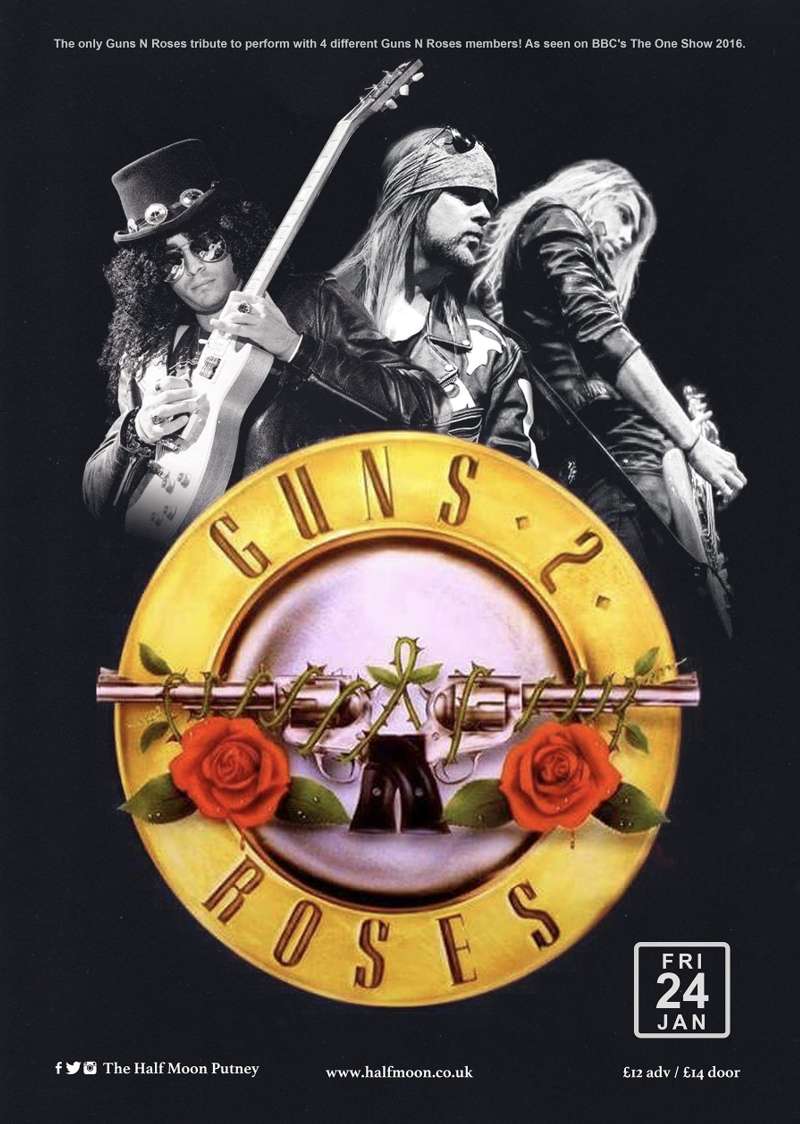 Half Moon presents:
Guns 2 Roses
Guns 2 Roses
SOLD OUT
Entry Requirements: 18+ after 7pm
This show is now SOLD OUT but the band return in April - tickets here
GUNS 2 ROSES - GUNS N' ROSES TRIBUTE BAND THE ONLY GNR TRIBUTE TO PERFORM WITH MEMBERS OF THE OLD AND NEW GNR LINEUP
Guns 2 Roses are a six piece band who capture the spirit of Guns N Roses so naturally the fans think its the real thing, G2'R are also mirror images to classic GNR, with ever changing authentic stage outfits to catch the era and stage performances down to the last detail.
Playing many songs from Appetite For Destruction, GNR Lies, Use Your Illusion I and II, Spaghetti Incident? and even tracks from Chinese Democracy. Guns 2 Roses sometimes even throw in the songs that GNR did live that never made it to an album to keep with the GNR spirit and deliver a different show everytime.
Line Up
Our Story
Guns 2 Roses have existed since late 2002 and have become biggest GNR tribute in history with the history to prove it! Their ability to emulate classic Guns N Roses has even been approved by members of the original and current lineup of GNR and is also why G2R are the most famous GNR tribute band in the world. Guns 2 Roses became a world famous name in the past decade and a half.
They have and still play to thousands throughout the UK, Europe, Middle East, India, Japan and USA.
In 2005 they became the first tribute band to play the world famous Marquee club and Hard Rock Cafe in London.

In 2006 the original drummer from Guns N Roses Steven Adler toured with them on drums in the UK.

In 2007 they were filmed and interviewed by BBC news and BBC 2 and Sky.

Featured in BBC's A Question Of Sport in 2008

Toured Slovenia and were featured on their local news stations April 2008 and April 2010.

Played Bucharest, Romania for the official Jack Daniels party in July 08

They have headlined the famous Glastonbudget tribute festival 2 years in a row in 2006-2007 and also played in 2008 and 2010 and then headlined 2011-2012-2013-2014-2015.

They played the famous Matthew Street Festival in 2006 in front of 35.000 people and returned to an even bigger crowd in 2008, 2009 and 2010.

The only tribute to sell out the famous Cavern Club in Liverpool 2 nights in a row.

Hosted the official Premiere for Chinese Democracy in London in November 08

Featured on Channel 5's Fifth Gear in February 2009

Outsold Joss Stone in Manchester February 2009. This was featured in the Daily Star

Performed in Hungary in May 2009 and performed their folk song Tavaszi Szel in Hungarian just like Freddie Mercury did in 1986.

Offically supported by Marshall, Shure, Ernie Ball & Digitech in January 2010

Offically endorsed by Sabian Cymbals in March 2010

The French Connection! G2R's Axl becomes front man for French GNR tribute Big Guns thus creating Guns 2 Roses France in May 2010.

Featured in The Sun Newspaper on June 1st 2010

The singer was featured in the Daily Star, Manchester Rock Radio and BBC Radio 6 in the Axl Rose / Lady GaGa mock wedding photoshoot. July 2010.

Played on a boat down the River Liffey in Dublin for Nova Radio's launch in August 2010.

UK Guns N Roses split and merge with Guns 2 Roses forming Uk Guns 2 Roses & transferring 2 members and their tour to G2R in September 2010.

Performed 3 songs with Guns N Roses members at a secret show in Oxford in October 2010

Invited as VIP guests by Guns N Roses on the 2006, 2010 & 2012 tours.

Featured on French TV channel Metropole 6 with the official Lady GaGa double Baby GaGa in December 2010

BBC Radio contacted and broadcast our Axl to share his views on the real Axl winning the best frontman ever award in December 2010

Featured in the March 2011 issue of Esquire Magazine

The first tribute band confirmed to headline the famous Bulldog Bash in 2011

Invited to India as VIP guests by Lady GaGa in October 2011

Toured and performed with Gilby Clarke in London and France in February 2012

Toured India in February 2012 to an amazing crowd of 10.000 plus!

Legendary porn producer Ben Dover joins as drummer in April 2012

Performed in Hollywood with Steel Panther in February 2013

Adam Ant backing vocalist Georgina Baillie joins G2R in May 2013

Featured as a question on ITV Tipping Point Lucky Stars in 2016 and 2018