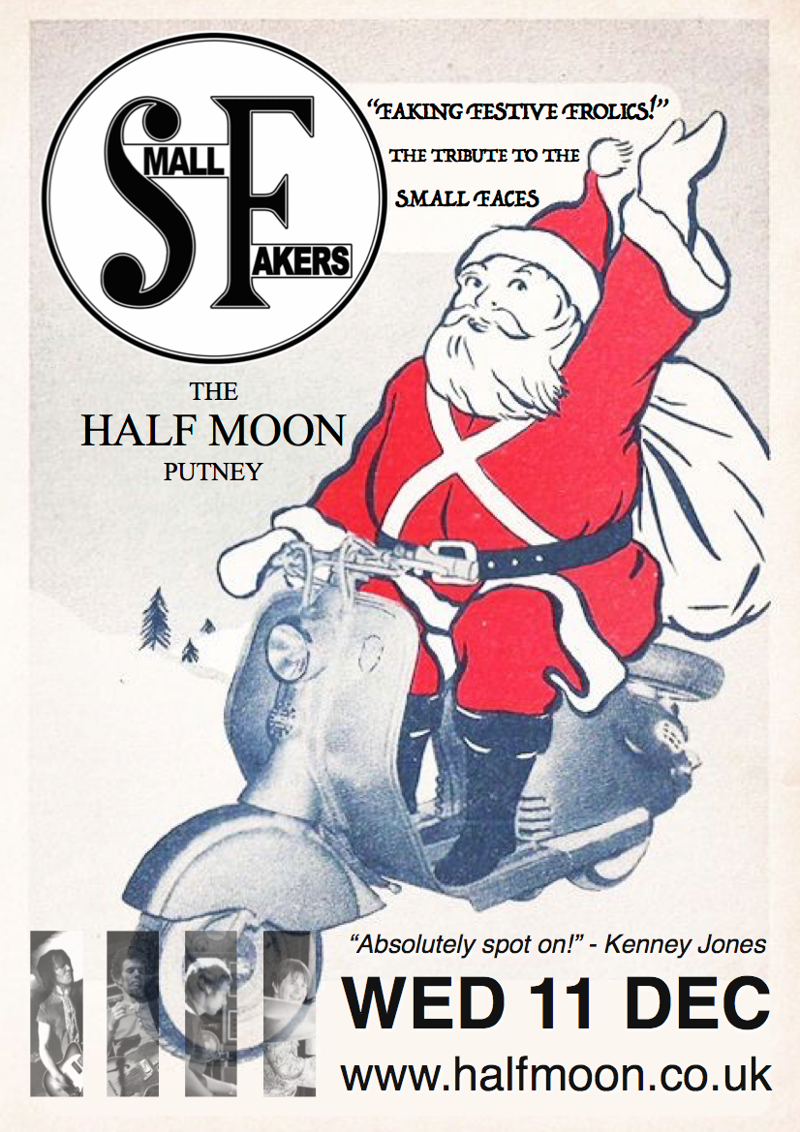 Half Moon presents:
Small Fakers Faking Festive Frolics
Small Fakers
£14 Adv / £16 Door
Entry Requirements: 18+ after 7pm
Small Fakers bring their Christmas Special to The Half Moon Putney!
Formed in 2007, the Small Fakers are the UK's only tribute to mod legends, the sensational Small Faces. Hits galore at every show including All Or Nothing, Itchycoo Park, Lazy Sunday and many more mixed in with B-sides and fan favourites from the Small Faces' back catalogue. A visual and musical feast for all Small Faces fans.
Line Up
Who were the Small Faces?
The Small Faces are without any shadow of doubt, one of the most sensational British bands of the 1960s, and are as much a part of the soundtrack to the fabbest decade ever as The Beatles, The Stones, The Kinks, The Who, or anyone else for that matter!
Hitting the charts as teenage mods with their very first disc, 'Whatcha Gonna Do About It', the four diminutive Cockneys went on to release numerous timeless classics including, 'Sha-La-La-La-Lee', 'Here Come The Nice', 'Itchycoo Park' and 'Lazy Sunday'.
The band are almost as famous for their groundbreaking psychedelic LP, 'Ogden's Nut Gone Flake', which topped the UK's album charts in 1968. Released a whole year before The Who's 'Tommy', it's widely regarded as rock's very first concept album.
The Small Faces split in 1969. Lead singer Steve Marriott – recognised as having one of the greatest 'blue-eyed soul' voices ever – went on to have huge international success in the 70s with Humble Pie. The rest of the band – Ronnie Lane on bass, Ian McLagan on keyboards and Kenney Jones on drums – hooked up with Ronnie Wood (later to join The Rolling Stones) and Rod Stewart and had massive worldwide success of their own as The Faces.
Interest in The Small Faces never went away though, and was re-ignited by Jam frontman Paul Weller's fascination with them in the late 70s, and again in the 90s by Britpop bands like Blur, Oasis and Primal Scream name checking them in interviews as a massive influence. More recently, bands like The Arctic Monkeys and The Kaiser Chiefs have declared themselves to be huge fans too.
While fans of other great 60's bands had tributes to see, to recreate the original live experience, The Small Faces were unrepresented. Until 2007 that is, when they got their very own tribute at long last - THE SMALL FAKERS.