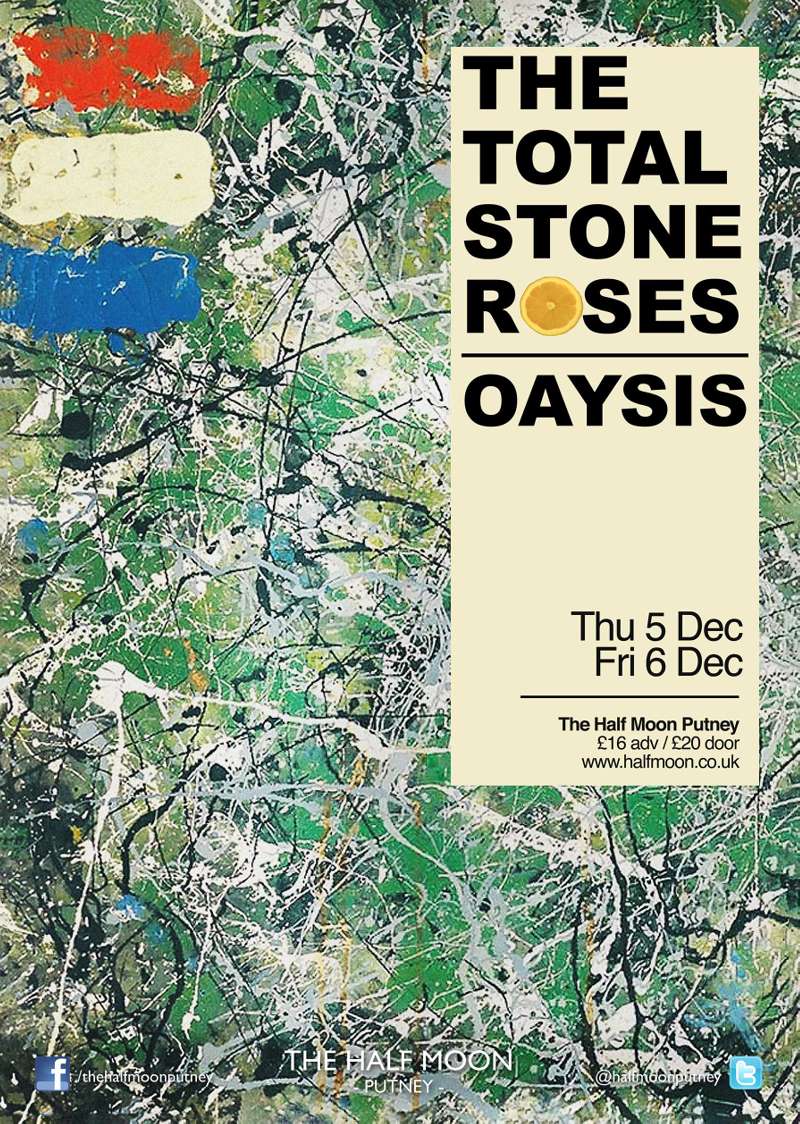 Half Moon presents:
The Total Stone Roses + Oaysis
SOLD OUT
Entry Requirements: 18+ after 7pm
The Total Stone Roses & Oaysis return for 2 Special Christmas Gigs @ The Half Moon, Putney on Dec 5th & 6th 2019. Two of Manchester's finest bands by the best tribute act around - all for one ticket price!
Expect to hear all the hits including 'I Wanna Be Adored', 'Wonderwall', 'She Bangs The Drums', 'Roll With It', 'Supersonic' and as a special Christmas treat additional rare cuts, B-Sides & Album tracks previously not performed live by 'the real deal'!
Two blistering sets with all the hits, representing the soundtrack to an incredible era of music. This is not to be missed!
Line Up
Throughout the last year or so, The Total Stone Roses have been playing gigs and stunning audiences throughout the country building up a solid fan base that makes them a force to be reckoned with in the tribute scene. The band are all in their early to mid twenties, bringing the same passion, vigor, arrogance and charisma that only the young have, the old want and that cannot be faked. This same drive is what gave The Stone Roses their 'X Factor' and took them to the heady heights of success and fame that they achieved in the late 1980?s and early 1990?s and beyond. The Total Stone Roses are all pro musicians that do this for a living; all players involved are top draw Leeds College of Music graduates. They strive to re-create the roses sound live and are meticulous in the recreation of their material. You will not find a better sound a like band this side of 1989!
Oaysis are a full 5 piece band and play all the Oasis hits, note for note as it is on all of their albums. They have the look, the sound and most of all the ability to make any venue rock to the sounds of one of the most influential bands in history.