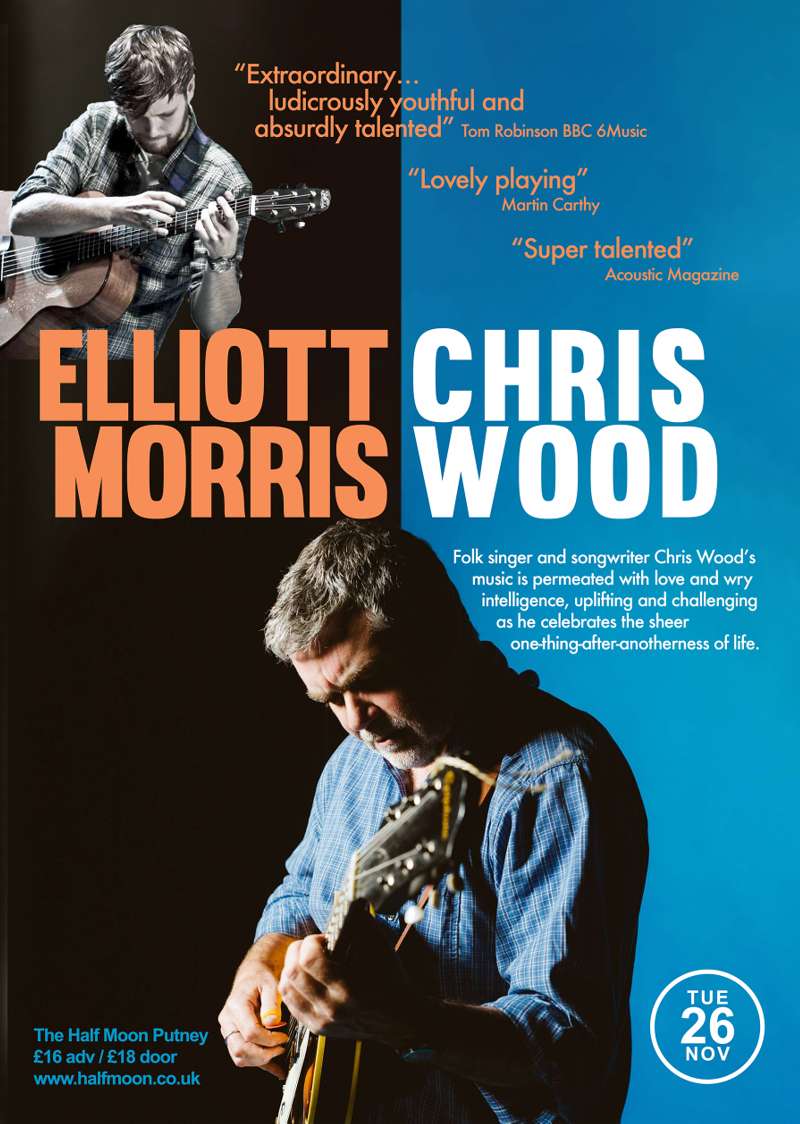 Half Moon presents:
Chris Wood + Elliott Morris
Chris Wood + Elliott Morris
£16 advance / £18 door
Entry Requirements: 18+ after 7pm
Chris Wood Folk singer and songwriter Chris Wood's music is permeated with love and wry intelligence, uplifting and challenging as he celebrates the sheer one-thing-after-anotherness of life. A wise and soulful craftsman, his concerts are a cliché-free zone.
Elliott Morris Featured in Acoustic Magazine as 'The Next Big Thing', Elliott Morris's original compositions marry intricate guitar lines with heartfelt, honest vocals and clever wordplay, combining elements of folk, roots, jazz and country, all the time embracing the traditional and the contemporary.
Line Up
In a world of soundbites and distractions Chris Wood is a truth seeker. His writing is permeated with love and wry intelligence, uplifting and challenging as he celebrates the sheer one-thing-after-anotherness of life. Tom Robinson and Chris Difford are fans while Stick In The Wheel and The Unthanks look to him as an influence. Winner of 6 BBC Folk Awards, he's played with The Royal Shakespeare Company and was a key member of The Imagined Village along with Billy Bragg and Martin Carthy. A wise and soulful craftsman, his concerts are a cliche free zone.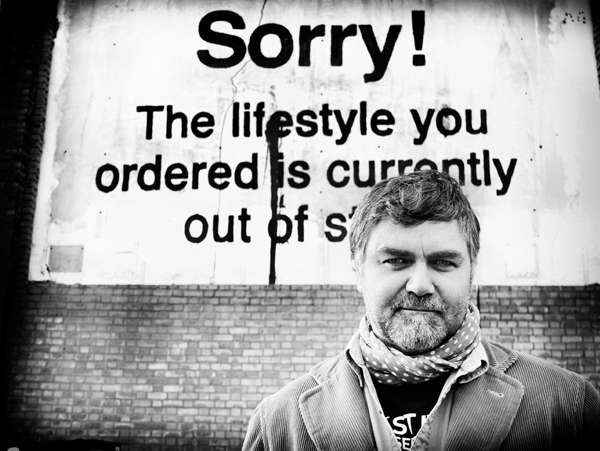 2013 CELTIC CONNECTIONS DANNY KYLE AWARD WINNER -
————–
"Extraordinary…ludicrously youthful and absurdly talented" Tom Robinson, BBC 6Music
"Very nice!" Andy Mckee — "Lovely playing" Martin Carthy
"I like his EP 'Shadows and Whispers' very much…I suspect we're going to be hearing quite a bit more of that lad in the weeks and months to come!" Mike Harding
"Fantastic…Really high quality stuff!" Will Gompertz (BBC Arts Editor)
"You've got the tapping thing down man!" Frank Turner
"One of the most impressive guitarists to grace our studio for a very long time…a compelling listen – and mesmerizing to watch!" Dean Jackson – The Beat / BBC Introducing
"His guitar playing is intricate and skilful and his voice is strong and honest…heartfelt folky pop" Dave Gorman
"Very nice hammer-type-playing-thing-style" Adrian Lester (Hustle)
"Super-talented" Acoustic Magazine
Bio (scroll down)
With hundreds of gigs behind him – and a coveted Danny Kyle Award from Celtic Connections 2013 – Elliott Morris has a formidable reputation as one of the hardest-working and most sought-after young artists on the acoustic scene.
The singer-songwriter, featured in Acoustic magazine as 'The Next Big Thing', taps the strings and beats the guitar's body to create an intricate spectacle, together with an original and unique sound integral to his songs.
Half English, half Scottish and raised in Wales and Lincolnshire, Elliott has always been one to enjoy travelling, and this is evident in his almost constant touring schedule. He's played all across the British Isles, from Orkney to Brighton, to Clonakilty in Ireland.
Elliott's versatile blend of folk, pop and rock has complemented a range of major artists he has supported. These include Erik Mongrain, Andy McKee, Frank Turner, Seth Lakeman, Lau, Big Country, Get Cape Wear Cape Fly, The Joy Formidable, Jim Bob (Carter USM), Jimmy Wahlsteen, Jon Gomm, Roddy Woomble (Idlewild), Mark Morriss (The Bluetones), Lucy Rose, Brian Kennedy, legendary Philadelphia soul groups The Stylistics and The Three Degrees, and revered folk veterans Martin Carthy and Dave Swarbrick. He has been joined on stage a number of times by Ed Sheeran, Alan Thomson (The John Martyn Band), Boothby Graffoe, Mike Vass and Innes Watson and even YouTube comedy sensation, Slomozovo – Chris 'Bing' Bingham.
Between October 2013 and April 2014, Elliott supported Paul Carrack (Squeeze, Mike + The Mechanics, Eric Clapton) on many of his UK tour dates, including shows at Glasgow's Royal Concert Hall, Sage, Gateshead, The Lowry, Salford and Cambridge Corn Exchange. He joined back up with Paul Carrack in November to again play support on the 2014-2015 tour, his first date being at the London Palladium. Elliott played 5 slots at Celtic Connections 2014 and summer festivals including Hop Farm Festival, Towersey Folk Festival, Warwick Folk Festival, Beverley Folk Festival, Cambridge Folk Festival, The London Acoustic Guitar Show and Ullapool Guitar Festival. He also played headline shows in Germany and the Netherlands in October 2014, and toured the UK with fellow acoustic friends Will McNicol and Chris Woods.
Elliott featured as electric guitarist on an album by Dancing Lotus, and performed at a number of UK festivals with them, including Summer Sundae and Gignics London, where their performance was covered by Channel 4. A track by Morris and the band hit number 1 on the iTunes singer/songwriter charts.
With a string of solo EPs, Elliott has gained considerable air play. He enjoys enormous support from the BBC, and commercial and community channels across the country have highlighted him. He has played many BBC Introducing slots – including one from London's Broadcasting House. He has played two sessions on BBC Introducing's The Beat, and Tom Robinson's 6music show Fresh on the Net has covered him equally enthusiastically several times. Tom selected Elliott for a Best of Mixtape podcast. He also interviewed Elliott at Broadcasting House and welcomed him to a songwriting immersion weekend.
Martin Harrison of Hania guitars spotted Elliott and crafted a custom model for him. Roger Bucknall of Fylde guitars also built Elliott a custom Alexander. Elliott is also endorsed by Mimesis Pickups, Elixir Strings, AER amplification, Logarhythm stompboxes and G7th capos. Elliott additionally plays tenor and harp guitars.