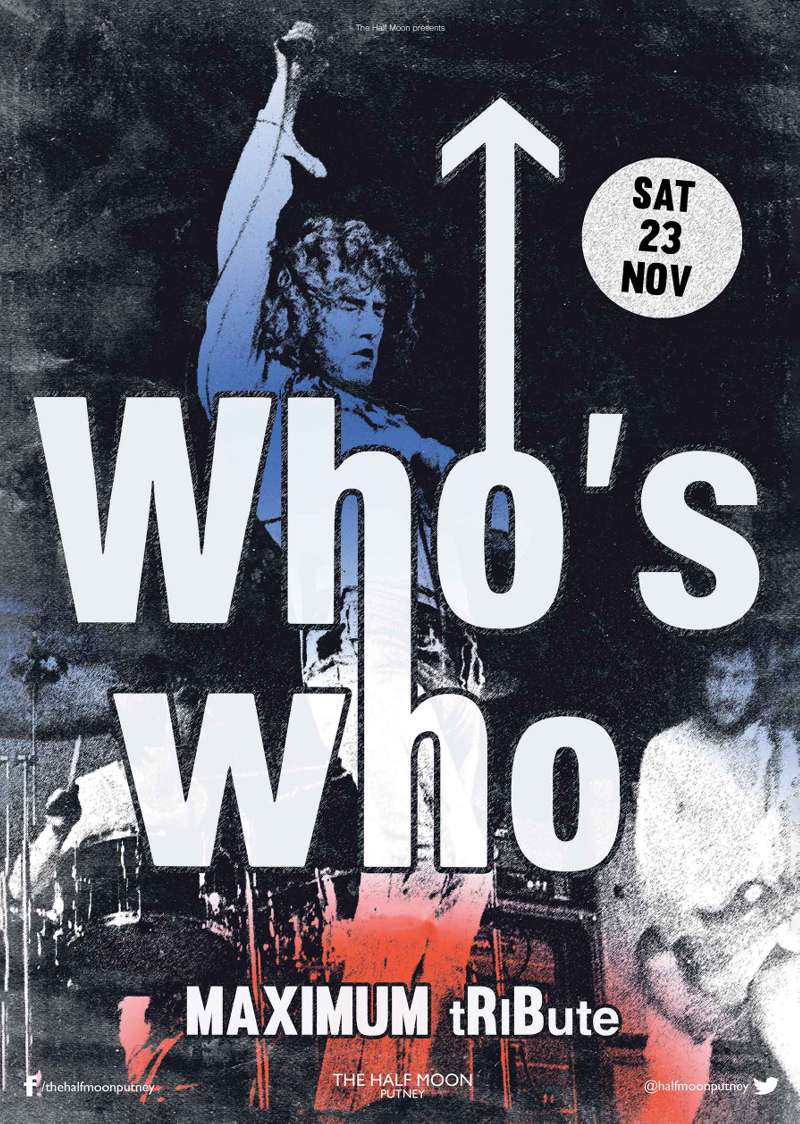 Half Moon presents:
Who's Who
£12 Adv / £14 Door
Entry Requirements: 18+ after 7pm
London, 1996 to now; Who's Who, the longest established Who Tribute Show in the UK, have received incredible reactions across Europe and beyond for their exciting live performances.
Line Up
Widely respected and acknowledged by members of (and those close to) The Who, as the group that most interprets the songs of Pete Townshend and the legendary live performances of The Who, with honesty and integrity. Giving nothing less than 100% during a performance, Who's Who ensure that a night to remember is guaranteed for those people who are able to to attend.
The 2006 Who Convention* featured the first ever airing to an audience of Quadrophenia as a 4 piece since The Who at Stoke in '73, which led Simon Townshend to declare,
"What an absolutely brilliant band Who's Who are!"
The Keith Moon Blue Plaque Reception at The Grosvenor Hotel in Mayfair, London in 2009, saw Zak Starkey watch the entire set, completely transfixed by the incredible authenticity, tone & technique of bass player Terry Wyatt; prompting Zak to single him out for the kind of praise that only members of a rhythm section can truly understand, but coming from someone who played with the man for all them years, all the more memorable.
Drummer Paul "Moonie" Kemp bears an uncanny resemblance to the late great Keith Moon and prides himself on complete authenticity when drumming styles and kit specification is concerned. The kit(s) he plays are completely identical to the original spec, all the way down to the nuts and bolts that hold it together and represent a labour of love with regard to sourcing and application.
He's very close to the Moon family and is a familiar visitor for the odd cup of tea at Kit's house. A complete "one off" on the live circuit, his explosive application to the style of Keith Moon, has to be seen to be believed; there is no need to "close your eyes" with him!
Who's Who celebrated the 40th anniversary of "Live at Leeds" in 2010, touring extensively and performing the whole of "Tommy" to audiences in the UK and Europe, amid critical acclaim. https://www.youtube.com/watch?v=G-VWIoNSCFo&feature=youtu.be
I've just got home, I'm sweaty, my ears are still ringing and I feel like I've just caught a time capsule back from the 60's.
I never got a chance to see The Who with Moon on the drums. I was lucky enough to see The Ox on bass but I was always envious of those who saw the original line-up back in the day.
*Tonight I watched Keith play. Tonight I watched The Who raw. Tonight I watched The Who like it would have felt back in the 60's & 70's. *
Prime Who. Loud. Raw. Primal.
Four musicians totally in synch with each other creating a wall of noise like nobody else.
I can't quite get my head around the drummer. He looked like Keith. He has the exact kit Keith played with, right down to the screws that hold it together, and as I said to him after the show, that's all well and good but you have to be able to play like Keith.
And he does.
Oh bloody hell does he...I really felt like I was watching Keith play in a small jazz club back in the Sixties. - Mike Busson; Actor, Writer. London