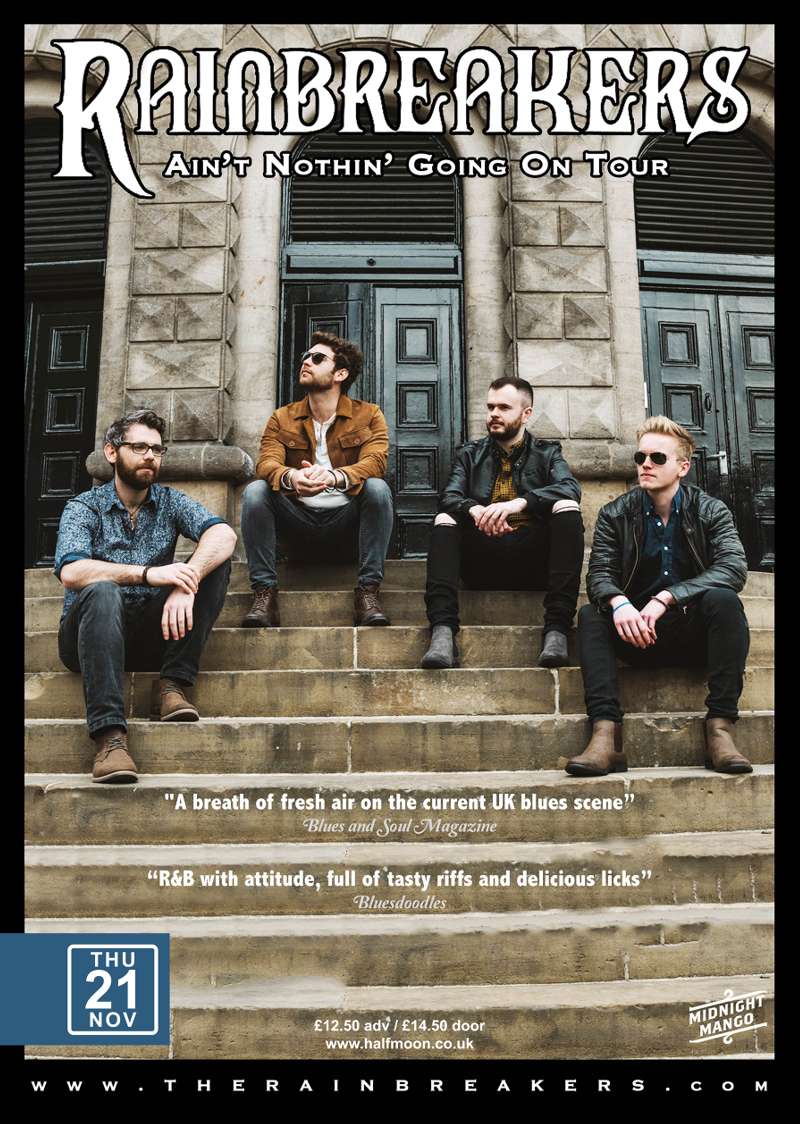 Half Moon presents:
Rainbreakers - Ain't Nothing' Going On Tour
Rainbreakers + Lethbridge Owen
£12.50 adv / £14.50 door
Entry Requirements: 18+ after 7pm
Rock n Soul Rainbreakers take late-Sixties and early-Seventies British rock and bring it bang up to date by generously mixing in soul and garage, then adding piquant dash of contemporary blues-rock. They're known for passionate, powerful live performance and have already toured across the UK and mainland Europe, sharing stages with artists like The Temperance Movement, the Kris Barras Band, Samantha Fish, Devon Allman, and Wille and the Bandits.
"Playing live is what we live for," explains singer/guitarist Ben Edwards, "so to be able to get back on the road and play a full headline show and give our audience a real chance to find out what we are about will be great. Plus, we have some new original material to share which is always exciting!"
It's been a busy twelve months for Rainbreakers, who released their their debut full-length album Face to Face last year. Check out this rising band, especially if you've got the chance to experience Rainbreakers in their natural habitat: live on stage!
'70's meets garage licks' - Classic Rock Magazine
'Soulful, oozing charm' - Fabrications HQ
'Breath of fresh air' - Blues and Soul Magazine
Line Up
Rainbreakers create tasty and soulful melodies within a garage-rock style. Clearly having a foothold within the sounds of their own generation, they are quickly building a reputation for being one of the freshest live bands to surface from the UK.
Crafting their sound into a fusion of dynamic elements, Rainbreakers bridge the gap between blues, rock and soul. Showcasing their original material using gritty guitars and soulful vocals, their songs shift from heavy to delicate in an instant while remaining highly emotive and pulling everyone in around them.
With their highly anticipated debut album, "Face To Face" released in August 2018, having been recorded at Monochrome Productions with renowned producer, Tom Gittins (Robert Plant, Broken Witt Rebels), Rainbreakers are proving to be a relentless force, ensuring they a name on everyone's lips.
Having toured across the UK and Mainland Europe, this tenacious four-piece from the West Midlands, have won over crowds with their unmistakable sound. Sharing stages with artists such as; The Kris Barras Band, Samantha Fish, Devon Allman, Wille and the Bandits, Ryan Mcgarvey, The London Souls, Bad Touch, Sly Digs and Laurence Jones. Rainbreakers have been playing to capacity crowds at iconic venues such as The 100 Club, The Borderline, The Sage and Rock City. performances at festivals like The Great British Rock and Blues Festival and Wilderness Festival have seen the band receive accolades including nominations for the UK Blues Challenge and Best Emerging Artist in the British Blues Awards 2016. Cementing Rainbreakers status as one of the brightest acts to materialise in recent times.
"A breath of fresh air on the current UK blues scene" *– *Blues and Soul Magazine**
"R n B with attitude, full of tasty riffs and delicious licks" – Bluesdoodles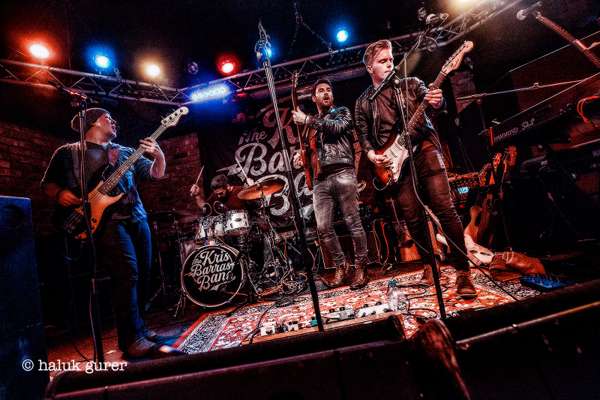 Lethbridge Owen brings together singer/songwriters Kelly Louise Lethbridge and Jimmy Owen. They form a talent-rich partnership, writing and performing original music with top-quality musicianship.
"Put simply, Lethbridge Owen are arguably what 'The Rumours' line-up of Fleetwood Mac could have been if they hadn't imploded. Superb!! I love the little percussive pushes, pristine harmonies, lovely production and intricate guitar work - it all flows!" Pete Feenstra
"'Mind Over Matter' is defiantly different - a celebration of cerebral musicianship that nevertheless manages to retain a radio-friendly accessibility. Glory in its diversity. Celebrate its candid creativity. And take heart from the fact that Lethbridge Owen possess the self-confidence required to make a record that steadfastly refuses to follow trends or chase genre classification.
This album requires an open mind, an acceptance that variety is the spice of life, and that original songwriting knows no bounds. Rock? At times. Pop? Maybe. Country? Definitely. Americana and blues? Sure. Lethbridge Owen tick so many boxes on this deeply affecting record that it's impossible to pigeonhole. Owen's blistering solo on 'Back To The Blue' proves beyond doubt that nothing is off limits and everything is possible. Chasing that distinctive signature sound might prove to be the duo's downfall, but it could catapult Lethbridge Owen into the big leagues.
There are moments, when Lethbridge Owen are at their most compelling, that classic Fleetwood Mac meets the Rolling Stones. Then there are mellow breaks where the Ward Thomas-esque radio-friendly country pop comes to the fore. And when Jimmy Owen really lets rip – complemented by Kelly Louise Lethbridge's soulful verve – it's like listening to Tedeschi Trucks Band at their wondrous and expansive best. On 'Leaving Home' and 'Taking Over Me' the fret work is simply sublime, but Lethbridge Owen are at their best when sweet vocal harmonies vie for top billing with big bluesy riffs – the Tom Petty-esque 'Fight For You' is a classic case in point." Simon Rushworth, Rush on Rock
"Lethbridge Owen's new music crosses genre boundaries with panache and class; echoes of Fleetwood Mac with a modern, vibrant application and fully from the heart. Thoughtful, fresh and engaging, this is music that everyone should give a chance. It will richly reward those that do." Great Music Stories - featured artist - Guy Bellamy
"Lethbridge Owen's always immaculate vocals, subtle and mature songwriting combined with stellar performances all round and with Jimmy Owen's fantastic tone and incredible guitar playing make this band a must see. Lethbridge Owen really is one to watch out for." John Dryland (Cargo Records)
"Jimmy Owen is an incredible guitarist – fabulous playing." Guitarist Magazine
"WOW! You'll go far. Great vocals and playing and of course, great songs. Congrats." Marcus Malone - Malone/Sibunn Band (Robert Plant, Led Zeppelin)
Check out the Andertons Music Co's session, Lethbridge Owen's live dates, and their Mind Over Matter album for yourself to enjoy some of the brightest new singer/songwriter talent on the music scene today.
Website: www.lethbridgeowen.com Facebook: https://www.facebook.com/lethbridgeowen Twitter: @LethOwenMusic