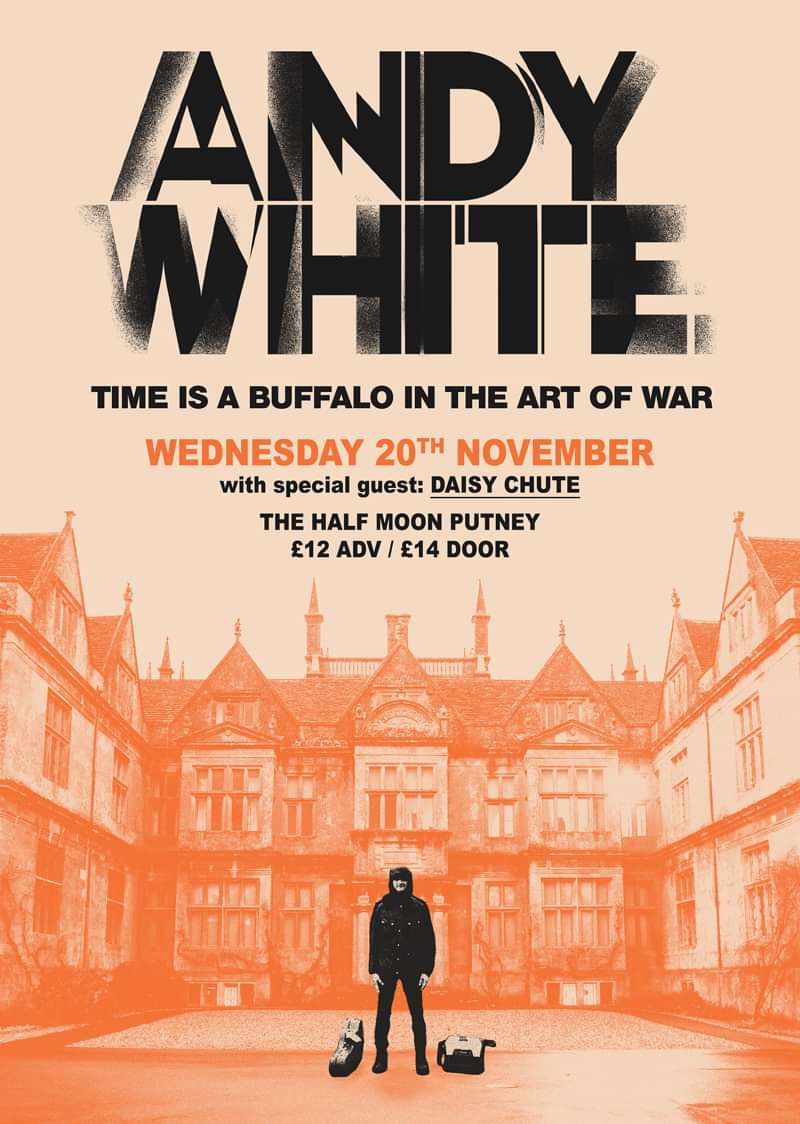 Half Moon presents:
Andy White
Andy White + Daisy Chute
£12 adv / £14 door
Entry Requirements: 18+ after 7pm
Belfast songwriter Andy White tours the UK this November with his new album Time Is A Buffalo In The Art Of War.
The album takes up the story from where previous release The Guilty & The Innocent left off and features Andy's son Sebastian on drums (who'll be joining him on tour) and multi-instrumentalist Rod McVey, producer of his early albums.
"I had finished throwing things at the telly and pointed my finger at the sky. I was listening to Imagine and The War on Drugs. If you have a lot to say take all the time you want to say it."
Andy has written with Peter Gabriel, been in a band with Tim Finn and Liam O Maonlai, played with Billy Bragg and Van Morrison and toured the world many times over in his own right as a 21st Century Troubadour. Time Is A Buffalo is his fourteenth solo album.
Support is from the wonderful Daisy Chute
Line Up
With the political edge of Billy Bragg, the romance of David Gray and the Celtic lyricism of the Waterboys, Andy is a fully paid up '21st Century Troubadour' (and that's also the title of his first book, recently published in Ireland to rave reviews).
Belfast born and raised, White has earned a global following for blending folk and pop stylings with a poet's sensibility. Working with the great names of Irish music - Sinead O'Connor, Van Morrison - and writing with the likes of Peter Gabriel and Neil and Tim Finn, Andy has won Ireland's top songwriting awards and toured the world many times over.
ANDY WHITE - CD BOX SET - STUDIO ALBUMS 1986-2016
All 11 studio albums from 'Rave On Andy White' to 'How Things Are', plus one new unreleased album entitled 'Imaginary Lovers'.
12 CDs in a white box from the Belfast bard. Release date is the 30th anniversary of 'Rave On' - late October 2016.
"From rage to sage, it ain't too late to discover one of our best kept secrets" MOJO MAGAZINE, UK
"I love this man, and his music. Rave on! " JANICE LONG, BBC RADIO 2
"Andy White is a poet, albeit one who plays the acoustic guitar" FOLK ROOTS, UK
"The Belfast singer/songwriter is, to be fair, a genius." METRO SCOTLAND
Includes Religious Persuasion, Vision Of You, James Joyce's Grave, Street Scenes From My Heart, Italian Girls, Driftin'.
Andy's complete catalogue to date with a picture book and notes by the man himself.
Edinburgh-born, half-American, hyphen-loving Daisy Chute is a folk songstress with a particular penchant for the banjo. A regular in the London music scene and an award-winning singer and songwriter, Daisy has been taught and mentored by rock royalty Sir Ray Davies, featured as a vocalist on Radiohead's latest album A Moon Shaped Pool, and even got the thumbs up from Sir Paul McCartney after a performance at the Royal Albert Hall. With songwriting comparisons to Simon and Garfunkel and Joni Mitchell (BBC Radio Kent), Daisy's music has been described as "Exquisitely delicious. Delicate, like a gossamer-winged creature made out of spun gold." Tony Moore (Soho Radio, The Bedford)
www.daisychute.com www.facebook.com/daisychuteofficial twitter.com/daisychute