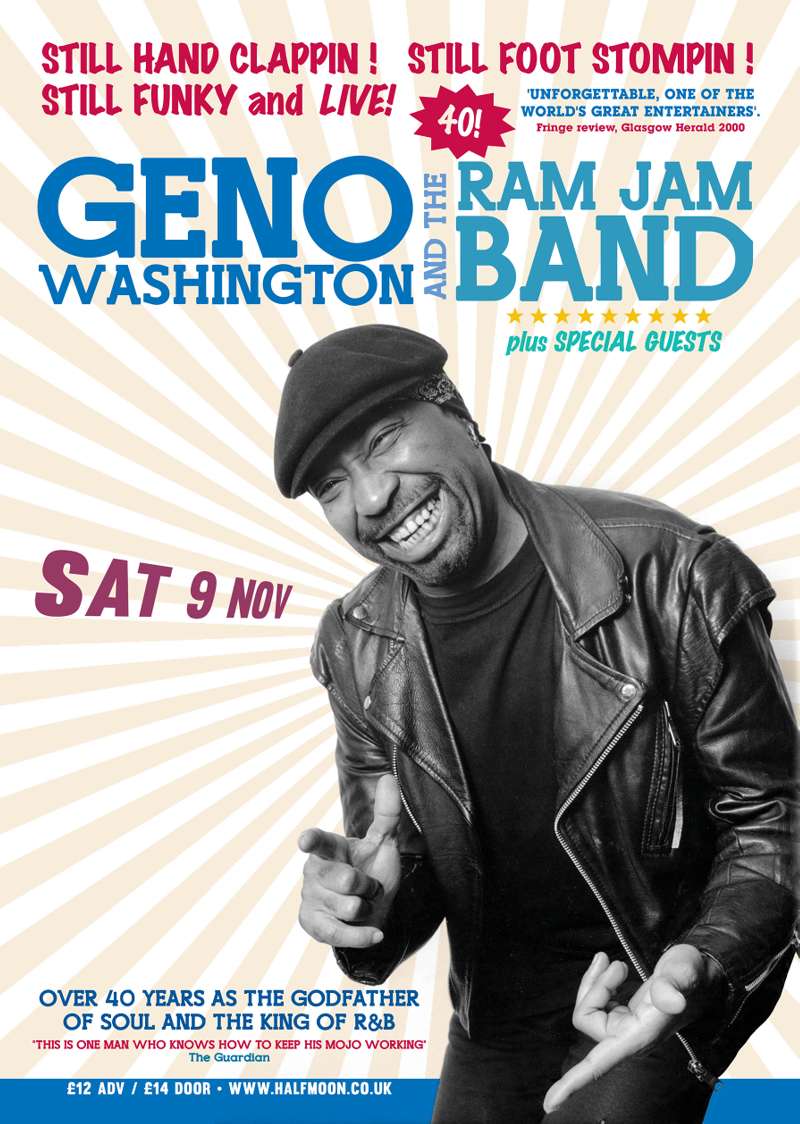 Half Moon presents:
Geno Washington & the Ram Jam Band - 55th Anniversary
Geno Washington and The Ram Jam Band + The Sha La La's
£12 Adv / £15 Door
Entry Requirements: 18+ after 7pm
A special 55th Anniversary show celebrating the time since Geno first appeared at the legendary Flamingo club in Soho and subsequently joined the Ram Jam Band.
Always ready to rock the house, the King of the Swingers Geno Washington is the incarnation of all things '60s. Hipsters and flipsters, movers and shakers alike, are all rendered incapable of having a bad time, when the Good Time Guru gets his army of fans on the good foot! The old Geno magic still drags them in and sends them home high.
Geno Washington and The Ram Jam Band are an English based Soul band originally active from 1965 to 1969. Now going stronger than ever!
Members: Geno Washington (Lead Vocals); Geoff Hemsley (Drums); Steve Bingham (Bass and Backing Vocals); Billy Burke (Guitar and Backing Vocals); and Alan Whetton (Tenor Sax). Geno Washington and The YoYo's play a more Blues oriented set and are the band minus the saxes.
Line Up
US soul acts rarely visited the UK and, having come over as a part of the USAir force and stayed, Geno was our soul man. His level of touring and the high energy of his gigs was, and still is (as immortalized by Dexy's Midnight Runners in the 80's hit Geno) the stuff of legends. During his sets, the beat was continuous and the hits were incessant. It was really Geno who pioneered this Go, Go style of performing and the audiences simply could not get enough. With the likes of Jimi Hendrix, Cream, and Pink Floyd in support Geno could never relax.
Eventually, having made Pye records and numerous managers millions of pounds, Geno decided a break might be a good idea. Rock and Roll had taken its toll and being on the road with every sixties act you care to think of, had finally drained the mighty Washington batteries.
Geno did do some recordings in the States in the seventies, some never released stuff with the Beach Boys for example, but he largely retreated from the world of show biz and studied hypnosis and meditation.
These spiritual meanderings were abruptly halted when, in 1980 Blighty beckoned once more. A call came from old friends in the UK that a tribute called Geno (mentioned above) had gone to number one in the charts. In interviews, the singer, Kevin Roland, was speaking of this legendary soul man, whose name they used to chant up and down the land and public interest in Geno was growing for a new generation. Soon, Anglophile Geno, was back in the UK and back on the road.
The arrival of the nineties saw Geno go back to his roots (he was a Blues singer originally in his home, town of Evansville, Indiana) doing a show he called Cut Loose and Singing the Blues. This was a great success and spawned the band The Purple Aces. He then took this band to Edinburgh for the Fringe Festival, had a great reaction and a three week sell-out run. This in turn resulted in a collaboration with Ray Fenwick (The Spencer Davies Band) and an album called Change Your Thoughts You Change Your Life.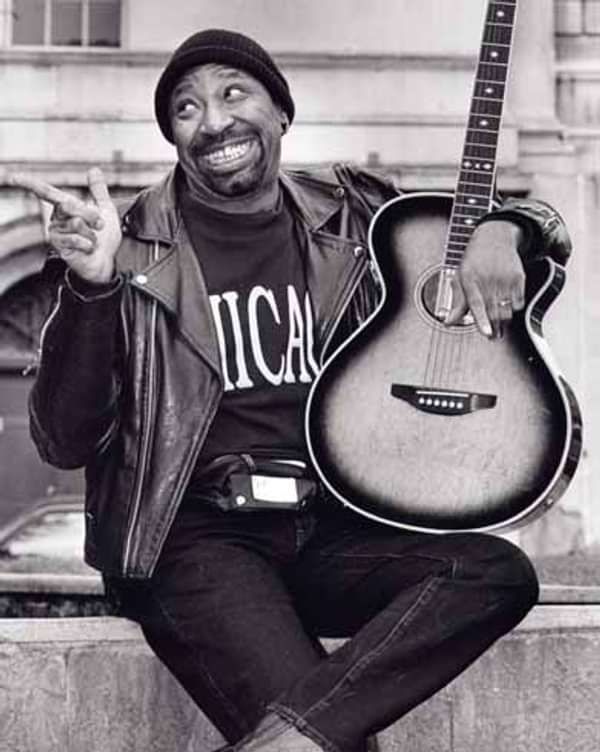 With Swirling Hammond Organ and Vocals delivered with real purpose, The Sha La La's are a London based Four piece Steeped in Mod and Soul Roots. Signed to Detour Records their 60s R&B influences are apparent but make no mistake, their sound is definitely their own and definitely NOW. Founded by Darron Robinson (Vocals, Guitar) and John "Pax" Piccirillo (Drums) and with the line up completed by John Lee (Hammond Organ, Wurlitzer Piano) and Vere Osborne (Bass)The Sha la la's…… somewhere between Detroit and Canvey Island……..