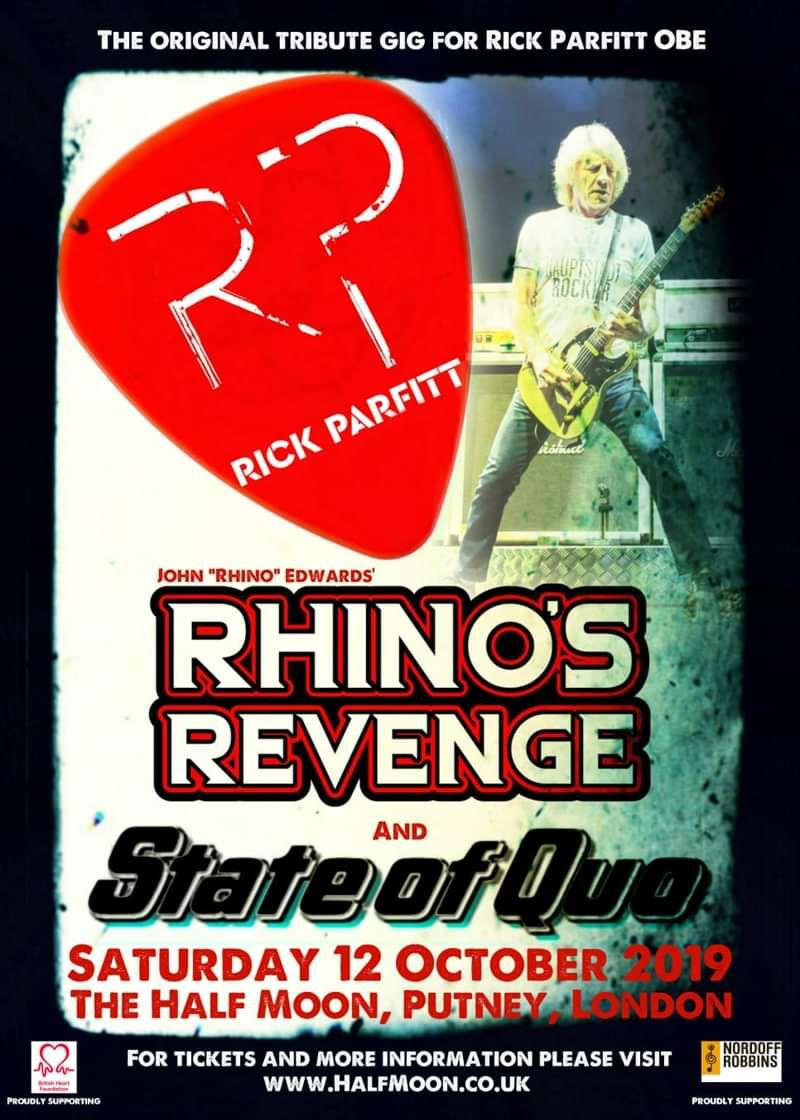 Half Moon presents:
Rhino's Revenge & State of Quo & Special Guests - Rick Parfitt tribute Evening
State of Quo
SOLD OUT
Entry Requirements: 18+ after 7pm
General Admission (e-ticket)
THIS EVENT IS NOW SOLD OUT
Status Quo Guitarist and Rock Legend Rick Parfitt OBE.
The Rick Parfitt Tribute Evening is a chance for Quo fans to come along and hear Quo songs associated with Rick, songs written by Rick like Whatever You Want, Rain, Mystery Song, Living On An Island and Little Lady to name a few.
Rhino's Revenge, the side band of John 'Rhino' Edwards - Quo's bass player and Rick's great friend - will headline the show.
Any profits will be donated to charity/charities associated with Rick. This is a chance to Keep Rick's music and memory alive. Rock In Peace Rick.
Line Up
Recently described as "easily the best Quo Tribute act going" by legendary Rock Journalist & Author Mick Wall, State of Quo are one of the longest established and most popular Status Quo tribute bands in Europe. Originally formed by Rhythm Guitarist Paul Carr in the mid-90s, State of Quo have played countless gigs all over the UK, as well as several events in Europe – including a headline slot a the Crossed Guitars Music Festival in Freischepalen, Holland. Recent years have seen State of Quo performing regularly at several outdoor Festivals in the UK and touring as support to Status Quo's own Bass player, John 'Rhino' Edwards and his own band Rhino's Revenge - which included both bands sharing a stage at the 1st International Status Quo Fan Club Convention in Minehead. A typical State of Quo setlist showcases tracks from the classic 1970s albums that established Quo as one of the most popular Rock Bands of the time, alongside material from more recent albums such as 'Heavy Traffic' and 'Quid pro Quo' - plus, of course, a few of Quo's countless single hits - all played as faithfully as possible to Quo's own original recordings and live performances. For more information about upcoming gigs, visit the band website at www.stateofquo.co.uk