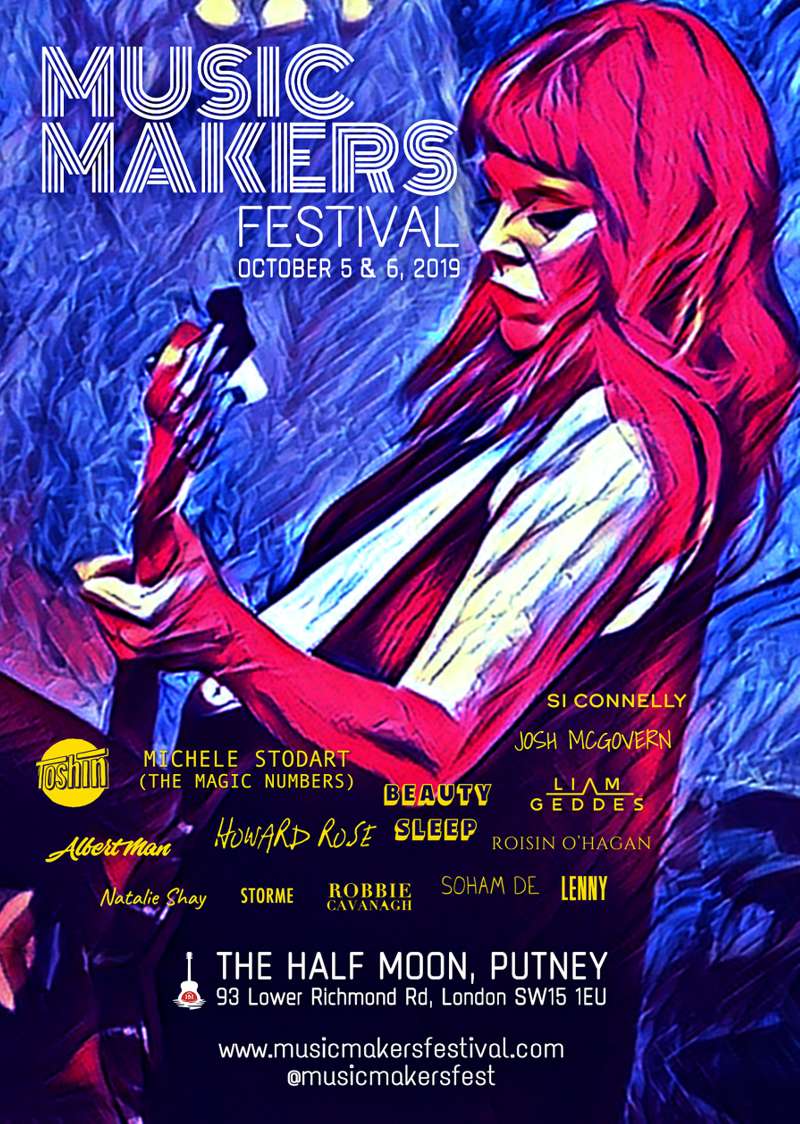 Half Moon presents:
Music Makers Festival
Beauty Sleep + Si Connelly + STORME + Lenny + Josh McGovern + Natalie Shay + Liam Geddes
£15 day / £25 weekend
Entry Requirements: 18+ after 7pm
Buy Tickets
Line Up
STORME are all about silver linings: the defiant little lockets of light that glimmer in even the blackest clouds. "I always to try to find hope, a reason to just hang on in there," says one half of the fast-rising electronic pop duo, vocalist Amanda Liedberg. On new single 'Volcano', she and producer Gabriele Mazza bottle that feeling into four minutes of huge airy synths, percussive rattles and towering vocal hooks with echoes of Chvrches and Robyn. "It's about someone leaving me. I felt shit. But I kept picturing this volcano as a huge force," Liedberg explains. "It's a song about seeing yourself through." As she puts it on 'Volcano', before the track truly erupts: "strength can grow on the darkest roads."
Championed by The Line Of Best Fit and picked up by Spotify's influential New Music Friday playlist already in their short career, the pair's own road to this point hasn't been dark, but it has been winding. Liedberg grew up in Sweden, spending a lot of time in Tegane, west of Stockholm, in a forest, by a lake. Mazza meanwhile grew up in Italy, in a music-obsessed family similarly surrounded by nature (his home was located in front of a vineyard in the country). It wasn't till they both moved to London to study that their paths crossed, and the duo began to collaborate. "London really inspired the electronic side of our tastes and our sound," says Mazza, whose love for electronic experimenters Four Tet and Jon Hopkins blossomed amid the hustle and bustle of the capital. He began to toy with Ableton Live and vintage 1980s synths found in the west London studio he uses, and before too long was lending ethereal soundscapes and skeletal beats to the emotional piano-and-vocal sketches Liedberg was creating.
"I always start at the piano, with the basics," says Liedberg of her minimalist approach to crafting tracks, influenced by great pop hook writers like Sia, Max Martin and Kate Bush, as well as Bon Iver. "Lots of things are based on my life experience. Always when I write, I feel like it needs to really tell a story that comes from my heart." Next, Mazza – a producer who's "like a scientist and can spend hours tweaking synth sounds to perfection" according to Liedberg – adds what he calls "abstract, ethereal atmospheres," and a STORME song is born. "It's a formula we're always working on," smiles Mazza.
That musical chemistry first caught people's attention last year, with the release of 'Burning Echoes', their first single together. Described as "effervescent" with an "explosive chorus" by The Line Of Best Fit, the track was a slow-burn of M83-inspired bass pulses and ecstatic "heys!" and handclaps that, with its lyrics about faded sunrises, touched on one of their favourite themes and inspiration: the drama, beauty and brutality of the wild. "I feel so lovely and so inspired around nature. It's an ongoing theme, we're always trying to find it. It's a big part of our sound," Liedberg says, who even named the project with nature in mind.
Though their synths may be glacier-sized, STORME are currently growing at a rate that's far from glacier-paced. They're fast honing their live show at gigs across the London scene, plans are in place for more singles beyond the stunning 'Volcano', ideas are growing for EPs and albums, and they're laser-focused on creating a sound all of their own, that pushes the borders of electronic pop and fans will recognise immediately as STORME. "We dream big!" laughs Liedberg. The sky's the limit, so that's where STORME are heading. Where else are they going to find those silver linings?