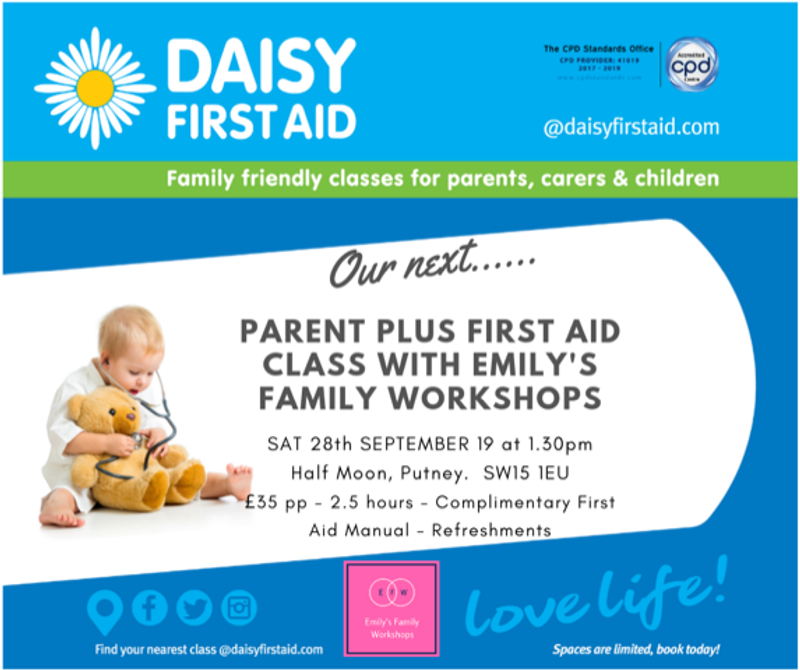 Half Moon presents:
Daisy Parent Plus First Aid Workshop
£35
Entry Requirements: 18+ after 7pm
Buy Tickets
Would you know what to do in a medical emergency?
Feel prepared and confident about Paediatric First Aid with our latest workshop in partnership with Daisy First Aid Skills for parents to deal with a situation in a calm and effective way, should it arise.
Our aim is for everyone to walk away from the workshop feeling confident and know what to do in an emergency, this can make all the difference whilst you wait for an ambulance to arrive. The workshop is super fun and friendly and babies under 1 are welcome and you can practice as you learn.
During the workshop you will have the opportunity to practice recovery positions on each other and on the baby mannequins, CPR on the mannequins, how to use an AED, and how to give abdominal thrusts safely on each other in a choking situation. The workshop also covers how to deal with:
An unconscious casualty A severe allergic reaction Febrile seizures Head injuries Meningitis Broken bones Poisions Burns Bleeding
The price is £35 for the Parent Plus class which includes a 2.5 hour workshop, plenty of practical experience, a Daisy First Aid booklet 'Paediatric First Aid Made Easy' and refreshments provided.
Daisy First Aid trains thousands of parents & carers every year across the UK and when you get that call to say a parent saved their child's life thanks to one of their classes, that is the most unbelievable emotional feeling. The team are passionate about the importance of First Aid and absolutely love what they do.