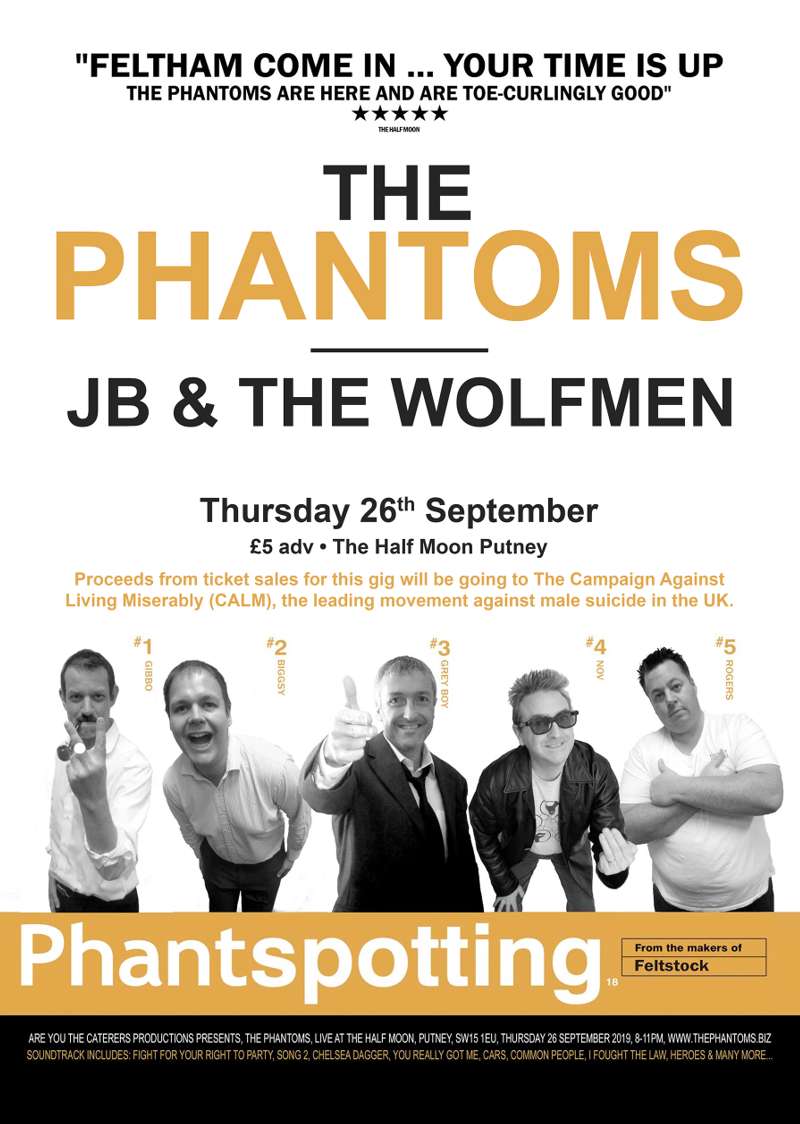 Half Moon presents:
The Phantoms – (Nearly) 20th Anniversary Charity Gig
The Phantoms + JB & The Wolfmen
£5 adv / £8 door
Entry Requirements: 18+ after 7pm
Hailing from Feltham in West London, The Phantoms (originally called 'The Pheltham Phantoms') formed in the summer of 2000. Their debut gig was a Millennium party where a rough set of hastily rehearsed covers were unleashed upon the crowd. After not getting bottled off stage the band took this as a good sign and decided to make a go of it.
Since then they have performed regularly at various pubs & clubs in and around West London plus weddings and parties for mates of the band up & down the country. Most notable was being crowned 'Best Band in the Civil Service' in 2002 at a North Wales Holiday Park in front of 1200 feverish northern holidaymakers.
Now on their 7th line-up change, a typical Phantoms set has grown to well over two hours jammed full of crowd-pleasers from all eras.
Ten years ago the band's original guitarist, Brian, tragically took his own life so we are very pleased to announce that all proceeds from ticket sales for this gig will be going to The Campaign Against Living Miserably (CALM), the leading movement against male suicide in the UK.
"So good the first time we had to get them back" - The Fighting Cocks Kingston, Jul 04.
"The Phantoms, you boys rock!" - Tracey Ann Oberman (of Dr Who fame), Dec 05.
"Standing room only for this stonking, rocking band" – Richard Fletcher, The Grey Horse Kingston, Jun 07.
Line Up
JB & The Wolfmen. From Chicago to the Isle of Wight, JB & his loyal cohorts, The Wolfmen, chart a history of blues & punk. Touching on the ground-breaking blues of Muddy Waters & Howlin' Wolf and the twisted rockabilly leanings of The Cramps, they'll dive straight into the addled maelstrom of 1970's punk mayhem with the likes of The Ramones & Johnny Thunders before crossing the Atlantic to pick up on Wiko Johnson's machine gun style delivery and the might of The Clash. JB & The Wolfmen, all killer, no filler.